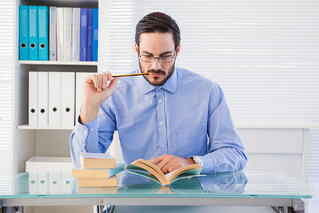 When a student is really struggling in school or on standardized tests, reversing the trend can seem like a truly daunting task. One of the first things a parent might say to student who comes home with a "C" or "D" on a report card might be, "are you paying attention in class?" This is indeed a very important question, because paying attention in class is critical to performing well in school. Paying attention while taking a standardized test is also critical, yet oddly it probably seems so obvious that you may have never actually thought about the fact that it's important. In this article, we'll discuss a seemingly obvious concept in a new light: paying attention.
The idea that "paying attention" is important seems simple, but it actually operates on a variety of different levels. In this article, we'll address the following three questions:
What does it really mean to focus on paying attention? What are the different dimensions of "paying attention" that a student or parent should be thinking about?
Why is paying attention so important?
What are some strategies for improving your ability to pay attention (follow up post)
1. What does it mean to pay attention?
Let's start by thinking about your typical high school or college student sitting in class. I'd submit that there are three level of paying attention to consider:
Just listening to the teacher vs. staring out the window or day dreaming about something else
Actively listening to the teacher, and focusing on when she explicitly calls things important, not important, assigns things, asks questions, and perhaps most important, when you do vs. don't understand what is being said
Fully engaged listening to the teacher, in which you are really trying to understand and digest what she's saying (which I recognize is not easy if you aren't also very interested in what is being discussed) to challenge and enhance your understanding of it
You might call (A) the bare minimum and (C) the gold standard of paying attention. (A) is fundamentally about being committed to being a part of the situation at a high level. The first step in this direction is, of course, attending vs. skipping class altogether. But, once you're there, you really have to focus on listening to what's going on. If you are day dreaming, it's almost as if you aren't there at all. The next step is actively listening, where you focus on identifying when something important has been said. Finally, in C), when you are fully engaged in the lecture, you will naturally ask a question when you don't understand or want to make a point.
As you move from A through B and toward C, you are essentially realizing that listening to words being said out loud is only the first step in understanding an idea. When you are really paying attention, you are constantly breaking down explanations and ideas, re-phrasing them, creating linkages to other ideas you understand to be true, and making sure you understand.
2. Why is paying attention so important?
Many students think that reading and homework assignments are substitutes for attending or really paying attention in class. But, they are wrong.
When it comes to a typical academic subject, the more obvious reason that paying attention is so important is that classes are typically structured such that you learn things in class, they are reinforced in assigned readings, applied through homework and projects, and your knowledge is then evaluated through quizzes and tests.
However, it's a little messier than that. Many of us have probably found that, when explained in layman's terms by a teacher, a given concept or idea is much more digestible than when described in a text book. In other cases, something might be covered in class that actually isn't covered in a text book at all. So, you can't skip class, or sleep through it, and think that you're going to be well positioned to do well in the class. You will literally be missing information that you need to have.
The more subtle reason that paying attention is so important is that our brains and minds don't just learn things upon hearing or reading them. They learn through the struggle of trying to understand what is being said. The process of trying to digest what is being said in real time, ask questions if necessary, and synthesize information together to form our own opinions and perspective. If you aren't really paying attention, you won't be able to identify what it is about a concept or idea that you don't understand, and therefore won't be able to struggle to understand it. You might, in fact, not realize that you don't understand something.
Finally, many people don't realize that standardized tests explicitly measure your ability to pay attention. When you read a question that says "which of the below answers is not correct?" You may need to know algebra to correctly answer the question, but if you aren't paying close attention, you might pick A), because it is the answer to the equation. Unfortunately, you would be answering incorrectly, because the question is asking for what is NOT correct.
At the end of the day, if you compare the straight A student with a 4.0 GPA to the straight B student with a 3.0 GPA, or the high school student that scored a 31 on the ACT to his friend that scored a 27, you might just find that the ability and commitment to pay attention is the only real differentiator.
In our next post, we'll explore some strategies for improving your ability to pay attention.