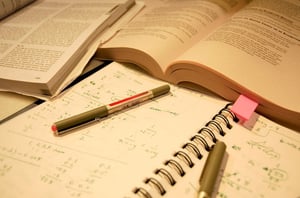 We're all adjusting to new lives of social distancing and remote work/learning. In accordance with this, GMAC.org has closed a lot of GMAT testing centers in the United States and no one knows when they'll reopen. For individuals applying to MBA and EMBA program and studying for or thinking about taking the Executive Assessment exam, you were living in uncertain times. However, GMAC has now followed in ETS's footsteps (they recently introduced an "at home GRE" exam) by offering an interim online EA exam in additional to the at-home GMAT exam they already announced, starting at the end of April for markets impacted by COVID-19.
What is the Interim Executive Assessment Exam?
The online EA exam will still have the same three parts (Individuals, Businesses, and Representation, Practice and Procedures), and compatible with both PC and Mac. GMAC says that they will offer a comparable time and scoring system as the exam previously delivered in testing centers.
While details are yet to be set in stone and announced, we know that the interim online EA exam will be taken on a personal computer with a live remote proctor and check-in protocols adjusted for online assessment. Exact pricing has not yet been determined.
Who can take the Online Executive Assessment Exam?
The interim online version of the EA exam will be available beginning at the end of April to all impacted countries and cities, outside of mainland China. Currently, GMAC is working with the Chinese government to provide alternative solutions.
For more information and to stay up to date, visit mba.com.
Why Consider the Online EA Exam?
MyGuru encourages anyone studying for the Executive Assessment exam to consider online EA exam tutoring. Given the unprecedented circumstances, we think the benefits of online EA tutoring are even more visible now than previously. Students will now be able to take the exam in the same environment and location they completed much of their studying - their home.
We predict that average online EA scores may even be higher than those taking it in the typical testing center environment. The majority of test takers are more relaxed and confident in a home setting than when taking an exam in a new place.
If the equipment and environment allow it, we strongly recommend considering this unique option while it's offered. This could be an opportunity to use your excess available time to study for the Executive Assessment exam.