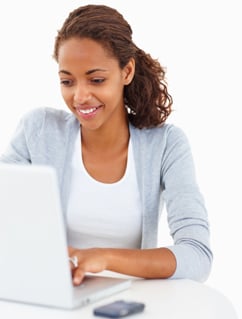 COVID-19 has made taking in-person standardized tests such as the GRE impossible indefinitely across much of the world. Just in the past week Pearson Vue, the largest testing center company in the U.S., announced that all of their centers country-wide are closed until at least April 16. In response to these circumstances, beginning March 23, the Educational Testing Service (ETS) is at least temporarily offering a "GRE General Test at Home" for test takers in several nations including the U.S., Canada, and Hong Kong.
What is the GRE General Test at Home?
The GRE General Test at Home is just what the name implies. It's the ability to take the GRE online using a computer and room that satisfies certain requirements. As ETS puts it, this option was designed "to meet the needs of students who are unable to take the GRE® General Test at a test center due to public health concerns, ETS is temporarily offering a GRE General Test at home option in selected areas."
It is the same exam – same content, same format. The on-screen experience, complete with interface calculator, will be identical. It is taken on a personal computer, and an online proctoring firm, ProctorU, has been retained by ETS to provide live human proctoring for each GRE exam. The cost for this at home exam is the same as for an in-person exam, based on country of residence, during regular circumstances. So, for instance, the normal cost for the official GRE in the U.S. is $205 per administration, and that is the cost for an at home proctoring as well.
Who can take the GRE General Test at Home?
As of March 23, the official at home GRE can be taken in the U.S, Canada, Colombia, France, Germany, Italy, Spain, and China (but only in Hong Kong and Macau). Test takers must have acceptable computer equipment and a room in which to take the test that provides an appropriate environment for the proctoring to take place.
Visit the GRE General Test at Home webpage (www.ets.org/s/cv/gre/at-home/) to determine if you are eligible and what is required to take the GRE General test at Home including:
Equipment and environment checklist
How to start your registration for the GRE at home
How to register with ProctorU
What is expected from you with regards to the testing environment during the GRE at home
How to receive your scores after the test
Why the GRE at Home is a Great Option
MyGuru encourages anyone studying for the GRE to consider online GRE tutoring. Part of our argument for doing so is that, even before the advent of the GRE General Test at Home, students take the GRE on a computer at a testing center. Now, this argument in favor of online GRE tutoring is even stronger. Students can literally take the GRE at home, on the same computer, and in the same room they completed much of their practice for the GRE.
We would not be surprised if average GRE scores for students taking the GRE at home were higher than those taking it in a testing center. Most people are more comfortable, and therefore more confident in a self-controlled home environment than when traveling to a sterile testing center. If the equipment and environment allow it, we strongly recommend considering this option to take the GRE at home while it's offered. Furthermore, if you are currently experiencing a work-at-home, shelter-in-place, or temporary furlough order, this could be an opportunity to use your excess available time to study for the GRE (and take it at home!). Plus, remember your GRE scores taken today stay valid for up to five years.