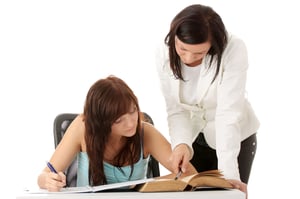 By the time you're a junior or senior in high school, you've probably already heard a lot about the importance of the SAT. This is the standardized test most colleges and universities accept for admissions purposes. Since the SAT has so much influence over your higher education and, therefore, your career, many students work with a tutor for their SAT prep. This is an excellent idea, and something every future SAT-taker would benefit from. But of course, when it comes to selecting a tutor, you'll have to consider not only the quality of the tutoring, but also the SAT tutoring cost. If you've never gone down this road before, there's a huge range of SAT tutoring rates. In this article we explore what you should expect to pay for your SAT prep cost, and what the rate says about the quality of the education.
What Makes a Quality Tutor?
Before you know how much you should be paying for SAT tutoring rates, you'll need to know what you should be paying for. A good SAT tutor should be able to boast a top score on an official SAT test in order to prove they understand whatever material the SAT might throw your way. Further, they should incorporate quality testing materials, but shouldn't rely exclusively on just teaching from a book. In other words, a good tutor should know the material intimately and be able to tailor their lessons to meet you wherever you are in your SAT prep.
In terms of credentials, it always helps to know that a tutor has gotten a quality education from a respected university. Just as important is the depth of their tutoring experience. Teaching is very much a skill, and you want to be sure any tutor you're paying for has significant experience working one-on-one with students.
The Costs of One-on-One SAT Tutoring
The tutors charging the lowest rates tend to be those you can find on various tutoring and service marketplaces, such as Wyzant, Care.com, or even Craigslist.com. Some of these marketplaces offer you the chance to read reviews from the specific tutors' past clients, though others are simply bulletin boards where you're taking your chances on tutor quality.
There are certainly effective tutors to be found on these sites. But when tutors price toward the bottom of the market—the cheapest SAT tutoring costs run about $15-20 an hour—there may some compromise to their credentials. Perhaps they haven't actually scored well on the SAT themselves, or haven't been tutoring very long and are looking to accumulate experience and positive reviews. You might be able to find a diamond in the rough among the cheapest tutors, but if you're going to pay for something this important, you'll want to be sure you're getting a good quality education.
Private, individual tutors with powerful credentials and track records of success certainly do exist, but they tend to charge more. You can find some of these tutors on those same marketplaces. Other successful tutors running their own businesses may come to your attention by advertising or word of mouth. The SAT prep cost for working with these more boutique tutors can sometimes run to several hundred or even $1,000 per hour in certain urban markets, like New York City and Los Angeles.
Another reliable route for ensuring you're getting a good quality tutor is to work with an individual from a trusted company or brand. Tutoring companies offer a more extensive track record than individual tutors, with quality control and customer service to boot. As with individual tutors, the hourly range for tutors associated with a tutoring company can range from $30-1,000 an hour.
Group Sessions vs. One-on-One SAT Tutoring
The most effective option for SAT prep is typically one-on-one tutoring. This offers the student personalized attention, close feedback, and ongoing performance evaluation. But there is a huge variety of one-on-one SAT tutoring rates.
If you're short on cash but still looking to get quality SAT tutoring, some excellent tutors and tutoring companies offer group rates. This might involve a discounted rate if there's a small group of students taking private lessons together—this could be siblings, cousins, friends, etc. Other companies host larger SAT classes. This gives students less personalized attention, but it can still offer a quality tutor at a discounted rate compared to one-on-one tutoring.
By and large, you do tend to get what you pay for with a tutor. However, as you climb the ladder of hourly rates for SAT prep cost, there are diminishing returns. In our opinion, there's no need to pay more than $150 per hour. Beyond that price range, you're likely just paying for a brand—a shiny logo, expensive marketing, a fancy office, etc. When it comes to MyGuru, we've established a low-overhead model in order to offer top-quality, experienced SAT tutors for much less than larger companies like Kaplan and Princeton Review.
Feel free to check out other perspectives on how much you should pay for your SAT tutoring, on when SAT tutoring is worth the cost, and how to know when you're being asked to pay too much.