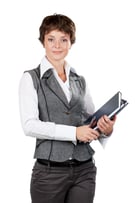 As a high schooler, you may feel as if you do not have enough experience to have a resume. You probably imagine a resume as a document for professionals with great working experience and a fancy job title. Do not get discouraged by your lack of experience. When you are writing a high school resume for your college application, you are in the same boat as everyone else.
However, you need to make sure that whatever experience, attributes, skills you possess; it should reflect in your resume and be comprehensive.
Here is what you will learn in this guide that will help you create a stellar high school resume:
Writing the work experience in a proper order that showcases your skills
Optimizing the resume header to garner the administrator's interest
Writing an objective statement
Writing the education section with notable academic achievements
A skills section to demonstrate your skills
Extracurricular activities
Work Experience
Do not get discouraged by the title; you do not need proper work experience to write this section. A student resume should reflect your attributes in a manner that connects your skills to the actual world. Let's say you worked as a babysitter or you tutored middle school students, you need to include such experience in your resume. Further, summer internships can be immensely helpful for a high school student. But you should create a separate section for them.
Here is how you can master this section of your resume:
Choose the correct format
Make sure that you write all your profiles in the work experience section in reverse chronological order. This resume format helps to create a continuous pattern of your profiles that brings attention to your most recent accomplishments.
Tip: Make sure you follow the same format throughout the resume.
Use power verbs
If you wish to show your skills in a way that creates a concrete impact, use action verbs. Power verbs help you restrict your statements to one line. Avoid weak verbs like using, working, etc., and make sure that there are not any instances of first and second-person pronouns present in your resume.
Create buckets
Choose 3-4 relevant statements and assign a subheading that reflects your contribution. Let's say you include statements where you managed an event at your school and raised funds for the same. You can club these points under the subheading "event management & fundraising".
Highlight your achievements
It's likely that administrators may not spend a lot of time going through your resume. Given this, it's imperative that you make your resume as 'readable' as possible. Make sure that your contributions and achievements are visible. In order to do this, bold keywords and important accomplishments.
Optimize the Resume Header
As the first thing someone sees on your resume, this is one of the most important aspects to take into account while writing your student resume. Here is how you can accomplish this:
Contact information
Write your contact information such as email address, mobile number, current residence. Avoid giving out personal information such as date of birth, and nonprofessional activities. For example, write a professional-looking email address.
Important links
Include important links that can add value to your resume. Let's say you are applying for a part-time photographer position, including a link to your Instagram can be immensely helpful. Also, create a LinkedIn profile and add the link in your resume header.
Profile title
One of the greatest blunders you can make in your student resume is marking the profile title as "resume" or "curriculum vitae". It makes no sense to write it as "resume" or "CV" as it is redundant and does not leave a good impression on the administrator. You need to write your profile title as your educational background, or if you have relevant certifications, you can include that. For example, "High School Graduate", "General Education Development Certified", etc.
Write an Objective
A summary is for individuals with professional experience. As they have gained a set of achievements, they can mention them here. As a high school student, write an objective statement that showcases your attributes in a manner that talks about how you can provide value to the employer.
To help you write an objective statement, I traced some essentials that you can include. Check this example below:
Enterprising high school student with strong work ethic and task management skills. Adept at using communication skills to foster fruitful relationships with customers and clients. Seeking a part-time opportunity to leverage these skills and provide value to an organization.
Keep the following things in mind while writing an objective statement:
Minimize the mentions of first and second-person pronouns. Let's say you raised funds for an event. Instead of writing it as "I raised funds…", construct the sentence as "Proficient in raising funds…".
Try to bridge the skills gaps by researching the major you are targeting. This will help you prioritize information that is relevant to the target college/degree.
Begin the objective by mentioning your educational background. For example, "Enterprising high school diploma holder" or "Certified high school graduate".
Write an Education Section
This may seem very simple but realistically, this is one of the most important sections on a resume for a high school student. You want to get it right. If you earned a certification or accomplished something academically, all of this should be reflected in this section.
An example:
High School Diploma | Henry M. Gunn Senior High School | Palo Alto, California | Mar '16 - Apr '20
Published a research paper on the Cuban missile crisis in the school paper
Received a GPA of 3.4 and ranked among one of the top 3 students in the history class
Achieved a place in the dean's merit list and operated as an editor for the school paper
In a student resume, there are plenty of ways to showcase your achievements and skills. It is not limited to just professional experience. You can even include the relevant coursework and modules that are relevant to the job or internship or college you are applying to.
Write a Skills Section
To create an achievement-based student resume, a designated skills section is a must. Although writing skills that you cannot validate through your resume can land you in trouble, this should not discourage you from including transferable skills and tools relevant to your target major.
Here a few examples of transferable skills that you can include in your high school resume:
Communication
Editing
Interpersonal Skills
Analytical Skills
Research
Time Management
Fundraising
Budget Expenses
Further, you can include tools you are familiar with like G-suite, Microsoft Word, Excel, etc.
Extracurricular Activities
Administrators often think of the following questions when they are reviewing student resumes: Why should we consider this candidate? What makes you stand apart from all the other high school graduates?
How do you best answer these questions?
How do you best highlight your unique skill set?
One strategy is to leverage the 'extracurricular' section. These activities may encompass volunteering, book club, community service, sports, etc. You'll want to get specific and showcase positive measurements of your achievements here if possible.
Here is how you can write them in your student resume:
Declared recipient of a gold medal for scoring 3+ goals in the inter-state school soccer tournament
Selected to lead the a cappella group of 14 students and took part as a flute player for the school band
Led a fundraising campaign and secured USD 2000 for reviving the classical music society in the school
Volunteered for conducting cultural and language awareness programs for foreign exchange students
Key Takeaways
While writing the working experience section, first create a master document and list all your profiles and statements there so that you have the information all in one place.
In the resume header, make sure the profile title is professional. Do not write as "best student" or "rockstar candidate". Those titles end up looking childish and immature.
The education section is just for your degrees and diploma. List your certifications elsewhere.
Avoid stuffing your resume with soft skills.
As you are a high school student with (probably) less than 3 years of experience, restrict your resume to one page only.
Try to bring forth your major skills with extracurricular activities and avoid writing points that are completely irrelevant to your profile. For example, writing "the best homework" is not ideal and does not showcase any skills.
About the Author
On a quest to help professionals across the world land their dream jobs, Aditya lives and breathes Hiration — a platform to help job-seekers find their way in the treacherous job market — where he's a Co-Founder and the unofficial CPO (Chief Problem-solving Officer).