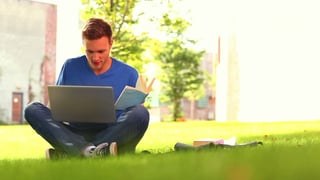 At MyGuru, we are generally adamant that the best way to prepare for the GRE is to use official practice materials. But, until recently, the Educational Testing Service made this a bit more difficult than it needed to be.
For many years GRE students have waited for this… a fully online version of the POWERPREP software that works for both PC and Mac operating systems! As of July 30, 2017, ETS will no longer require students to download or use a CD-ROM to install the buggy and computer-freezing official POWERPREP II practice exam software. In fact, you can go to the official GRE website at www.ets.org/gre to experience the brand new, and cosmetically updated, POWERPREP interface right now.
Access POWERPREP PLUS Online
To access the new and improved free ETS official GRE practice tests you must first create an account with ETS at www.ets.org/gre. Once you have created your account, go to My GRE Home and proceed with the following steps:
In the Test Preparation section of the page click Shop for Test Preparation
Click the Add to Cart checkbox on the right side of the page to select both POWERPREP Online – Practice Test 1 and Practice Test 2
Scroll to the bottom of the page and click Next
In the Your Shopping Cart page confirm a subtotal of $0 and click Submit
Return to My GRE Home
In the Test Preparation section of the page click My Test Preparation and Services
Click Go To Practice Test for the exam you wish to begin
Enter your name and click Launch Test to begin the practice exam
Use Chrome or Safari for the best experience using this new tool and be thankful that you will never again see a MS-DOS pop-up window when preparing for a standardized test! For more detailed browser and operating system parameters, visit the ETS system requirements website.
More Official Practice Resources
In addition to the new online interface, the folks at ETS are also finally providing more than just the same two computerized practice tests that have existed for more than a decade. With POWERPREP PLUS GRE candidates can now purchase two additional practice exams for $39.95 each, and not only that… they come with answer explanations!
To purchase a POWERPREP PLUS test, follow the same instructions for the free practice exams, but select to add to your cart the POWERPREP PLUS exam(s) you wish to purchase. While this may seem a bit expensive for a single online exam, let alone one that is only accessible for 90 days after first being opened, these tests represent the gold standard in adaptable online GRE preparation. Also, these exams come with never before seen questions that will be new to even the most veteran GRE prepper.
In all, this new online interface will be a great new resource for every GRE student.
Looking for more online self-paced GRE practice?
In our focus on 1-1 in-person GRE tutoring and our growing experience with online GRE tutoring, we generally encourage students to stick with official practice materials, like the ETS resources references above. However, if you're looking for additional online, self-paced GRE practice, we've found Magoosh GRE and Prep Scholar GRE to offer high quality, relatively affordable solutions with unique features such as thousands of practice problems, full length practice tests, good video explanations, and adaptive practice.
About the Author
Stefan Maisnier is the Director of Online Tutoring at MyGuru. He has been tutoring graduate school candidates for more than a decade in the testing techniques he used to overcome an average undergraduate GPA to gain acceptance to Northwestern University Master's in Journalism program. He is also a published writer whose name can be found on some of the best-known print and online test prep resources.