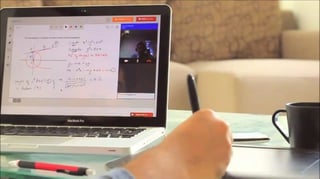 Let's start with a brief exploration of online tutoring in general, before tackling the question of why and how to pursue online GMAT tutoring.
In a sense, online tutoring is a bit like online shopping. In the early days of the internet, circa 1995, if you listened to the hype, you would have thought that people were going to be doing all of their shopping online within 5-10 years. It seemed inevitable. It's now been over 20 years, and we aren't really close to that "100% online" scenario. On the other hand, if you think about how much online shopping we do indeed do, you realize the internet has fundamentally changed the way we shop in significant, positive ways: it's a) much more convenient and b) has increased competition and lowered prices.
What are the major general benefits of online tutoring vs. in-person tutoring?
In general, there are three major benefits to online tutoring relative to in-person: a) convenience b) the ability to review the session in video or written form and c) pricing. I won't go into too much detail here, but consider an in-person tutoring session. One or both parties (student and tutor) must leave their house, travel to a different location, and meet to conduct the tutoring. Information may be written down on paper, or spoken in real-time. Not all that is spoken is captured however, and the danger of losing the paper used during the session is always there. A lot can potentially be forgotten or lost.
Online tutoring solves most of these problems, particularly if you use a virtual whiteboard that creates a PDF of the session, and records the entire experience for later review.
In this article, Studiosity suggests that some students actual prefer to seek help electronically. That said, I see a few reasons why online tutoring didn't gain faster traction and still has its detractors:
The human element is hard to ignore for some people. There certainly is something to the physical connection of discussing an issue face-to-face. It's why businesses continue to spend so much on airlines and hotels when WebEx meetings have been around for 15 years.
Connectivity issues were a significant barrier for many years. If both parties didn't have a fast-enough internet connection, listening to your tutor's voice and following what is being written on the whiteboard would be buggy, slow, etc.
Lack of comfort with technology is a significant barrier for some people. Online tutoring does require some amount of "set up," software downloading, etc., there are enough barriers for that person to shy away from giving it a try.
The ability to write well online was certainly lacking for a period of time, and drawing figures or doing math problems with a mouse doesn't work very well. Even as tablets became more available and less expensive, the ability for any given tablet to interface with any given combination of computer, web-chat service, and whiteboard is still sometimes questionable.
Reviewing notes was historically, something that was much easier to do "offline" by looking at the physical paper you worked on with your tutor.
However, almost all of these barriers to online tutoring have been overcome, and new benefits have emerged.
The human element is still an issue and a major barrier for some people, but I'd argue that it's essentially the only issue at this point.
In 2017, most people under 40 have been around technology long enough that lack of comfort with the basic tools required to engage in online tutoring isn't an issue. Connectivity and the ability to write are problems that have been solved with faster internet speeds and low-cost writing tablets. And now, new benefits have emerged. Many services allow you to save PDF copies of notes from online tutoring sessions, and the ability to record sessions in their entirety is now widely available. This means you can go back and recall exactly what the instructor was talking about and how a problem was solved.
Why is online GMAT tutoring a particularly good idea?
I see six major reasons that online tutoring is particularly attractive for someone studying for the GMAT:
The GMAT is administered online. Certain tests, like the ACT or the SAT, are still given via paper and pencil. But that's not the case with the GMAT. The GMAT is administered online. It's quite a different experience than taking a test in person. You must choose answers using a mouse, and if you do need to write something down, you are given a little mini erasable whiteboard to use. Getting comfortable working through problems while you're studying for the GMAT is going to increase your familiarity with the environment you'll face when sitting for the actual test.
Efficiency and flexibility is particularly important for most GMAT test takers. In general, if you are studying for the GMAT, you're a motivated, young professional with an increasing amount of professional responsibilities. To build a solid resume and application, you should probably be engaged in leadership and community service activities as well, and of course everyone wants to maintain relationships with friends and family. Saving time on travel, and negotiating schedules due to travel, is more important than it might seem. It takes time and adds stress to the whole process of working with a GMAT tutor if you must coordinate travel and logistics issues.
The GMAT is a particularly difficult test, one in which both content expertise and strategy is critical. Restricting your tutor options to those who are physically near you may put you at a disadvantage. By getting comfortable with an online approach, you can access the most qualified GMAT tutors in the world, instead of just who happens to be available near you.
The range of content covered, and question types used on the GMAT is broad, from reading comprehension to mathematics to "data sufficiency questions" to the "integrated reasoning" section. As a result, it is often more helpful to have the ability to record a session and review it later when studying for the GMAT than it would be if you were studying for a different test.
GMAT tutoring is expensive. Because working with an online GMAT tutor allows for a reduction in travel time, most tutors will accept lower hourly rates.
Summary
Online GMAT tutoring is more efficient than an in-person approach, and in some respects, more effective. If it's something you'd at least consider, we think it makes sense to at least try it out. It could save you time and money, both of which you'll need when you tackle the b-school application process.