---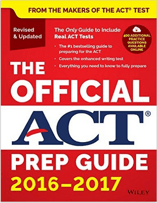 When designing an ACT study plan, one key question is "what materials will I use?" Luckily, the most effective material is also the most inexpensive (more on that later).
To begin, it's helpful to ask yourself one basic question: am I fundamentally comfortable using online materials or not? There are many web-sites and "apps" available to help you prepare for the ACT. But for some people, plain old paper and pencil is still their preferred way to learn. I tend to encourage students to at least consider an online approach, since it's generally very convenient and because many online resources are "adaptive," meaning they give you suggested practice content based on how you've performed on previous practice problems to build on your strengths and address your weaknesses. But, if an online approach just isn't for you, don't force it.
---
Before jumping into the specific recommendations below, it's also important to log one key point.
Whenever possible, you should use official practice materials from ACT.org.
Why is this so important?
Because companies like Kaplan and Princeton Review, while they have good intentions, may write questions which aren't exactly like the questions you'll see on the official ACT. These companies are in the business of developing practice content, and their business model requires that they create a lot of it. Some of their practice exams, for example, might be easier than the real ACT. Other exams might be harder. They might accidentally spend too much time on some concepts, and not enough on others. This could mean that you, as a student, get a false read at how prepared you are if you rely primarily on content not originally produced by ACT.org.
In other words, you should focus on preparing with material that comes "straight from the horse's mouth," so to speak. Once you exhaust ACT.org's free and low cost material, then consider moving on to another source.
Remember when I said the most effective material was also the most inexpensive? If you are going to begin studying for the ACT, step #1 should simply be to download ACT.org's free PDF ebook Preparing for the ACT Test. It is completely free. It discusses the test's structure, required content knowledge, and mathematical, reading, writing, and science concepts tested on the ACT. It also includes brief reviews of test-taking strategies for each section, as well a full-length practice test, including a writing section, that we recommend students take as a "diagnostic," around which they can design a customized study plan.
It is an extremely valuable piece of the puzzle as you begin to prepare for the ACT.
Additional Real, Previous Practice ACT Exams - FREE
In addition to the 2016/2017 practice test mentioned above, MyGuru has located two other previous ACT exams which any student could and should incorporate into their study plan to track progress over time.
We also recommend all students purchase the Real ACT Prep Guide. It's a physical, paper book (though there's also a Kindle version) that comes with: three official practice tests, clear explanations for all answer choices, all-new test forms, including the writing test, strategies for each section of the ACT, and hundreds of additional practice questions in an "online bonus content" area.
The best online ACT preparation: ACT Online Prep - $29.95
ACT.org also offers online practice. Their low-cost product includes a library of lessons around the content assessed in all four ACT subject tests, as well as a personalized learning path, where students take a short-form ACT test to get a predicted score range, and then a recommended study path is provided based on that prediction with hundreds of practice ACT questions and explanations. This path adjusts based on the test-date entered by the student. There is also a full length practice exam for students to get a predicted ACT score.
At this point, by simply acquiring the ACT study materials recommended above, a student could have access to:
A mix of hard copy and online study materials
All relevant details on the topics covered, question types used, and structure of the ACT exam.
Key test taking strategies on each section
A diagnostic assessment of strengths and weaknesses with guided study plan
1,000+ practice problems
7 full length practice tests
The total cost for all of this? Less than $60. The author and publisher of all of this? The same organization that write and administers the ACT exam you'll be taking.
Now, if you've exhausted these materials and are looking for more advanced "mobile" online ACT prep, we recommend two other ACT prep solutions.
Each of these solutions has a few key features:
Lots of video lessons
Lots of practice questions with solutions
Ability to pinpoint strengths and weaknesses and design customized study plans
Full length practice tests
The first solution, Score Beyond, also offers a more advanced "self-adaptive" feature that adjusts to your answers in real-time, and offers subsequent problems automatically tailored to either help you build upon your strengths in an area where you've proven some mastery, or provide additional practice in an area in which you are struggling. Score Beyond's packages also come with private 1-1 online ACT tutoring and the ability for parent, student, and tutor to track progress over time in the shared dashboard.
Magoosh, our final recommendation, has less powerful "self-adaptive" features, no online tutoring support, and a less functional dashboard feature. However, it's video lessons are impressive, and they offer free email support for context related questions. It's also much less expensive.
---
Hopefully the main point of this blog article was clear; use official practice materials from ACT.org as much as possible. They are effective, and they are cheap. However, more advanced online and mobile prep options are also available for the ACT for students looking for more help, or advanced adaptive or performance tracking/dashboard features, or supplemental online ACT tutoring.

---