GMAT Tutoring
Investing in GMAT tutoring is hands down the most efficient and effective way to prepare for the GMAT. We work with so many students who have spent months using self-paced GMAT prep materials and made very limited progress. They have watched dozens of hours of GMAT prep videos and read and re-read the Official Guide to the GMAT. They've allocated 20 (or more!) hours each week doing hundreds of practice GMAT problems, but they still struggle to understand key GMAT concepts and the best GMAT prep strategies.
Many very popular online GMAT prep courses tout the hundreds of hours of video content and thousands of practice GMAT questions available in their courses. Let's be clear, practice is the key to getting a higher GMAT score. The GMAT exam is not an IQ test. It's a test of critical thinking and problem-solving skills. You can and should prepare a lot for it. But the thing is, the key to building your GMAT skills is not to simply practice more. Practicing more, but in the wrong ways, can sometimes reinforce bad habits that become increasingly difficult to break. You should strive to practice in the right way, which means following the research-backed principles of deliberate practice. Perhaps the most important element of deliberate practice is getting real-time, customized expert feedback. Following deliberate practice principles doesn't necessarily require investing in GMAT tutoring, but it is the most effective way to get that customized feedback.

How is MyGuru GMAT Tutoring Different?
Many GMAT prep companies drill you endlessly on math topics and English grammar. You spend too much time covering pure math fundamentals and not enough time learning how to apply basic math concepts to tricky GMAT questions. The key to raising your GMAT score is to understand how to think critically and problem solve on the GMAT exam. This is true now, and will be true in the future as GMAC rolls out the GMAT Focus Edition in late 2023.
Our approach is to make GMAT quant topics more accessible by focusing on the math you need to know and more importantly, on how to apply it strategically to answer GMAT questions correctly. GMAT verbal, particularly sentence correction on the other hand, is where most non-native speakers struggle and where a more technical approach can actually be helpful. In sum, we help students excel on the GMAT by approaching GMAT quant less technically and more strategically, while selectively taking a more technical approach on GMAT verbal when students don't have a foundation in English and grammar.
Pulling it all together, our students are often surprised at how effective a highly customized approach to preparing for the GMAT can be. A MyGuru GMAT tutor helps you build a more tailored study plan than you'll get at other firms. This leads to a more efficient GMAT study process (i.e., less time spent studying), faster skill-building, and generally better GMAT test scores.
Table of Contents
Who Are Our GMAT Instructors?
Our GMAT tutors have seen personal success on the GMAT, are highly experienced as GMAT coaches, excellent communicators, and have a genuine passion for helping students succeed. And we don't just think we have the best GMAT tutors, we strongly believe we have the best online GMAT tutoring platform.
A typical MyGuru GMAT tutor has:
Experienced substantial personal success on the GMAT, generally scoring at or above the 98th percentile on an official GMAT exam or unofficial proctored exam
5+ years of experience as a GMAT tutor. We work with a small team that treats GMAT tutoring as a profession, not a side job
Dozens of successful previous students who have improved their GMAT score by 50, 100, or sometimes 150+ points and been admitted to a wide range of MBA programs
The ability to diagnose your situation and help you build a highly customized study plan catered to your particular strengths and weaknesses
Often obtained training from a major national GMAT prep company or directly from our Director of Online Instructor and most experience GMAT tutor, Stefan Maisnier
Excellent communication skills and the ability not just to understand the concepts and GMAT test taking strategies, but to explain them to others in an accessible way
A passion for helping students succeed
Access to the industry-leading online GMAT tutoring tools. Our highly intuitive GMAT tutoring platform features no sign-in videoconferencing, a cutting-edge live whiteboard, and the option to invest in fully recorded premium tutoring.
Our GMAT tutoring rates may not be the lowest you might possibly find, but they reflect the best value around when you consider the quality of the team, our customized approach to GMAT tutoring, and the tools we bring to our students. The best GMAT tutors are understandably, not always the cheapest.
GMAT Overview
Before evaluating whether you might benefit from working with a GMAT tutor, you should make sure you understand what the GMAT is all about. To that end, we'll give a quick GMAT overview. Again, a helpful starting point is to realize that it's not an IQ test. It's a test of critical thinking and problem-solving skills that can be prepared for. That said, it's also not as many students assume, only, or even primarily, a test of mathematics, reading, and English language ability. The GMAT uses those concepts to measure problem solving and critical thinking. In fact, too many GMAT prep companies drill students on math problems and English grammar unnecessarily. The GMAT quantitative (or "quant" for short) section, for example, is not a pure math exam. It's a test of reasoning skills that uses high school level math concepts.
Read this GMAT overview blog article to understand what specific content is covered on the GMAT, and scroll down to understand how it is scored and what test taking strategies lead to success.
GMAT Scoring
When it comes to GMAT scoring, most top MBA programs continue to focus on candidate scores on GMAT quant and GMAT verbal as well as the combined "total", treating Integrated Reasoning and AWA scores somewhat separately. That said, all of the scores are important to understand.
Total GMAT scores range from 200 to 800. When someone asks "what did you score on the GMAT?" they are almost always referring to the score out of 800 that combines GMAT quant and GMAT verbal. Two-thirds of test takers score between 400 and 600. Individual section scores on Verbal and Quantitative range from 0 to 60, but get combined and scaled into a score out of 800 in total. Both the GMAT quant and GMAT verbal sections are item adaptive, meaning that as you answer questions correctly, you receive more difficult questions. A candidate that scores a 710 will have answered more difficult questions correctly than a candidate that scores a 550. The number of questions you answer, how many of those are correct, and the difficulty of the questions you answered determine your score on GMAT quant and verbal. So GMAT scoring isn't simply a straight score on the number of answers correct.
Your GMAT Analytical Writing Assessment (AWA) score will be between 0 to 6 in half-point intervals. AWA essays are scored by a mixture of trained human scorers and a machine algorithm. If there is a disparity between the score provide by the human and machine, it's reviewed by an additional human rater.
GMAT Integrated Reasoning (IR) scores range from 1 to 8 in whole number intervals. Because IR questions measure how candidates are able to integrate data in the context of complex situations, all responses to a question must be correct for your answer to be considered right.
MBA Program Standards
Typically, most MBA programs and candidates focus on the Total Score in evaluating performance on the GMAT, and of course the higher the score, the better. Many MBA programs are simply looking for a score that does not fall below a set threshold on the AWA or IR section. In other words, a perfect AWA or IR score is much less valuable than a perfect Total Score of 800.
Typically, the higher ranked MBA programs will require a higher GMAT score. For example, the median GMAT score at Wharton is reported to be 740. If you're wanting to be accepted to a competitive program, you should seriously consider GMAT tutoring.
Although most students look to a GMAT tutor for help with GMAT quant or verbal, they can also be effective in helping students prepare for the Integrated Reasoning or AWA sections.
Recent MBA Acceptances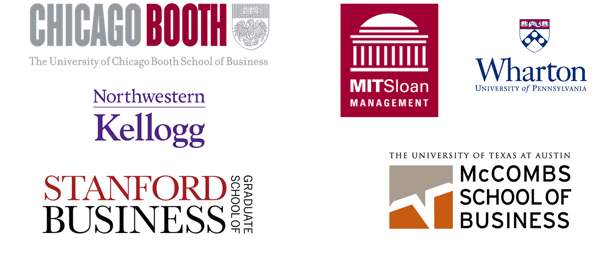 Common GMAT Test Taking Strategies
There are a variety of powerful test-taking strategies that one can use to score well on the GMAT. A GMAT tutor can help you focus on the most powerful strategies and prioritize your GMAT prep efforts. Some powerful GMAT test-taking strategies focus on your approach to GMAT prep on a high level, examples of these types of GMAT strategies would be:
Practice on a computer as much as possible
Build a customized study plan
Set a goal upfront
Take regular timed official practice tests
Other important GMAT test-taking strategies apply to the actual process of taking the exam, and include ideas such as:
Use process of elimination
Use a scratch pad to work out GMAT quant problems
Don't be afraid to plug in numbers
On problem solving questions, look at the possible answers before solving (this can often help you approach the question)
Don't make assumptions that aren't specifically stated in the questions
Of course, working with an online GMAT tutor is a powerful path towards exploring these common GMAT test-taking strategies and more.
Example GMAT Tutors
We believe the best GMAT tutors are at MyGuru. Our instructors have excelled on the GMAT, have been conducting in-person or online GMAT tutoring for 5+ years, approach the GMAT tutoring process professionally, and deliver a highly customized study plan to every student. We also believe the best GMAT tutors can help students with all sections of the exam, so except in extreme cases, whether you are looking for math tutoring for GMAT or help with the GMAT verbal section, we'd be able to provide a GMAT tutor that can meet your most pressing needs, while also helping you brush up on other areas of the exam.
Much of our online GMAT tutoring is delivered by MyGuru's Director of Online Tutoring, Stefan Maisnier. Like all of our GMAT coaches, he is a professional GMAT personal tutor and is constantly researching ways to provide the most effective tutoring experience possible.
His background includes:
BA, University of Southern California, MS, Northwestern University
15+ years of test-prep tutoring experience with large, nationally recognized test-prep firms (and now, MyGuru)
Consistently achieves GMAT scores of 760+ (45+ V and 50+ Q) on the official GMAT, unofficial 3rd party exams, and GMAC GMATPrep exams
Expert at all sections of the current GMAT including the Integrated Reasoning and Analytical Writing
Has his own proprietary study schedules, worksheets, and approach to delivering online GMAT tutoring effectively
Of course, Stefan is just one of many GMAT tutors available and each student's particular situation and schedule will determine our best tutor fit.
GMAT Results and Testimonials
Former MyGuru students have been admitted to top business schools including but not limited to: Harvard Business School, INSEAD, New York University - Stern, University of Pennsylvania - Wharton, University of Chicago - Booth, and Northwestern University – Kellogg
The below quotes are from students who have experienced the power of customized MyGuru GMAT coaching:
"I took the gmat online today and scored a 720! Thank you again for all of your help. When I scored a 570 during my diagnostic exam I certainly did not expect to increase my score 150 points…please feel free to share my name as a reference for future potential students!"
-Lindsey B.
"I couldn't have asked for a better experience with MyGuru. Prior to MyGuru, I initially used a Manhattan Prep self-study program to prepare for the GMAT exam and was able to score a 680. I wasn't satisfied with this score and was looking to push higher up to my goal of 720. I reached out to MyGuru for additional tutoring and Mark immediately paired me with Stefan.
I worked with Stefan through videoconferencing, which was a very easy and convenient way to receive tutoring. I would highly recommend using this option. Stefan created a customized schedule for me based on my needs and we did a crash course refresher over a month-long period in order to push my score into the higher percentiles. I enjoyed working with Stefan and he was very flexible with my schedule as I had to change a few scheduled times due to work conflicts. In addition, Stefan provided me with structured assignments and unique test taking tips that were much different than the standard Manhattan Prep tips I had learned. I appreciated this different way of thinking as it helped me feel more comfortable with the exam and improved my overall test taking abilities. He specifically helped me to improve my overall timing, critical reasoning skills, sentence correction methodology, and data sufficiency abilities."
-Lindsay A
"I would highly recommend Margo as a tutor for anyone looking to dramatically improve their overall score on the GMAT. I was dejected after scoring a 640 on my GMAT in July, so I turned to MyGuru for a solution after receiving a referral from a friend. Marco has coached me over the past few months - accommodating my busy work schedule flexibly and often times offering me more than the allotted time for tutoring to chat about life, professional development, relationships - whatever was on my mind. Her self-written course guides, GMAT study plan, and online quizzes were very impressive and useful - an essential part of my preparation. She was an excellent tutor with a unique method - and was especially strong in teaching me to apply more shortcuts and organization in GMAT math problems. With Margo's support, I managed to score a 750 on my second attempt at the GMAT - a 110pt improvement in 2 short months. I also managed to gain some career/life advice and a great new friend in the process."
-Matt K.
"It has been a while since we have talked and I wanted to provide you with an update. I will officially announce that I will be attending Wharton this fall for business school. I want to personally thank you for playing a huge role in helping me make this dream come true. The GMAT prep and guidance you provided paid off and helped me land my dream school. What you do works... Within our group, you have HBS (Wale), Stanford - GSB (David) and Wharton (Wharton). Thank you again and I hope that all is well on your end!"
-Loyd B.
To read more actual student quotes, click here.
GMAT Tutor Rates
Unfortunately for an MBA applicant trying to understand his or her options, GMAT tutor rates vary widely. You can find a GMAT tutor online for as low as $50 per hour (or perhaps even lower) or as high as $1,000 per hour. As with many products and services, the best GMAT tutors need not come with the highest GMAT tutor rates.
At MyGuru, we believe we have designed a streamlined approach to GMAT coaching that enables us to offer the best GMAT tutors at affordable rates. We haven't invested heavily in content development (the Official Guide to the GMAT and associated official practice materials are all you need), we don't have physical locations, and we see no need to build our own online GMAT tutoring technology. Instead, we leverage the best virtual whiteboard we can find and combine it seamlessly with Zoom or Google Meet. Our GMAT tutor rates are described below.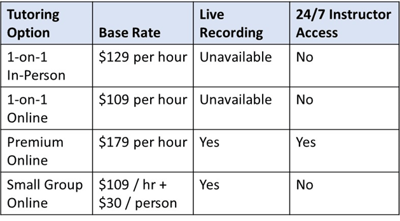 We recommend online GMAT prep to encourage best practices for the computer-delivered (and possibly at-home administered) official GMAT, while simultaneously offering more convenience and functionality. For students seeking a truly immersive learning experience, our premium online tutoring offers full session recording and 24/7 access to a private whiteboard where students can leave notes and interact with a GMAT coach between lessons.
Discounts of greater than 15% off our base hourly rates are available for investing in packages of 10, 20, or 40 hours in advance. We also offer a free no-commitment introductory phone call or videoconference with your GMAT tutor to share details on your situation and ask questions.
Request a Free Diagnostic Discussion with an Expert GMAT Tutor
Frequently Asked Questions (FAQs)
It is normal to have questions as you consider investing in GMAT coaching. Below are some common questions individuals have when considering a GMAT personal tutor.
Who would benefit most from private GMAT tutoring?
Whether you are looking for math tutoring for the GMAT, help with the GMAT verbal section, or support with integrated reasoning on the GMAT, a GMAT personal tutor can help. In other words, it's not the type of content you are struggling with that matters, but really your target GMAT score compared to your current practice scores and the amount of time you have left before exam day.
Working with a GMAT tutor online generally benefits those test takers scoring well below average, those targeted very high scores, or those looking to be as efficient as possible with their test prep efforts. The best GMAT tutors help you be extremely efficient with your studying, enabling you to grasp difficult concepts quicker.
However, if you just need an average score on the GMAT and have a while before you take the exam, a standard test prep book or class combined with focused self-study might be enough. That is especially true if you happen to be a highly disciplined person, and wouldn't benefit as much from the structure and motivation that GMAT coaching often provides. The typical course "teaches to the average student" and so if you are scoring below average or targeting a well above average score, a GMAT tutor makes more sense for you.
The need for a GMAT personal tutor is lower if you are comfortable with GMAT scoring that is closer to average, have enough time until test day, and are a disciplined manager of your own time.
Why do your tutoring assignments and exercises emphasize genuine GMAT resources?
We believe most GMAT tutoring should be structured around the Official Guide to the GMAT and associated official prep materials, such as the many official online and paper-based GMAT exams that are available. These materials offer actual content you'll see on test day. This is very important, as we often see students studying with materials that include topics you may not even see when you sit down to take the GMAT. Furthermore, answer explanations sometimes treat the practice problems as one might in a math or English class, when GMAT problems are always more about critical reasoning, logic, and problem-solving strategies.
What's the minimum number of tutoring hours likely to significantly boost by GMAT score?
If you are going to invest in online GMAT tutoring, we recommend an absolute minimum of 5 hours of coaching. Our base amount is really 10 hours, but we'll work with someone in a 5 hour block in certain circumstances. From there, we offer additional options of 20 hours or 40 hours. That said, we always start with free diagnostic discussions, followed by the ability to start with just a 1.0 or 1.5 hour session. But once you decide to work with a GMAT tutor, we suggest 10 hours as a starting point. it simply takes a little time to build new skills and increase confidence.
We understand GMAT tutor rates can be prohibitive, even if you are getting a great value. But the decision to invest in GMAT tutoring is not magic, and it's typically hard to see tangible results in less than 10 hours. The GMAT is a challenging exam, and some of the best GMAT tutors provide a mixture of motivation, confidence building, guidance on how to study on your own, content expertise on specific sections of the exam, and studying discipline.
So, we don't recommend trying to use a GMAT tutor for just a few hours. You just get so much more out of the experience if you make a large enough investment to give your GMAT tutor the time to help you.
Which should I choose: Your GMAT prep course or GMAT tutoring program? Help me decide.
This question could obviously be answered in a large number of words. But to be as concise as possible, we recommend thinking about it this way. Which of the following categories do you fall in?
I am looking for a GMAT overview and common test-taking strategies. I have scored well on standardized tests in the past and feel reasonably confident. The GMAT scoring I need for my target MBA program is average (~550) , I am reasonably disciplined, I have more than enough time before test day, and I have time in my schedule to wrestle with the exam on my own.
I am unexpectedly scoring below average on practice tests, and I am not sure why. I don't have unlimited time to study, but I feel like even with unlimited time, I would not make substantial progress.
I am scoring average or better, but I need a 700+ GMAT score to get into the highly selective MBA programs I am targeting. I have a busy schedule and need to be highly efficient with my GMAT study plan.
To effectively put yourself into one of the above categories, you likely need to learn a bit about the GMAT and take a diagnostic practice test to establish your current baseline GMAT scoring. You also need to have target MBA programs in mind and a timeline for when you'll be applying. Once you've done these things, most people can put themselves in category a), b), or c). If you are in category a), then our GMAT prep course is probably best for you. If you are category b) or c), then GMAT tutoring may make more sense.
How is your tutoring delivered? Online or in-person?
We offer in-person GMAT tutoring in some cities, but strongly encourage all individuals considering a GMAT tutor to consider working with a GMAT tutor online. The logistics and scheduling associated with online GMAT tutoring are much easier to navigate because of the reduced need for travel, PDFs of the online whiteboard can be downloaded, and you'll have the option to record the session. To learn a bit more about our online GMAT tutoring, watch the below video.
How and when can I get started with private tutoring?
We can typically get you started with GMAT tutoring within days. One of the benefits of working with a GMAT personal tutor is that it's customized around your schedule. We don't have to wait for the next class to begin.
Where and when does tutoring take place?
Again, we recommend online GMAT tutoring. But if you choose an in-person GMAT tutor, sessions typically occur in public places like a library or coffee shop. If you work with a MyGuru GMAT tutor online, we can often accommodate sessions during the work day, but often students are looking for sessions in the evening or on the weekends. In sum, we offer GMAT coaching when it works best for you.
What will be covered, and how many hours of GMAT tutoring should I do?
Working with a GMAT coach is a highly customized experience. We'll help you develop a customized study plan that takes your unique strengths and weaknesses into consideration. If what you really need is math tutoring for the GMAT, we'll focus there. That said, we tend to discourage students from completely ignoring some sections of the exam, even when they are scoring extremely high on those sections already. As we've mentioned previously, we tend to recommend starting with 10 hours of GMAT tutoring. Your tutor will work with you to understand your situation and recommend a package of 10, 20, or 40 hours. We do offer a refund of unused hours if you ultimately decide it's not working OR, more likely, you end up making more rapid progress than we expected.
Can I request a specific tutor?
You can always request a specific GMAT tutor, although MyGuru's team of GMAT tutors is small, and each is highly qualified. You can also switch tutors if you'd like to try someone different, although we find that this is rare.
How long do I have access to my online resources?
Our self-paced GMAT course is available for a full year. If you are working with a GMAT tutor online, you always have unlimited access to PDFs of each online whiteboard. If you have chosen premium online tutoring, you can watch recordings of your sessions for a full year as well.
How Online GMAT Tutoring Works
We believe our approach to online GMAT coaching provides a more intuitive and personalized experience than anything other GMAT instruction option. After every MyGuru online session each student has a minimum of two texts to review - The Official Guide (we recommend the eBook version to build good habits for test day when a paper version of the test won't be available) and a digital copy of that day's whiteboard filled with study notes and GMAT strategies specifically tailored to you.
Official MyGuru GMAT Reviews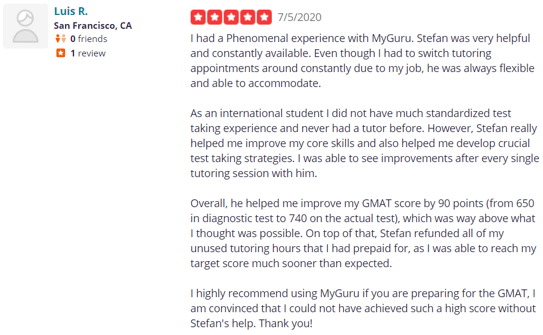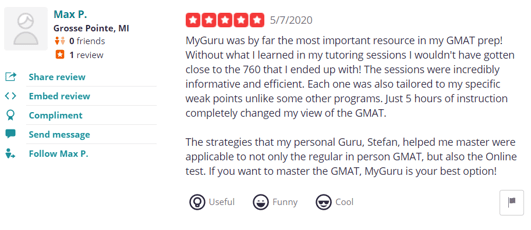 To view additional testimonials and feedback from former students who have worked with one of our private GMAT coaches, click here.
Additional Resources to Support Your GMAT Test Prep
Check out our GMAT blog for the latest student testimonials, GMAT concept reviews and explanations, and advice on graduate business school admissions.
Example articles include:
Want an Affordable Self-Paced GMAT Prep Course?
One of our most experienced GMAT tutors, Stefan, recently authored a comprehensive video-based GMAT course. For $149, it's an incredible value and if the concepts and strategies you learn about in the course resonate with you but you'd like to learn more in a 1-1 GMAT tutoring setting, you can always reach back out to MyGuru for GMAT tutoring. Learn more about the course below. You can register for free to get access to 20% of the videos, but the full course is only $149. We are obviously biased, but it's an incredible value.