Private GRE Tutoring
GRE tutoring from MyGuru is a customized experience consisting of upfront diagnosis of strengths and weaknesses, development of a customized GRE study plan, personalized tutoring, and assignment of weekly homework and periodic full length GRE practice tests. Our GRE tutoring is delivered in your home, local library, or coffee shop. We offer 5, 10, or 15 hour packages, as well as tutoring by the hour.
We offer GRE in Chicago, Boston, Minneapolis, New York and several other cities – or online using a virtual whiteboard.
Our GRE Tutoring Process
Our GRE tutors all follow a basic process, but one which is tailored to every student. Before the first session, students are asked to purchase the Official Guide to the GRE General Test and complete a practice test to identify strengths and weaknesses. The first session involves a review of this diagnostic test, an overview of each section and question type covered on the GRE, and development of a customized study plan. This is followed by a series of sessions in which strategies for each section of the GRE are reviewed and practice problems are completed. To request more information, please fill out the form below.
Request More Information
Expert GRE Tutors: An Example
In any given city, we maintain a small team of experienced, professional GRE tutors. John E. is an excellent example:
Undergraduate degrees in English and Math from Indiana University and current Mathematics PhD student at University of Illinois at Chicago
Scored in the 99% percentile on the GMAT and GRE
Worked with >75 students on 1-1 GMAT and GRE prep with demonstrated results
Experience as an expert instructor with Kaplan, Princeton Review and Manhattan
Currently working with MyGuru to publish proprietary materials covering the quantitative portion of the GMAT and GRE
Click below for specific details on our team of:
Student Feedback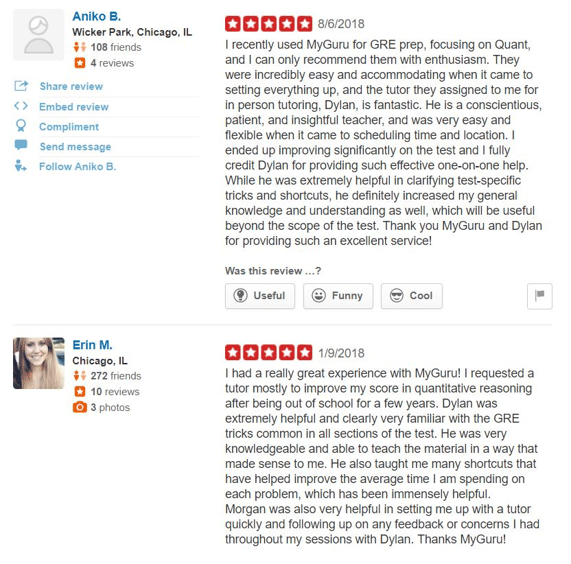 Click here to read more reviews from students who have invested in private GRE tutoring.
Pricing
Our base hourly rate for private GRE tutoring is $99, with 5, 10, or 15% discounts for investing in 5, 10, or 15 hours in advance. That's a long term rate of $99 × 85% = $84.15 per hour. After the first session, if you then choose to continue with a 15 hour package, that's a total cost of $84.15 × 15 hours = $1,262.25.
We encourage you to check around for a better value. Typical hourly rates for 1-1 GRE test prep from an instructor like John can run well above $150 at other companies
A New Classroom GRE Tutoring Option
We also offer an intensive six-week GRE course taught throughout the year in partnership with Northeastern Illinois University for students who are not interested in individual tutoring and live in Chicago. Each of the six classes is two and a half hours long, and uses the same Official Guide textbooks as our individual instruction. If you're located in the Chicago area and are interested, click on the appropriate link below to learn more and register for the class directly through NEIU. Each iteration is open on a first-come, first-served basis.
Saturdays at 9:00a - Beginning February 22, 2020
Additional Resources to Help You Prepare for the GRE
We offer a GRE essay review service to help you prepare for that section of the GRE. To read about how our GRE tutors help people develop strategies for optimizing their performance the GRE, click here. Check out our GRE blog for the latest student testimonials, GRE concept reviews and explanations, and advice on graduate school admissions.
Example articles include: