1-1 SAT Tutoring
SAT tutoring from MyGuru is a customized experience featuring 1-1 instruction from a recognized expert (delivered in your home or a local library). Students are asked to purchase the The Official SAT Study Guide prior to their first session and complete a diagnostic practice SAT exam to identify strengths and weaknesses.
The first session involves a review of this diagnostic test, an overview of each section of the test, and development of a study plan. This is followed by a series of 1-2 hour sessions in which strategies for each section of the test are reviewed & practice problems are completed.
However, many students often just purchase 5, 10, or 15 hours of tutoring support. We charge a base rate of $95 per hour, and then offer 5, 10, or 15% discounts for investing in 5, 10, or 15 hours in advance.
In all cases, we help you develop a customized study plan designed around your particular strengths, weaknesses, test date, etc.
Customized, 1-on-1 Expert Instruction
All SAT Prep Packages are delivered by true experts. Here is some background on one of our Expert ACT/SAT tutors:
Received her BA in Economics from Duke University & an MA in Public Policy from Georgetown
Scored in the 98th percentile on the ACT and SAT
Currently a PhD student in Human Development and Social Policy at Northwestern University
Has served as an instructor for both the ACT & SAT for several of the large, nationally recognized test prep firms
Work experience with Chicago Public Schools and the Federal Department of Education
Student Feedback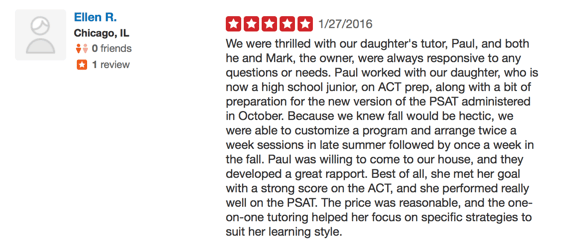 Click here for more 1-1 SAT Prep reviews!
Pricing

Our base rate for private SAT tutoring is $99, but we also offer 5, 10, or 15 hour packages which come with discounts of 5, 10, or 15%. That's a long term rate of $99 × 85% = $84.15 per hour. After the first session, if you then choose to continue with a 15 hour package, that's a total cost of $84.15 × 15 hours = $1,262.25.
We encourage you to check around for a better value. Typical hourly rates for 1-1 SAT Test prep from an instructor like Constance can run well above $150 per hour at comparable companies.
We are confident our solution represents strong value for the money – it combines the best of what's available from the creators of the SAT with an expert MyGuru tutor to create an affordable, yet high quality and customized test prep solution.

For more customized information specific to your city, use the links below to navigate to our location pages for refined pricing, example tutors, and additional contact information.