SAT Tutoring
Choosing to invest in one-on-one SAT tutoring is the most effective method to prepare yourself or your student for the SAT. The reality is that students who self-study are ultimately limited by the bounds of their own knowledge and ability to understand the nuances of the SAT. MyGuru tutors have worked with dozens (in some cases hundreds!) of students who had been struggling with prep books, online tutorials, and practice SATs for months with little progress before they started one on one SAT tutoring and began to see more rapid improvement.
Acing the SAT requires more than just intelligence. An understanding of the concepts and a good foundation in academics can get you part of the way there, but our SAT tutoring focuses on building the test-specific intuition that is required to get the rest of the way. Specialized SAT instruction focuses on providing a foundation of key SAT strategies and concepts that can then be applied as necessary during the test. The SAT is ultimately a test of problem solving, not intellect.
Our in-person SAT tutoring is offered in select cities (including New York, Boston, Chicago, Minneapolis) because we recognize that some students simply prefer to meet a tutor in person. However, we do generally recommend online SAT tutoring because it offers improved instructional functionality and convenience for both students and tutors.
Table of Contents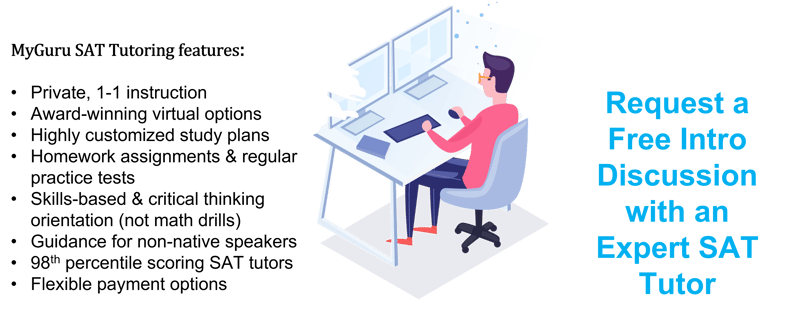 SAT Overview
Before making your decision about if SAT tutoring is right for you, it's important to realize that the SAT is not just a test of knowledge, but also of how to execute based on the theories underpinning the skills the exam values. The SAT uses Grammar, English and Math to test students' problem solving abilities rather than simply testing rote memorization of knowledge. This requires a unique preparation plan that exercises the right muscles for improvement.
SAT Scoring
When it comes to SAT scoring, college admissions offices tend to look at a few key factors. The primary score, or your cumulative score, is what is most important and what most colleges look at for determining if a student is a good candidate for admission. The individual scores on the math and English sections do not matter as much unless there is an obvious issue or disparity between the two scores. If, say, your math score is far greater than your English, even if your overall score is competitive, it could be an issue for a college.
Total SAT scores range from 400-1600 with the American national average landing at 1051. Although many students will be well above this, many top colleges advertise average admits possessing cumulative scores above 1500. Each individual section is graded out of 800 points. With the current SAT, each question is worth an equal number of points.

College Admission Standards
Typically, most undergraduate programs and candidates focus on the total score in evaluating performance on the SAT, and of course the higher the score, the better. A score above a 1550 will put you in a competitive position for nearly any program, but scores above 1200 will be sufficient for many reputable schools as well. In other words, don't get too caught up in 10 or 20 points, just focus on getting yourself above a certain threshold that will make you competitive for programs that you would like to apply to.
Your target schools will determine the score you will need to put yourself in a competitive position. You always want to be within the top 25% of students that were admitted the previous year.



Recent College Acceptances
Of course, the ultimate rationale for working with an SAT tutor is to get admitted to your preferred college or university. In the past few years, our SAT tutoring team has helped student get accepted to the below schools, and many more.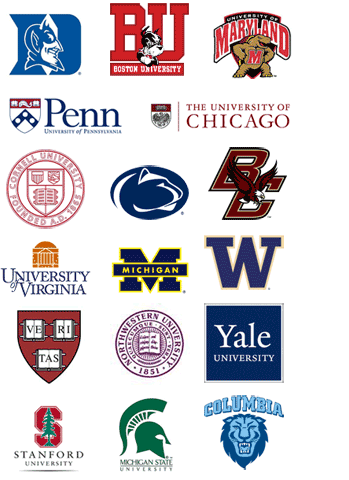 How is MyGuru SAT Tutoring Different?
It is not uncommon for popular SAT prep courses to brandish an extensive library of SAT videos and practice questions, but the reality of the situation is that applying the material and having an educator there to help you work through problems is where real improvement comes from. When it comes to SAT prep, it is important to keep efficiency in mind. You don't want to find yourself spending the better part of your junior year scrambling to prepare for the SAT, after all, the SAT is only one part of the college admissions process. Getting a good score on the SAT sets the foundation for the rest of your application, establishing an academic tone with which the admissions committee will view the rest of your application. Having an SAT tutor is important for getting you where you need to be efficiently, so you can take time to focus on writing admission essays and doing well in your last few semesters of high school.
The key to improving your SAT score is not just practice but practicing in the right way and being deliberate about your SAT study methods. It is important to use research backed techniques to develop your problem-solving skills. SAT tutoring gives you real-time feedback so that you are better able to learn and grow from your mistakes instead of repeating the same mistakes.
Many SAT prep companies drill you on basic math, English, and grammar, but fail to share how to use that knowledge to solve SAT problems. The SAT tends to use certain types of questions time and time again to test certain concepts. Focusing on learning how to address these types of questions as well as the methods they deploy to trip up less vigilant students will allow you to get closer to a perfect score. The key to raising your SAT score is to get used to the type of critical thinking that the SAT demands, and to exercise your brain by practicing those particular problems.
Our approach is to make the SAT patterns apparent to you, and to equip you with the skills required to complete the exam quickly and supplement with content when necessary. Our SAT English portion of our tutoring program is specifically designed to work for both native and non-native English speakers to help develop the intuition that others may have acquired through years of exposure to the language and literature. We have identified conventions that non-native generally struggle with and focus on teaching the rules associated with them to allow test takers to approach grammatical questions with confidence.
Ultimately, our students are regularly impressed by how quickly they can improve their scores when they have a customized approach to SAT tutoring. A MyGuru SAT tutor develops a custom-made study plan for you, as well as individual one on one time that you might not get at other firms. We will get you where you need to be faster, so you will have more time to develop the other aspects of your college application.
Who Are Our SAT Instructors?
We believe that MyGuru is home to some of the best SAT tutors in the industry.
Our SAT tutors have each personally performed exceedingly well on the SAT and received degrees from elite universities and top public colleges and graduate school programs. They are highly experienced individuals who are passionate about helping students meet their goals. Most importantly they are brilliant communicators and educators who have taught students from all walks of life, allowing them to be uniquely attuned to the needs of each individual student. We truly believe MyGuru has some of the most talented, hardworking, and intelligent tutors using the best online tutoring platform around.
A typical MyGuru SAT tutor has:
Experienced personal success on the SAT, generally scoring at or above the 98th percentile on an official SAT exam or unofficial proctored exam
5+ years of experience as a SAT tutor. We work with a team that treats SAT tutoring as a profession and has personal stakes in student success.
Dozens of successful previous students who have improved their SAT score by 100, 150 or sometimes 300+ points and been admitted to a wide range of extremely competitive colleges
The ability to diagnose a student's situation to help build a highly customized study plan catered to particular strengths and weaknesses
Often obtained training from a major national SAT prep company or directly from our Director of Online Instructor and most experienced SAT tutor, Stefan Maisnier
Expert at all sections of the SAT with well-rounded knowledge for all students
Excellent communication skills and the ability not just to understand the concepts and SAT test taking strategies, but to explain them to others in an accessible way
A passion for helping students succeed
Access to the industry-leading online SAT tutoring tools. Our highly intuitive SAT tutoring platform features no sign-in videoconferencing, a cutting-edge live whiteboard, and the option to invest in fully recorded premium tutoring.
Our SAT tutoring rates may not be the lowest you might possibly find, but they reflect the best value around when you consider the quality of the team, our customized approach to SAT tutoring, and the tools we bring to our students. The best SAT tutors are understandably, not always the cheapest. Each student's particular situation and schedule will determine our best tutor fit.
Common SAT Test Taking Strategies
There are a variety of powerful test-taking strategies that one can use to score well on the SAT. A good SAT tutor can show you how to properly prioritize you SAT prep timeline, and get you set up with an effective method for test-taking that will allow you to answer all questions effectively and have time to check your answers. Here are some examples for strategies our tutors will deploy:
Use online resources to practice consistently, beyond what is physically available
Build a custom study plan for you
Set goals that are unique to your needs
Take regular timed official practice tests
Other important SAT test-taking strategies apply to the actual process of taking the exam, and include ideas such as:
Using process of elimination
Exercising effective time management; averaging around 60 seconds per problem
Using the test booklet to work out questions easily
Plugging numbers in for variables when you don't immediately know the answer
Looking at the answers before beginning to solve the question to get an idea of scale
Avoiding assumptions that aren't directly stated in the question or can be inferred by the passage
Of course, working with an online SAT tutor is a powerful path towards exploring these common SAT test-taking strategies and more.
Public Profile Ratings & Reviews
SAT Results and Testimonials
I researched many test prep services for my daughter's ACT/SAT preparations before deciding on MyGuru. All the others wanted to sell me waaay more (thousands of dollars) hours of instruction than my daughter felt she needed. We tried MyGuru and the online tutoring option was perfect in that it fit well into my daughter's crazy schedule. Stefan's predictions on the scores he thought were achievable for my daughter became a reality quite soon in the process and she ended up getting into the college of her dreams. I loved MyGuru because there's no "hard sell". They focus on the areas you need to improve and are very realistic about expectations.
-Marcia K.
I used MyGuru to help me prepare for both the ACT and SAT. My schedule is very busy and MyGuru was the best tutoring place to accommodate my schedule, allowing me to work with a tutor over skype weekly and do work they provided me on my own. My ACT score went up 2 points after tutoring and when I took the SAT for the first time I got a 1510. I truly feel like I owe lots of my college acceptances and any money I will get towards college to MyGuru and recommend it to all.
-Emily J.
My son used MyGuru for online sat prep. His tutor Steve was amazing and helped him focus and to work hard. He improved his score by 300 points. Working with MyGuru was easy and simple. Everyone was helpful and friendly. I can highly recommend the service.
-Peter K.
I contacted MyGuru with a solid baseline score in the high 1300s. However, as an excellent student in a competitive school, I felt my score didn't fully reflect my potential, particularly in the reading and math sections, and I really wanted to crack 1500. Once we (Steve and I) started working together, we were able to quickly identify specific question types that I needed to focus on, and determine effective strategies to allow me to answer the questions quickly and efficiently. After 16 hours of tutoring, I scored a 760 in each section for a combined score of 1520."
-Izzy S.
To view additional testimonials and feedback from former students who have worked with one of our private SAT coaches, click here.
Should I take the SAT or ACT?
Many students and parents ask themselves, should I take the SAT or ACT? In the past, the SAT and ACT exams were quite different. In previous versions of the SAT, students with advanced vocabularies tended to score very well. However, the current version of the SAT is now more like the ACT, in that it tests for skills and knowledge most students acquire in a rigorous high school curriculum. In addition, it used to be the case that schools on the coasts of the U.S. required the SAT, while midwestern schools required the ACT. But this is no longer the case, either. As a result, it is now more difficult to know exactly which test is better for you. We often advise students to take both, and submit the score that is higher from a percentile perspective.
That said, there are some rules of thumb that can be helpful if you are looking to exploit the differences in the exams that do exist relative to your skills and preferences.
You should consider focusing on the ACT if:
You feel you are particularly equipped to read long science articles
You are okay with a shorter time per question on the test, and thus consider yourself good at time management on standardized tests
You are particularly strong at math
You are prepared to pay slightly more to take the test
You have already studied for the ACT
You might consider the SAT if:
You are better at reading more literary works
You have a solid foundation in early math, but have not seen the most advanced math on the ACT
You have already taken the ACT and felt it was not for you, or scored below your expectation
Again, we advice students to take both the SAT and the ACT.
SAT Tutoring Rates and Coaching Options
Our SAT tutoring rates are affordable, relatively speaking. Other SAT prep companies do charge $200, $300, and even $500+ per hour. However given the quality of our experienced SAT instructors, we strongly believe we deliver one of the best values around, particularly if you are willing to consider online SAT tutoring.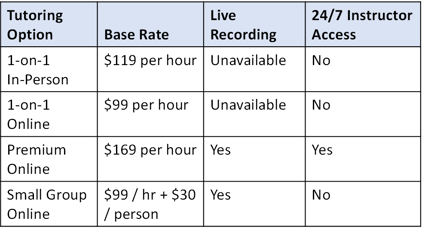 For students seeking a truly immersive learning experience, our premium online tutoring offers full session recording and 24/7 access to a private whiteboard where students can leave notes and interact with their SAT coach between lessons.
Discounts of greater than 15% off our base hourly rates are available for investing in packages of 10, 20, or 40 hours of instruction. We also offer a free no-commitment introductory phone call or videoconference with your likely tutor to share details on your situation and ask questions.
Request a Free Diagnostic Discussion with an Expert SAT Tutor
Frequently Asked Questions (FAQs)
We understand that you may have some questions about the SAT tutoring process. Below are some common questions individuals have when considering SAT tutoring:
Who would benefit most from one on one SAT tutoring?
Whatever section of the SAT you believe you need the most help with, whether that be the writing and language, reading comprehension, math, or a combination of all sections, we will be able to create a personalized, goal-oriented strategy to get the desired improvement. We will look at your overall target score and search for your strengths and weaknesses to see where you should be trying to acquire the most points.
Having an SAT tutor can help a whole range of students. Those who will benefit most from private SAT tutoring will be the students who have either scored far below average, or those who have high target schools that require a specific caliber of SAT score. A tutor will be able to focus on specific areas of improvement and target missed questions to build on top of the score you already have.
If you are, however, only looking for an average score, or you are a particularly help-disciplined person, it might be possible to achieve the results you are looking for without having an SAT tutor.
Why do your lesson plans focus on genuine SAT resources?
The most accurate depiction of what the test is like is anything provided by the College Board which administers the official exam. The truth is that other companies can create test prep questions that very resemble SAT questions, but they will often lack the nuance that authentic SAT questions have. Using old SATs and practice tests released by the College Board will get you the most accurate material to prepare with. It is important to understand the test-makers and the strategies which will come when you practice in this manner.
What's the minimum number of tutoring hours likely to significantly boost my SAT score?
If you are going to invest in online SAT tutoring, we recommend that students have at least a cumulative 5 hours of tutoring time to see any significant improvement on your grade. Our standard block is 10 hours, but we accommodate to 5-hour blocks in certain circumstances. From there, we offer additional options of 20 hours or 40 hours. Our standard practice is to begin with a free diagnostic discussion, and once you decide to work with a SAT tutor, we suggest 10 hours as a starting point as it takes time to build up confidence and skill.
We understand that SAT tutoring can be expensive, but it is important to have more than a couple classes. Improvement on the SAT does not usually happen in a uniform way. It takes time to build up the concepts until you can finally see some real improvement.
4. Should I opt for One on One tutoring or small group sessions?
Ultimately your choice will come down to a few key factors including cost, learning style, timeframe and desired improvement.
How is your tutoring delivered? Online or in-person?
We offer both in-person and online SAT tutoring. The choice will come down to how the city or area you live in and your desired learning modality. We recommend online instruction for students who have very busy schedules because of the convenience of limiting travel time and having course materials accessible easily.
How and when can I get started with private tutoring?
We can typically get you started with SAT tutoring within a few days of you making the decision to join. You will be put in contact with one of our wonderful instructors, who will then outline the goals for the duration of your sessions.
Where and when does tutoring take place?
Online tutoring sessions generally take place on a web video calling platform like zoom whereas in-person sessions are hosted in a wide range of locations, often public places like coffee shops or libraries.

8. Can I request a specific tutor?


You can always request a specific SAT tutor, although MyGuru's team of SAT tutors is small, and each is highly qualified. You can also switch tutors if you'd like to try someone different, although we find that this is rare.

10. How long do I have access to my online resources?

Our self-paced SAT course is available for a full year. If you are working with a SAT tutor online, you always have unlimited access to PDFs of each online whiteboard. If you have chosen premium online tutoring, you can watch recordings of your sessions for a full year as well.
How Online SAT Tutoring Works
Once you have signed up for our online SAT tutoring, you will gain access to all the MyGuru resources that come covered under your chosen plan, and you will be set up with a tutor to get you started with your lessons. You'll be invited to a Google Meet, Zoom, or Microsoft Teams session, and in that session, you'll use a unique whiteboard from our partner, Miro. To get a sense for how the session will look and feel, watch the below video.
Additional Resources to Prepare for the SAT
Check out our SAT blog for the latest student testimonials, SAT concept reviews and explanations, and advice on college admissions. Example articles include: