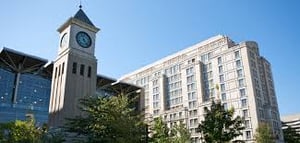 If you've received offers of admission from multiple law schools, congratulations! While the more difficult part of the application process is out of the way, another big decision awaits you. Deciding where you end up going to law school could dictate the course of your career. Do you prefer getting your JD at a campus where the weather is warm year-round? Or do your priorities lie towards ensuring that your classrooms are divided into small sections for discussion? As you go over your acceptances and pick your favorites, consider the following factors when deciding how to choose a law school that is right for you.
Academic Specialties
When thinking about how to choose a law school, you should familiarize yourself with the variety of legal specialties offered at each program. Knowing your specific interest in law and what career path you want to take after graduating is one of the most strategic ways to narrow down your options, as not all law schools offer the same areas of study. For example, if you want to pursue a career in immigration law and one of your acceptances is from Yale, you need to research whether Yale offers an immigration law track in the first place. If you choose one program and later realize that you're unable to pursue your goals at that institution, you'll regret your decision!
Location
Your answer to how to choose a law school should also rely on where the law schools are located. You might decide you're tired of northeast winters and be excited about institutions on the west coast, such as UCLA or USC. Or, you may want to be near a city like New York, which is home to many international organizations. You should also look into in-state benefits and saving on tuition while staying close to home. Regardless, think about the pros and cons of the location for each law school on your list, as you'll be spending the next three years in that particular area. Now that you have your options, it's time to critically think about where you'd truly be happy on a day-to-day basis.
Class Size
As you explore the question of how to choose a law school, carefully consider what you want to get out of your classroom experience once you start attending your program. Do you learn best in a large classroom lecture-style setting? Or do you prefer smaller classrooms, which offer more opportunities for participation and getting to know your classmates? At many top law schools such as Harvard and Yale, classes are broken down into smaller sections. At others, seminars can go above 100 students per session. As you look at your final selection of JD programs, reflect on what is the best learning environment for you.
Cost
Law school is a big investment. When you're a full-time student, it's difficult to fit in a time-consuming job, so you won't necessarily be earning a lot of money as you attend law school. When you think about how to choose a law school, keep the amount you would have to pay for tuition in mind, and take into account other factors like housing and utility costs. Of course, you can always take out a loan to help pay for tuition to law school. If you've received scholarships from any of the programs, consider how much they would offset other expenses and reduce the size of the loan. Hopefully, you're able to narrow down your choices to schools that still sound exciting but would be more cost-effective than others that have accepted you.
Alumni Profiles
As you finalize your list of institutions to those that offer the ideal areas of study or are situated in a city that you've always wanted to live in, take a look at the data for graduates at different programs that have caught your eye. What are alums up to? Law schools publicize data for different industries alumni are pursuing - take advantage of these statistics to figure out whether graduates have found success in ways that appeal to you. For example, you might want to research the percentage of graduates who have judicial clerkships or have passed the bar. If an alum is involved in your ideal industry, being part of the same program allows for networking. Your choice of law school will continue to impact you - the success of past students is definitely something to note when making the final call!
Summary
On your journey to uncovering how to choose a law school, do your due diligence and go through websites, attend webinars, visit campuses, and talk to current students. As you'll be making a big step in your career, this isn't a decision that should be taken lightly. Carefully consider the factors we've outlined to make sure you get the most out of your legal education. You've got this!
Author: Padya Paramita, InGenius Prep