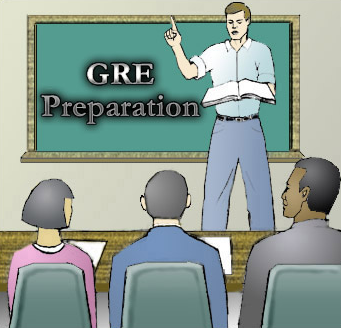 With so many GRE test prep options available, it can be hard to know where to start looking. Hopefully this outline of the types of options available will help you get an idea of what would work best for you.
Option # 1: Self-study
If you prefer to learn on your own from books or online study materials, then you may be fine preparing yourself without any help. This allows you to set your own schedule and pace and focus on the areas that you most need to improve, and the prices of test-prep books and programs are fairly reasonable. If you make this decision, though, you should definitely start well in advance of taking the test, and be realistic with yourself about whether you have the ability to follow through. Set a definite date to start your study program, and give yourself one or two weeks to evaluate your progress. If you find yourself procrastinating or not making satisfactory progress, then you should consider a guided option.
Option #1.5: Online Study Courses
We call this option 1.5 because it's really a subset of option #1 – using an online GRE prep course to supplement, or perhaps to define, your process of self-studying. There are a variety of interesting online GRE prep courses to consider, such as the GRE prep course offered by BenchPrep or the GRE course offered by Magoosh. These courses provide structure, convenience, and because they are online, typically far more practice than can fit into a physical test prep book.
Option # 2: Group classes
Group classes provide the benefit of both guidance and accountability, but provide limited availability. You will probably pay more for this option than you would to study on your own, but you will potentially get more value. You should try this if you think working along with a group will help you. Another way to think about group classes is that they provide the basics, and perhaps most of the content that you might describe as medium difficulty. So, if you're looking to get an average or above average GRE score, a prep class is a good tool. However, a group class has to be conducted at a speed that works for everyone in the class. So, it's probably too fast for the below average student who's struggling, and too slow for the high scoring student. In other words, the experience isn't personalized or customized. You can ask questions here and there, but not too many, because the class has to keep moving forward for everyone else.
Option # 3: Private tutoring
This is likely to be the most expensive option overall, but will also provide the most value in terms of flexibility and personal guidance. This is also the most realistic option if you are feeling particularly stuck or are short on time. Or, if you're actually a really good test taker and need help mastering the most advanced concepts, a private GRE tutor is probably a good investment. You can meet with a tutor either in person or online, and wherever you are you will find a wide range to choose from.
MyGuru prides itself on providing the best quality GRE test prep tutors available, so if you would like our help, get in touch with us today. However, we only want to work with students who seem well suited to working with a GRE tutor. Nobody wins if a student is convinced to work with a tutor when a prep class would have worked better for him or her.
--Dane Dormio is an online tutor and academic coach who helps students get the most out of school and life. You can find more articles and resources on his blog at www.synergy-tutoring.com.