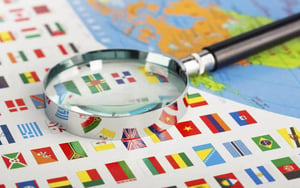 The MBA is one of the most sought-after graduate programs in the world. Whether you are looking for a jump in the corporate career ladder, starting your own venture or hoping for a career change, an MBA degree could be more than handy. According to the QS Global Employer Survey 2017/2018 results, business and management studies are among the top 5 preferred disciplines among the recruiters. MBA is a great program to learn cross-functional skills and essential soft skills. On top of that, studying abroad has its own unique advantages. Hence, it's a no-brainer why so many international students apply for MBA programs abroad. In this post, we will look at the top 10 MBA abroad destinations for international students.
Why pursue your MBA abroad?
In today's age of globalization, it is very important to understand the cultural differences and ways of functioning effectively in a range of societies. An international MBA program is an ideal platform to learn organizational behaviour and culture from lecturers and peers with different backgrounds and cultures.
Here are the top reasons for pursuing an MBA abroad among international students: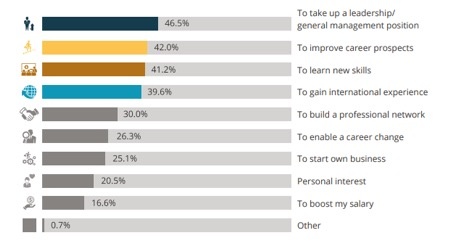 Once you figure out that a foreign MBA program is the right step for you, you need to be aware of the eligibility criteria, entrance exams, and application process of getting your MBA abroad. Of course, the admissions process is a competitive one, especially if you are eyeing schools Harvard, Wharton, INSEAD, Oxford.
Next, you need to consider the costs (tuition fees & living expenses) and the possibility (and amount) of scholarships & financial aid.
Then you have to think about the post-MBA complexities and opportunities. For instance, after completing an MBA in a foreign country, the majority of Indian students prefer working overseas for at least a few years to recover expenses (and to gain international work experience) before potentially going back to India.
So, which is the best foreign country to go to for an MBA?
We will look at the top MBA abroad destinations among international students in terms of popularity, quality of education, costs, and job prospects.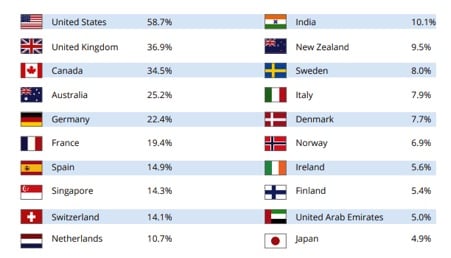 The image above demonstrates the top 20 preferred MBA abroad destinations for international students around the globe. In this post, we will take a closer look at the top 10 countries along with their specific career prospects, top business schools and costs.
Top 10 MBA Abroad Destinations for International Students
USA
Popularity Among International Students for Pursuing MBA: 58.7% (2018) | 65% (2013)
The US is by far the most popular destination among international students for pursuing an MBA abroad. When it comes to the course curriculum, infrastructure, resources and career opportunities, USA is the no. 1 choice for the majority of Indian students. The MBA is one of the most prestigious degrees in the US. Apart from lectures & coursework, the quality of seminars, guest lectures, case studies, practical exposure & internships is unmatchable.
The concept of MBA programs was developed in the US. Additionally, the US also hosts some of the most prestigious and highly selective graduate business schools such as Harvard, UPenn (Wharton), Stanford, Chicago (Booth), UC Berkeley (Haas), Dartmouth (Tuck), MIT (Sloan), Northwestern (Kellogg), and many more.
It should be noted that the MBA in the US is an expensive affair. At the top business schools, fees can range from $100,000 to $200,000 for just over a period of two-years. However, US business schools often offer generous scholarships to deserving students.
UK
Popularity Among International Students for Pursuing MBA: 36.9% (2018) | 41% (2013)
Post-Brexit and with the scrapping of the Post-Study Work Permit scheme in 2011, the UK has lost significant popularity as an MBA abroad destination. But, the UK is still a good choice for folks looking for shorter duration (one year MBA) programs.
The UK has been one of the most traditional destinations for studying abroad. The country hosts some of the biggest brands on the planet as well.
There are many MBA programs in or around London, one of the largest financial hubs in the world. Almost all the top MNCs have a presence in London. Though it's tough, it's not impossible to get a job in the UK as an international student.
The top MBA schools in the UK are London Business School, Cambridge, Oxford, Manchester, Cass Business School, Warwick, Cranfield, and Imperial Business School. An MBA from the UK will typically cost you between $55,000 - $90,000.
Canada
Popularity Among International Students for Pursuing MBA: 34% (2018) | 23% (2013)
Canada has gained tremendous popularity among international students in the last five years. At present, Canada is among the top 3 preferred MBA destinations.
There aren't as many top MBA schools in Canada to choose from. But relatively low tuition fees, relaxed post-study work permits, openness to foreign students, a simple immigration process, stable economy, and multicultural society attract a large number of foreign students.
Canada is a diverse country; so many international students feel at home here. For the most part, international students can expect a high standard of living while in Canada. More importantly, the country also has some of the best business schools in the world. The top schools are Toronto (Rotman), York (Schulich), Western (Ivey), UBC (Sauder), HEC Montreal, McGill (Desautels), Alberta, and Queens.
The cost of studying MBA in Canada varies from $50,000 to $110,000. So, the costs are relatively cheaper than the USA. However, for MBA graduates in Canada, opportunities for internships or jobs within large corporations are on the slimmer side. In Canada, more than 98% of firms are small (less than 100 employees). But, nonetheless, Canada is still an excellent destination for pursuing an MBA.
MBA programs in Canada will expose students to a top-notch education along with a strong focus on global business, corporate social responsibility, internships, and industry projects.
Australia
Popularity Among International Students for Pursuing MBA: 25.2% (2018) | 20% (2013)
Australia does not have too many MBA programs that are featured in 'Top 100 in the World' lists. But, owing to the country's quality of education, friendly immigration policies, and high standard of living, Australian MBAs are quite popular among international students.
The top MBA schools in Australia are Melbourne, UNSW, Macquarie, Sydney, QUT, and Monash. If you are looking for a decent education along with industry exposure, and stay-back & immigration options, then Australia is a good choice.
However, if you wish to relocate to another country after finishing your MBA, I would recommend focusing UNSW & Melbourne, if possible. The cost of pursuing an MBA (fees & living expenses) in Australia is not cheap.
The MBA programs in Australia cost between USD $37,000 and USD $72,000. The average MBA fees in Australia have seen another strong increase in 2018 with the standard course now costing more than $50,000, up nearly 12% in three years.
Germany
Popularity Among International Students for Pursuing MBA: 22.4% (2018) | 15% (2013)
Germany has always been a powerhouse when it comes to technology, research & innovation. According to the World Bank, the German economy is the largest in Europe and 4th in the world. Apart from having a stable economy, Germany is also home to some of the best institutions in the world.
More often than not, foreign students prefer English speaking countries, especially for MBA programs. But, a stable economy, high quality of education, relatively low cost of education, high standard of living, nice post-study work scheme, and good job prospects in Germany are often too good to ignore.
The top MBA schools in Germany are Manheim, ESMT Berlin, ESCP Europe (Berlin Campus), Frankfurt School of Finance and Management, HHL Leipzig, WHU Otto Beisheim School of Management, EBS etc. As an international student, you will pay between $30,000 and $50,000 for your MBA.
Apart from these globally ranked schools, foreign students can also pursue their MBA from the Universities of Applied Sciences. They might not be very well known and don't feature in the ranking tables (QS or FT). But, they can really give you a good return on investment.
France
Popularity Among International Students for Pursuing MBA: 19.4% (2018) | 23% (2013)
France is another very popular study abroad destination for prospective MBA students.
In France, the Government spends more than 20% of its budget on education. The French education is among the best in the world, in terms of content, industry relevance, and quality. As an international student in France, you can enjoy all the benefits that a French national enjoys. France is a global superpower when it comes to science & technology, business & finance, fashion, arts etc.
Two of the most competitive & top-ranked business schools in the world are based in France – INSEAD & HEC Paris. Additionally, ESSEC, EDHEC, ESCP Europe (Paris), Grenoble Business School, Emylon Business School, and SKEMA Business School are very reputable.
Spain
Popularity Among International Students for Pursuing MBA: 14.9% (2018) | 15% (2013)
In spite of the country's recent political & socio-economic concerns, an MBA in Spain remains a strong proposition for international students. Those who want to learn the Spanish language and business culture in order to be competent conducting affairs within Spain and Spanish-speaking Latin American and Caribbean countries, getting your MBA in Spain is a great option.
Additionally, Spain's rich history, culture and love for the arts, not to mention its Southern European climate, will always appeal to many prospective students looking to get the most out of their MBA experience away from the classroom.
The top business schools in Spain are IE Business School, ESADE Business School, IESE Business School, and University of Navarra. The tuition fees of MBA programs in Spain range from USD $75,000 to $ 92,000.
Singapore
Popularity Among International Students for Pursuing MBA: 14.3% (2018) | 15% (2013)
Singapore has been turning out to be popular among international students. It's among the fastest growing economies, and hosts several large corporations.
The MBA degrees offered by universities in Singapore are globally recognized. They provide extremely international environments with extensive global connections. The top schools in Singapore are National University of Singapore, Nanyang Technological University, and the INSEAD Singapore campus.
NUS or NTU costs between USD $39,000 - $47,000. However, the INSEAD MBA will cost you around $97,000.
Switzerland
Popularity Among International Students for Pursuing MBA: 14.1% (2018) | 14% (2013)
Switzerland is known for its high teaching standards and attracts some of the world's top intellectuals, thanks to high salaries and high quality of life. 21% of students and 40% of the faculty at Swiss universities come from other countries. Switzerland is also one of the OECD countries that invests the most money in education and research.
Switzerland is located in the heart of Europe, and is also a center for international travel with Zurich, Basel and Geneva serving as aviation gateways. It's a great place to develop hard & soft skills that are required in the modern business world. Switzerland offers some of the highest MBA salaries for graduates, compared to other European countries and the world as a whole.
The top business schools in Switzerland are IMD Business School, St. Gallen, HEC Lausanne, EU Business School, and Geneva School of Economics & Management. The average MBA fees in Switzerland are around USD $55,000. However, the MBA cost at IMD is around USD $132,500. Read more about the most expensive MBA programs in the world.
Netherlands
Popularity Among International Students for Pursuing MBA: 10.7% (2018) | 10% (2013)
By pursuing an MBA program in the Netherlands, you can study in fascinating Dutch cities and enjoy the openness of the Dutch society as well as the interesting political environment. The Netherlands is an attractive destination for MBA students within Europe – coming in at the 10th position worldwide.
The country has a rich economic history along with a favourable environment towards innovation, creativity & entrepreneurship.
The top business schools in the Netherlands are Rotterdam School of Management, TiasNimbus Business School, Amsterdam Business School, Maastricht School of Management, and Nyenrode Business University. MBA fees in the Netherlands range from USD $50,000 to $60,000.
There are many benefits to pursuing your MBA degree abroad. Keep your options open, do your research, establish your priorities, and you'll be well on your way to choosing the best MBA program for you!
About the Author
Tanmoy Ray is a career adviser & admissions counsellor, blogger, and content marketer. He has worked with the University of Oxford (UK), Utrecht University (Netherlands) and University of New South Wales (Australia). At present, he works with Stoodnt, Inc.
If you're interested in participating in one of MyGuru's free GMAT webinar, please click here for more information and to sign up.