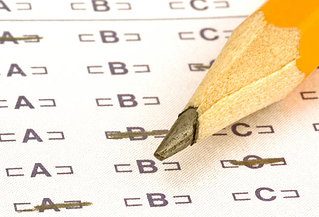 Passing the NCLEX is vital to your nursing career. How do you know if you are prepared to answer these complex questions so you can get on with your nursing career? There are several things to keep in mind. Let's check to see if you are ready to test.
The most important variable to consider is that there are thousands of NCLEX questions already written. Every day someone is writing a new NCLEX question. It is impossible to find and answer all of these questions.
You may have received a 2 year ASN degree, a 4 year BSN degree, or maybe a 2 year Bachelors to RN degree. Everyone takes the same NCLEX exam. You may only get 75 questions to verify if you are competent.
The key is to "Think Like a Nurse." Can you take a set of patient variables and make a sound nursing judgment? Are you safe in your nursing practice?
As time goes on, new diseases are discovered. Are you prepared to know everything about a new disease before you care for a patient? I cared for a patient with AIDS before anyone knew anything about the disease.
As a nurse you will need to consider for each patient their physiological, psychological, social, environmental, and spiritual needs and their ability to learn. And, you only have 10 to 15 minutes to effectively assess each patient.
Nursing programs are set up to deliver a large amount of data and resources to help you deliver safe patient care. There are a few basic rules that should always be followed on the NCLEX exam and in your nursing practice.
ABCDE's are most important. Many NCLEX questions can be answered by placing the answers in order of priority. Airway, breathing, and circulation are the priorities. Then D for disability of consciousness or hypoglycemia, and E for environmental such as pain and temperature.
Medication administration has many risks associated with safe patient care. Knowing your medications is vital to your success on the NCLEX and in your nursing practice. Know the action, side effects, drug administration, and patient teaching for each drug classification. Monitoring effect of the drug is vital to patient safety.
Comfort and care is usually the lowest score on an NCLEX. Caring for the patient safely and effectively requires understanding many nursing skills to prevent infections and falls, and reduce pain and suffering. Using alternative methods, in addition to pain medications, is vital to patient comfort and satisfaction.
I have helped dozens of students pass their NCLEX. Some students are still in their nursing program and some have taken the NCLEX 3 or more times. I find the two biggest challenges are anxiety and vocabulary.
Attention to details is vital to answering the NCLEX question. When you are anxious you are less likely to absorb all the question is asking. The answers all say the same or do not say what you want them to say. Relax. "Think Like a Nurse." Using the knowledge you have gained, what would a nurse do in this situation?
Read out loud to pronounce the words. Communication is vital to patient safety. Knowing how to say the word and fully understanding the meaning of the vocabulary words can make a difference in your success on the NCLEX. This includes both medical vocabulary and general words of the English language.
A well written patient case study can provide many elements to help you focus on the priorities to complete effective patient assessments and nursing skills to provide safe patient care. An NCLEX tutor can make a difference in helping you "Think Like a Nurse."
Mary Ann Wietbrock RN MSN