In-person or Online MCAT Tutoring
A MCAT tutor can be particularly helpful when you are studying for the MCAT. Unlike other standardized exams, which do not require specific subject knowledge beyond high school math, there is a fair amount of biology, chemistry, and physics required to succeed. Your in-person or online MCAT prep needs to be tailored to you, and upfront study plan development is often where we see students get the most value out of working with an MCAT coach.
An MCAT tutor from MyGuru leverages materials and practice problems from the Official Guide to the MCAT and other free or low cost MCAT prep materials from the AAMC. We begin with an initial diagnostic session in which we identify strengths and weaknesses, review each section of the MCAT with you, recommend materials, outline content to review in MCAT tutoring session, and assign homework. Periodic official MCAT practice tests are incorporated in the customized lesson plans to help track progress of content retention and to hone key MCAT test-taking strategies.
In-Person & Online MCAT Prep Options and Tutoring Rates
We offer in-person tutoring in a growing number of cities because we do recognize that some students simply prefer to meet a tutor in-person. However, we recommend online MCAT prep because it offers more convenience and functionality.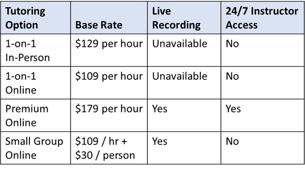 For students seeking an immersive MCAT prep experience, premium online MCAT tutoring includes full session recording and a 24/7 live private whiteboard where students can leave notes between lessons and receive a response from the instructor "off hours."
Discounts of greater than 15% off the above base rates are available when you invest in packages of hours in advance. We also offer a ~20 minute free introductory phone call (for in-person tutoring) or virtual meeting (for online tutoring).
Request More Info about MCAT Tutoring Options
Benefits of Online MCAT Prep
Some students remain hesitant to engage in online tutoring. While we of course understand this perspective, we ask students to take into consideration a few things when considering online MCAT prep:
With a good internet connection, the online experience can be similar to an in-person experience, in that you can "read and respond" to your tutor's verbal and non-verbal cues

Writing on a virtual whiteboard can be very similar to writing on physical scratch paper

Removing the requirement to travel to a physical location often saves both the student and the tutor time and money while creating

more scheduling options for both parties

In some cases, online MCAT tutoring sessions can be recorded for later review
For these reasons, in our view, online tutoring is just as good as face-to-face tutoring. It might be better.
How does MyGuru's private MCAT online coaching work?
We believe our approach to online training provides a more intuitive and more personalized experience than anything else in the online MCAT prep course market. Below you'll find an example of our online tutoring approach being applied in real-time:
Experienced MCAT Tutors
Our MCAT tutors offer a unique mix of academic excellence, MCAT tutoring experience, and professional achievement. They are more than just MCAT tutors. They can function as your MCAT coach and medical profession advisor.
The two individuals referenced below are just examples. We have several other experienced MCAT tutors on our team as well.
Jordan S.:
B.S. in Human Biology from the University of Texas at Austin, Summa Cume Laude

Started M.D. Program in Fall of 2017

Test Scores: MCAT: 516, SAT: 1980, ACT: 30

Tutor for Chemistry Emerging Scholars Program at the University of Texas (2012-2014)

5+ years tutoring experience. Specializes in test preparation for the MCAT and SAT/ACT & STEM subjects such as biology, chemistry, and math.
Harry M.:
B.S. in Health Promotion Disease Prevention and B.A. in Biological Sciences (University of Southern California)

M.D. from David Geffen School of Medicine (Charles R. Drew University)

95

h

percentile MCAT score

Has taught and tutored for a variety of medical school, nursing, and PA school courses at UCLA

USMLE Step 1 – 230

Additional Resources To Help You Prepare for the MCAT
To read about how our MCAT tutors help people develop strategies for passing the MCAT, click here. Check out our MCAT blog for the latest student testimonials, MCAT concept reviews and explanations, and advice on medical school admissions. Example articles include: