LSAT Tutoring
If you're considering applying to law school, then you're almost certainly thinking about the LSAT. The LSAT—or the Law School Admission Test—is the universal standardized test required by virtually every law school in the United States, and an increasing number of international law schools. As every aspiring law student must contend with the LSAT, there are a plethora of LSAT prep resources available. This includes free content from the company that publishes the LSAT—the Law School Admission Council, or LSAC—as well as free and paid resources from a variety of other LSAT prep companies and individual LSAT tutors. There's proprietary test prep software available for purchase, as well as paid group LSAT classes offered all over the country and online.

While some of these resources are certainly very helpful if used in the right ways, we've worked with countless aspiring law students who have poured huge amounts of time and money into their LSAT prep regimen, only to see their scores remain at a plateau. This is because they're pursuing every option except the one most likely to make an impact: 1-1 LSAT tutoring. Personalized one-on-one tutoring with a qualified, expert LSAT tutor is the gold standard in LSAT prep, and no other form of preparation will give you the customized study scheme or the close, personal attention you need to maximize your LSAT score. There is simply no substitute for the expert guidance and real-time feedback that comes with working one-on-one with a qualified LSAT coach.



Many students dismiss LSAT tutoring as an option because they presume it's prohibitively expensive. While it's true that top-tier tutoring can cost more than some other self-driven test prep resources, it doesn't have to cost an arm and a leg. At MyGuru, our streamlined approach provides the best LSAT tutoring money can buy, at a significantly reduced rate compared to many other high-profile LSAT prep companies.
In fact, we can often deliver a program of LSAT tutoring for less than other companies sometimes charge for an LSAT course. While one-on-one LSAT tutoring might seem expensive now, there's no better way to invest in your education and future career. One-on-one LSAT prep offers a substantially higher return on investment than any other form of test prep, allowing you to maximize your LSAT score, gain admission to more selective law schools, access more merit-based scholarships, and prepare for a more lucrative legal career.
When you consider how much money you stand to save and even gain from effective LSAT tutoring that raises your LSAT score, the costs of LSAT coaching pale in comparison

.
.
Let's explore whether LSAT tutoring might be for you by reviewing what the test is all about, how to study for the LSAT, and how LSAT scores figure into the law school admissions process.
Table of Contents
LSAT Overview
Contrary to what you might expect, the LSAT doesn't actually test your knowledge of the law, nor is it an IQ test. Rather, the LSAT assesses your ability to work with complex texts, arguments, and logical structures. And no matter what you might think, each of those skills can be taught, especially within the framework of the LSAT. That's why it's so important to work one-on-one with an expert LSAT tutor. An expert tutor will have a comprehensive working knowledge of the kinds of questions and concepts that come up on the LSAT, and they'll have a deep toolkit for helping you develop your ability to work with those questions and concepts.

The LSAT consists of four sections, administered in random order, each of which takes 35 minutes. These sections include:
One Analytical Reasoning section, consisting of four scenarios, with 5-7 questions per scenario
One Logical Reasoning section, consisting of 24-26 questions
One Reading Comprehension section, consisting of 26-28 questions
One addition section in one of the previous three areas, which is unscored—this section exists for research purposes, to help design future LSAT questions

The LSAT also requires you to complete an unscored writing sample, which you can take from home at your convenience.

The Logical Reasoning and Reading Comprehension questions will be similar to questions you've seen in other standardized tests.

Logical Reasoning questions test your ability to parse short texts and arguments for their central points, evidence, and degrees of strength or weakness.

Reading Comprehension questions test your ability to read and understand dense, expository texts in subjects you may not be previously familiar with.

Analytical Reasoning questions are the LSAT's most notorious feature, and include the kinds of questions you're likely to be least familiar with. Often called "Logic Games," the four AR scenarios depict different situations involving a variety of elements, with certain rules and conditions given regarding how those elements relate to each other. Your job is to assess what additional pieces of information about those relationships can be deduced through the given rules and conditions.
LSAT Scoring
The LSAT is scored on a range from 120-180, with a mean score of 150.

Each test contains 100 or 101 questions, with each question weighted equally, and no points deducted for wrong answers. The initial "raw score" —which is simply the number of correct answers you provided out of 100 or 101—is then converted to a "scaled score" from 120-180. There are no section-specific scores provided.

Your accepted scores are then included in your LSAT Score Report, along with all other scores from any other times you've taken the LSAT (which you can do up to 12 times) in the past 5 years.

Your LSAT Score Report also includes your percentile rank and your score band. The score band refers to the score range that the LSAC has concluded represents the range of your actual proficiency in the skills tested by the LSAT (since a single assessment cannot provide a 100% accurate picture). If you score 145 on a single LSAT, your score band would be 142-148. The band will narrow somewhat as you take the test more than once.

Generally speaking, law schools will pay most attention to your highest score/s, though they do have the ability to see all scores on your score report. This means that, even if you've obtained a disappointing result on a previous test, you'll have all the more reason to invest heavily in your LSAT prep, so you can raise your score next time and make your application stand out.
Why we believe we have the best LSAT tutors
While customized, one-on-one tutoring is generally the best way to raise your LSAT score, not all tutors are created equal. As private LSAT tutoring does require a meaningful investment of time and money, you'll want to be sure you're properly vetting your potential tutors so you can get the most bang for your buck.

There are several important things to consider as you weigh your private LSAT tutoring options. First, you'll want to make sure you're working with a top-shelf tutor. The best LSAT tutors know the test inside and out, having demonstrated their mastery of the material through their own performance on the exam. But achieving a top score alone doesn't necessarily ensure an LSAT tutor will be effective in teaching the test. You'll want to make sure your LSAT tutor is qualified. This means they should have years of experience working one-on-one with LSAT students, with a demonstrated history of success in raising students' scores. A skilled LSAT tutor should not only be able to answer the questions themselves—they should also be able to explain difficult concepts in a way that's customized to your level of understanding. Further, they should be able to work with you to design a custom study plan to help solidify your pre-existing skills and increase your abilities in working with the concepts, subject areas, and sections of the test where you need the most improvement.

Understanding all this drives the ways we select and prepare LSAT tutors at MyGuru.

A typical MyGuru LSAT instructor has:

Experienced personal success on the LSAT, generally scoring at or above the 98th percentile on an official LSAT exam or unofficial proctored exam

5+ years of experience as a LSAT tutor. We work with a team that treats LSAT tutoring as a profession and has personal stakes in student success.

Dozens of successful previous students who have improved their LSAT score by 15, 20, or sometimes 30+ points and been admitted to a wide range of extremely competitive law schools

The ability to diagnose a student's situation to help build a highly customized study plan catered to particular strengths and weaknesses

Often obtained training from a major national LSAT prep company or directly from our Director of Online Instructor and most experienced LSAT tutor, Stefan Maisnier

Expertise across all sections of the LSAT with well-rounded knowledge for all students

Excellent communication skills and the ability not just to understand the concepts and LSAT test taking strategies, but to explain them to others in an accessible way

A passion for helping students succeed

Access to the industry-leading online LSAT tutoring tools. Our highly intuitive online LSAT tutoring platform features no sign-in videoconferencing, a cutting-edge live whiteboard, and the option to invest in fully recorded premium tutoring.
Law School Admissions Standards
Students often ask us what a good LSAT score is, or what score they should be striving for. The truth is, a "good score" is different for each student, and depends on that student's unique needs, goals, and student profile. The first thing you should do when designing a prep routine—after taking a timed practice LSAT, of course—is research the average LSAT score for accepted students to your top schools. Then compare this to your practice score, and you'll have a better idea of what you need to achieve in your LSAT prep (or, sometimes, you might find you can consider more competitive schools).

As a general rule of thumb, in order to get serious consideration from the most competitive law schools, you should strive for a score that's at least 160. However, as the average score is 150, most people don't achieve such a score, and few do it on their own. If you're looking to make the most of your law school application so you can get into a top school, you should seriously consider one-on-one LSAT tutoring.

The score you'll need in order to get into the schools of your choice is also dependent on the rest of your student profile. For example, a student with a particularly high GPA, excellent extracurriculars, and a stunning writing sample, might be able to get into their school of choice with a slightly sub-par score. On the other hand, if your transcript is thin—let's say you have a relatively low or modest GPA and few if any extracurriculars—your chances will be more dependent on you obtaining an above-average LSAT score for that particular school.


Recent Law School Acceptances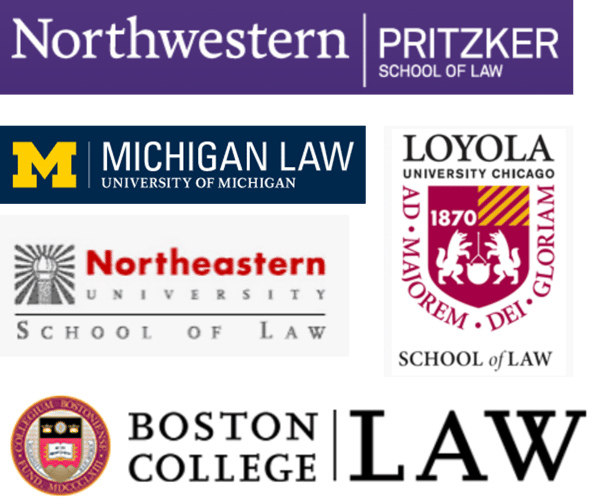 Common LSAT Strategies
An expert-tutor will not only help you design a customized study plan to help reinforce your strengths and shore up your weaknesses—they'll also be able to give you specific strategies to help with every kind of question the LSAT offers. But even before you meet with a tutor, there are some universal LSAT strategies to keep in mind. The first several LSAT strategies we have to offer relate to design and executing your LSAT prep regimen.


For your practice tests, mimic official testing conditions as much as possible. This means working on a computer, adhering strictly to the time constraints.
You should also mimic actual LSAT conditions by using only official LSAT questions in your test prep.
Set up a customized study plan—ideally with the help of a personal tutor—that gives a lot of structured attention to your areas of weakness, while also making sure you leave enough time to build on your strengths.
Set a goal for your prep, which should include a target score and a date you hope to achieve it by. This target score should realistically but ambitiously account for both your initial practice score and the average scores for students admitted to your top schools.
Take practice tests regularly to build skills and assess progress toward your goal.
Practice your time management skills as you prep for the test, striving to keep your average question time comfortably below the amount of time allotted per question in each section of the test.
Memorize the instructions for each section of the test, so you don't have to waste time familiarizing yourself with them on test day.

Other LSAT strategies relate to the actual test. Some general LSAT strategies that every LSAT student can employ include:


Use the process of elimination for questions you don't know the answer to.
Be smart about time, putting the time management skills you practiced to work as you make sure to complete as many questions as possible.
Don't leave any questions unanswered, as there are no deductions for wrong answers. If you're running really short of time, pick a single letter and guess that for each remaining question.
Make your scratch paper work for you as you try to figure out the Logic Games.
If you have enough time on the Logic Games but can't figure out a certain question, try plugging each answer choice back into the problem to see if it works.
Answer the easy questions first. Since each question has the same value on the LSAT, and since you can answer them in whatever order you choose, feel free to leave more difficult questions for later as you make sure to give enough time to every question you can answer correctly.
Example LSAT Tutors
At MyGuru, we believe we have the best LSAT tutors around. You can expect a MyGuru LSAT tutor to have more experience than those at almost any other provider, including Magoosh, Kaplan, or Manhattan Prep. Our LSAT tutors have not only performed in the 98th percentile or better on the LSAT, but they are also seasoned educators and private LSAT instructors. We hire only excellent communicators who have a real commitment to and talent for helping students understand how to improve their LSAT score. Further, because we have totally streamlined our process of online tutoring, we're able to hire the best tutors in the world, who can work with students living anywhere, regardless of geographic location.

As a model for what to expect from MyGuru's LSAT tutors, consider one of our top LSAT tutors and our Director of Online Tutoring, Stefan M. Like most of our instructors, he is a professional test prep tutor and constantly looking for ways to provide the most effective, customized tutoring experience possible. His background includes:


BA, University of Southern California, MS, Northwestern University
15+ years of test-prep tutoring experience with large, nationally recognized test-prep firms (and now, MyGuru)
Consistently achieves LSAT scores of 175+ on the official LSAT, unofficial 3rd party exams, and past Official LSAT exams
Former LSAT students have been admitted to top schools including but not limited to: University of Michigan, Northeastern, Boston College, and Northwestern
Expert at all sections of the current LSAT
Has his own proprietary study schedules, worksheets, and approach to delivering online GRE tutoring effectively
Engaging style of instruction honed working in live television production at ESPN
LSAT Reviews, Results and Testimonials
MyGuru LSAT tutors have a proven track-record of helping students with all kinds of backgrounds significantly increase their scores and meet their goals.

Consider just a few results from our online LSAT reviews: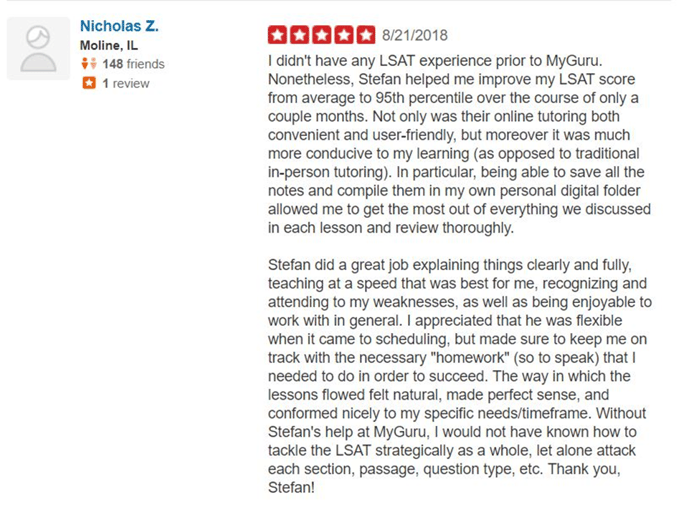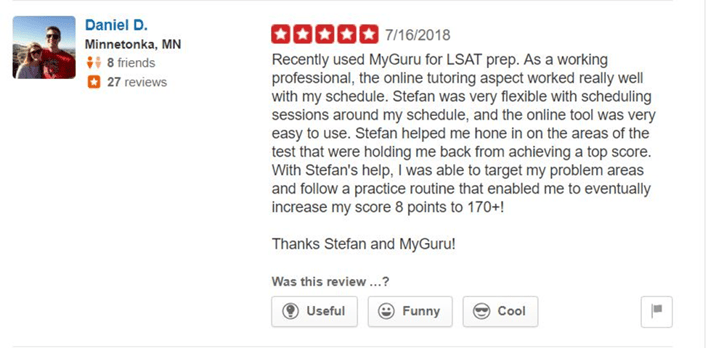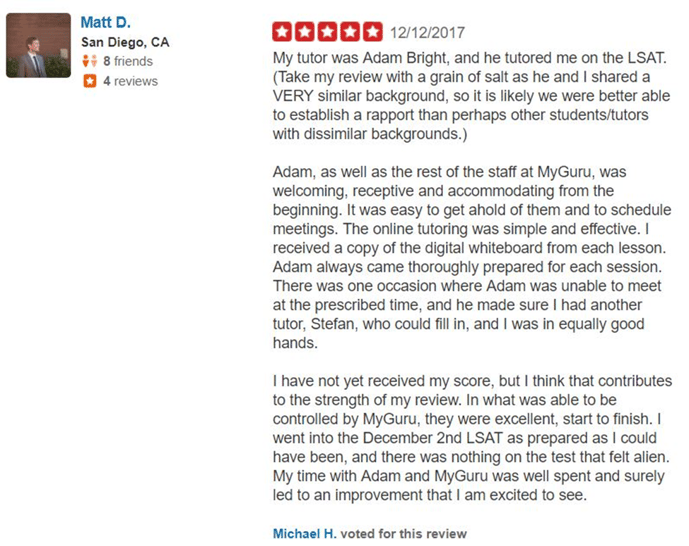 For more reviews and information about MyGuru, connect with us on social media:
LSAT Tutor Rates
If you've been looking around the internet for first-rate LSAT tutors you've probably found that one-on-one LSAT tutoring rates vary widely, with typical prices ranging anywhere from $50 to $500 per hour.

At MyGuru, we put value and quality first. While other companies maintain high overhead with fancy physical offices, unnecessary content development, and expensive proprietary software, we've focused simply on hiring the best tutors around, and helping them work with students in as efficient a way as possible. Our streamlined operations allow us to bring you top-quality LSAT tutoring at rates 50% below our top competitors.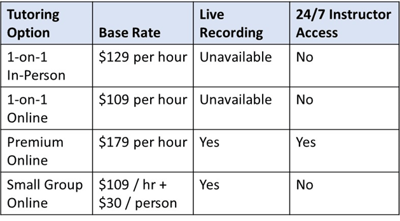 We recommend online LSAT prep to encourage best practices for the computer-delivered (and possibly at-home administered) official LSAT, while simultaneously offering more convenience and functionality. For students seeking a truly immersive learning experience, our premium online tutoring offers full session recording and 24/7 access to a private whiteboard where students can leave notes and interact with a virtual LSAT coach between lessons.
Discounts of greater than 15% off our base hourly rates are available for investing in packages of 10, 20, or 40 hours in advance. We also offer a free no-commitment introductory phone call or videoconference with your LSAT tutor to share details on your situation and ask questions.
Request a Free Diagnostic Discussion with an Expert LSAT Tutor
Frequently Asked Questions (FAQs)
We expect you might have questions as you consider investing in LSAT coaching. Below are some common questions individuals have when considering an LSAT personal tutor.
1. Who would benefit most from private LSAT tutoring?
Whether you are looking for help with the Logic Games, Reading Comprehension, or Logical Reasoning, a LSAT personal tutor can help. In other words, it's not the type of content you are struggling with that matters, but really your target LSAT score compared to your current practice scores and the amount of time you have left before exam day.

Working with an LSAT tutor online generally benefits students scoring well below average, students targeting very high scores, or students looking to be as efficient as possible with their test prep efforts. The best LSAT tutors help you optimize your studying, enabling you to grasp difficult concepts more quickly and thoroughly.

However, if you just need an average score on the LSAT and have a while before you take the exam, a standard test prep book or class combined with focused self-study might be enough. That is especially true if you happen to be a highly disciplined person, and wouldn't benefit as much from the structure and motivation that LSAT coaching often provides. The typical course "teaches to the average student" and so if you are scoring below average or targeting a well above average score, an LSAT tutor makes more sense for you.

The need for a personal LSAT tutor is lower if you are comfortable with LSAT scoring that is closer to average, have a lot of time until test day, and are a disciplined manager of your own time.
2. Why do your tutoring assignments emphasize official LSAT resources?
We believe most LSAT tutoring should be structured around official LSAT exams and prep materials, such as the many official online and paper-based LSAT exams available. These materials offer actual LSAT content you'll see on test day. This is very important, as we often see students studying with materials that include topics you may not even see when you sit down to take the LSAT. This can be extremely inefficient, as you may end up studying to understanding a concept that isn't tested on the LSAT.
3. What's the minimum number of tutoring hours likely to significantly boost my LSAT score?
If you are going to invest in online LSAT tutoring, we recommend at least 5 hours of coaching. Our base amount is really 10 hours, but we'll work with someone in a 5-hour block in certain circumstances. From there, we offer additional options of 20 hours or 40 hours. However, we begin with free diagnostic discussions, followed by the ability to start with just a 1.0 or 1.5 hour session. But once you decide to work with a LSAT tutor, we suggest 10 hours as a starting point. It simply takes a little time to build new skills and increase confidence.

We understand LSAT tutor rates can be prohibitive, even if you are getting a great value. But the decision to invest in LSAT tutoring is not magic, and it's typically hard to see tangible results in fewer than 10 hours. The LSAT is a challenging exam, and some of the best LSAT tutors provide a mixture of motivation, confidence building, guidance on self-study, content expertise on specific sections of the exam, and help with self-discipline.
We don't recommend trying to cram all that into just a few hours. You get much more out of the experience if you make enough of an investment to give your LSAT tutor the time to actually help you.
4. How is your tutoring delivered? Online or in-person?
We offer in-person LSAT tutoring in some cities, but strongly encourage all individuals seeking an LSAT tutor to consider working with an LSAT tutor online. The logistics and scheduling associated with online LSAT tutoring are much easier to navigate because of the reduced need for travel. Further, PDFs of the online whiteboard can be downloaded, and you'll have the option to record the session.
5. How and when can I get started with private tutoring?
We can typically get you started with LSAT tutoring within days. One of the benefits of working with an LSAT personal tutor is that it's customized around your schedule. We don't have to wait for the next class to begin.
6. Where and when does tutoring take place?
Again, we recommend online LSAT tutoring. But if you choose an in-person LSAT tutor, sessions typically occur in public places like a library or coffee shop. If you work with a MyGuru LSAT tutor online, we can accommodate sessions during the work-day, as well as in the evening or on the weekends. In sum, we offer LSAT coaching when it works best for you.
7. What will be covered, and how many hours of LSAT tutoring should I do?
Working with an LSAT coach is a highly customized experience. We'll help you develop a personalized study plan that takes your unique strengths and weaknesses into account. If what you really need is help with the Logic Games (or another section), we'll focus there. That said, we tend to discourage students from completely ignoring some sections of the exam, even when they are scoring extremely high on those sections already. As we've mentioned previously, we tend to recommend starting with 10 hours of LSAT tutoring. Your tutor can also work with you to understand your situation and recommend a package of 10, 20, or 40 hours. We do offer a refund of unused hours if you ultimately decide it's not working or, more likely, you end up making more rapid progress than we expected..
8. Can I request a specific LSAT tutor?
You can always request a specific LSAT tutor, although MyGuru's team of LSAT tutors is small, and each is highly qualified. You can also switch tutors if you'd like to try someone different, although we find that this is rare
9. How long do I have access to my online resources?
If you are working with an LSAT tutor online, you always have unlimited access to PDFs of each online whiteboard. If you have chosen premium online tutoring, you can watch recordings of your sessions for a full year as well.
10. Can you really study for the logic games section?
Yes, you can.
That said, some students come to us having been told that the logic games is very difficult to study for. We have student say that a previous online LSAT tutor told them that they should just do a lot of practice LSAT logic games questions, use trial and error and their intuition, and eventually they'd start to get more of those questions correct on practice LSAT exams. But, you really can learn specific strategies and techniques to dramatically increase your ability to perform well on LSAT logic games questions. Doing well on LSAT logic games questions is a skill that can be developed with practice and expert instruction.
How Online LSAT Tutoring Works
We believe our approach to online LSAT training provides a more intuitive and personalized experience than any other LSAT instruction option. After every MyGuru online session each student has a minimum of two resources to review - The Official LSAT PrepTests (we recommend the electronic LawHub versions to build good habits for test day when a paper version of the test won't be available) and a digital copy of that day's whiteboard filled with study notes and LSAT strategies specifically tailored to you.
Check out our LSAT blog for the latest student testimonials, LSAT concept reviews and explanations, and advice on law school admissions.
Example articles include: