Private HSPT Tutoring
Taking the HSPT can be stressful. Private, 1-1 HSPT tutoring provides both the knowledge and confidence one needs to succeed on this high school placement test. Tutors work with students to develop a customized study plan that covers key facts and concepts as well as test taking strategies, helping them build on their strengths and address their weaknesses.
Request More Info about HSPT Prep
About the High School Placement Test (HSPT)
The High School Placement Test (HSPT) is a 2.5 hour test created and administered by the Scholastic Testing Service for 8th grade students to determine admission into a variety of different private high schools. The main exam tests 'core knowledge': reading, language, arithmetic, algebra, and geometry. Optional additional sections include science, mechanical aptitude, and religious (Catholic) knowledge.
Our Approach to HSPT Tutoring
An HSPT Test Prep package from MyGuru is a customized experience consisting of a test prep book from Barron's and 5 to 15 (more or less can also be done) hours of one-on-one instruction from a recognized expert (delivered in your home or a local library). Students complete a diagnostic practice test to identify strengths & weaknesses. The first session involves a review of this diagnostic test, an overview of each section of the test, and development of a study plan. This is followed by a series of one or two hour sessions in which strategies for each section of the test are reviewed & practice problems are completed.
Our typical package provides a total of 15 hours of customized, 1-on-1 HSPT prep, including the review of practice tests the student completes on their own time between sessions to measure and track progress. Of course, we also offer hourly HSPT tutoring – just fill out the form below or email us at info@myguruedge.com to discuss your child's situation.
Customized HSPT Coaching
All HSPT tutoring is delivered by an expert tutor with experience providing tutoring for the HSPT. Here is the background of one of our most experienced tutors, Banke:
B.A. in Comparative Human Development (University of Chicago)

ACT: 33 (99th Percentile)

8+ years of experience tutoring the following subjects: Algebra I & II; Geometry; ACT; SAT; ISEE/SSAT/HSPT; Life Science; Writing and Grammar; and Organizational Skills
We offer both in-person HSPT tutoring and online HSPT tutoring.
Student Feedback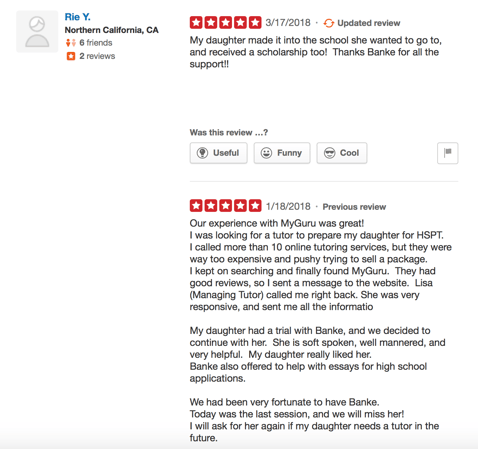 Pricing for HSPT Tutoring
Our base rate for private HSPT tutoring is $90, but we also offer 5, 10, or 15 hour packages which come with discounts of 5, 10, or 15%. That's a long term rate of $90 × 85% = $76.50 per hour for a 15 hour package.