GRE tutoring is the most effective way to improve your GRE score. Not only does working with a GRE coach offer the chance to learn foundational concepts, GRE strategies, tips, and tricks, but the GRE tutoring process also holds students accountable for executing against a GRE study plan. GRE tutoring also keeps students motivated and builds confidence, which is an important factor as you look for ways to improve your GRE score. Being intentional about GRE prep and customizing your study process to your unique situation is critical, and an exceptional GRE tutor can get you there.
We work with many students who have spent months using self-paced GRE prep materials but have experienced limited progress. They've watched dozens of GRE prep videos and allocated ten (or many more!) hours each week to doing hundreds of GRE practice problems. And yet, they still struggle to understand key GRE concepts and how to apply GRE test taking strategies effectively on more difficult questions. Our expert tutors work with you to identify your strengths and weaknesses and then design customized lessons to increase your confidence, create a more efficient GRE prep process, and ultimately improve your performance on the GRE faster.
Table of Contents
What is covered on the GRE?

GRE Quantitative

GRE Verbal

GRE Analytical Writing

How is MyGuru GRE Tutoring Different?
Many GRE prep companies approach GRE prep in an overly standardized, academic way. They also use inexperienced instructors who rely too heavily on a curriculum provided to them. Students spend too much time covering math or English fundamentals and not enough time learning how to apply them to challenging GRE questions. When they ask nuanced questions, the instructor often struggles to provide a customized response. Our GRE instructors are in many cases, devoted to the craft of test prep tutoring as full-time careers.
Our experienced GRE tutors can thus offer a more effective blend of conceptual review of GRE verbal and math topics and GRE test-taking strategy that helps build critical thinking and problem solving skills. We layer industry-leading whiteboard and online meeting technology with the option to record every session to create a truly unique and highly customized GRE coaching experience.
Our students are often surprised at how effective a highly customized approach to preparing for the GRE can be. A MyGuru GRE tutor helps you build a far more tailored GRE study plan than you'll get at other firms. This creates a more efficient GRE study process with faster skill-building and ultimately better official GRE test scores.
What is the GRE?
You may be surprised to learn that some people pursue GRE tutoring or GRE classes without a foundational understanding of the GRE test itself. So, what's the GRE? The GRE is a standardized test that is often required for admission into graduate-level academic programs. The GRE includes sections testing verbal reasoning, quantitative reasoning, and analytical writing. The verbal and quantitative reasoning sections both primarily use multiple-choice format questions, while analytical writing requires test-takers to write two essays. The GRE is designed to measure skills that are essential for success in graduate school, such as critical thinking and analytical writing. It's a test you can and should prepare for to improve your score (although some people incorrectly assume it's more like an IQ test).
What Is Covered on the GRE?
Before evaluating whether you might benefit from working with a GRE tutor, you should understand what is covered on the GRE. In this section we provide a quick GRE overview. Again, a helpful starting point is to realize that it's not an academic test. It's a skills-based test measuring critical thinking and problem-solving abilities. It's not a test of mathematics, reading, or English language ability. Instead, it is a test of logic using the common languages of mathematics and English. The GRE makes test-takers apply concepts not just recite rote information.
Let's take a closer look at each section of the exam.
GRE Quantitative
The GRE Quantitative assessment consists of two scored sections of 20 questions each. There is 35 minutes total for the quantitative portion. The first 7-10 questions of each quantitative section are always a proprietary format unique to the exam known as quantitative comparisons. These problems require you to determine the relationship between two quantities and have static answers that never change, so mastery of solving this format is key to maintaining the fast pace required by the test. The remainder of any quantitative section is either single answer, multiple answer, or numeric entry format problem solving.
Topics covered by the problems in the quantitative section are limited to data analysis, arithmetic, algebra, and geometry. Generally speaking, you will have covered these courses before your final year of high school. There is no pre-calculus or calculus on the GRE.
GRE Verbal
The GRE Verbal assessment consists of two scored sections of 20 questions each, with 30 minutes total to complete the sections. Just less than half of each verbal section is comprised of vocabulary format questions, either text completions or sentence equivalences. Text completions require a correct selection of one word or phrase for each blank presented, and there may be up to three blanks for a problem. Sentence equivalences always have a single blank, and you must select two answers that produce an equivalently coherent meaning for the sentence in context. No partial credit is given for these, or any other, problems on the GRE.
Meanwhile, various reading comprehension problems comprise just more than half of each verbal section, with a single passage pertaining to as many as four questions. The reading comprehension tasks require identifying and applying information to accomplish various goals outlined by the problem and can be presented as single answer or multiple answer formats.
GRE Analytical Writing
The GRE Analytical Writing assessment consists of two essays, with 60 minutes total to complete both. One essay is an "argument" essay, and the other is an "issue" essay. This portion tests the ability to evaluate claims concisely using evidence, support ideas with relevant examples and logical reasoning, and demonstrate command of the English language.
How Is The GRE Scored?
How is the GRE scored, exactly? The GRE is scored on a scale of 130-170 for the Verbal and Quantitative portions, with 130 being the lowest possible score and 170 being the highest possible GRE score for per portion.
Scores on the Verbal and Quantitative Reasoning sections are never officially combined to provide a total score on the GRE by the testing authority, ETS. However, some programs that accept the GRE, usually professional or business ones, may themselves combine the scores for an unofficial overall GRE score. The Analytical Writing section is scored separately on a scale of 0-6, with 0 being the lowest possible score and 6 being the highest possible score. Graduate schools tend to care more about your Verbal and Quant section scores, but a really low or high AWA score can also get you noticed (for better or worse).
GRE Scoring Adaptivity
The GRE is a computer adaptive exam, but by section and not by question. So, while there is no prescribed order of difficulty within a given section (question 20 need not be harder than question 1), your performance on the first scored section of either the quantitative or verbal assessment will dictate the difficulty level of the second scored section of that same portion of the exam. Now, the qualification "scored" section is important, because it is assumed that more than 90 percent of all GRE administrations (at-home or in a testing center) will include a single unscored experimental section. That section is not identified, so at any point in the exam the question you are answering may not even count. For this reason, it is important to never worry about your performance on the GRE while taking the GRE, since you won't even know if the section is scored.
Now, there is a rough approximation of how many correct questions are needed to get into the various second scored section difficulty levels
15+ correct in the first section will likely be sufficient to reach the harder second section

8-14 correct in the first section will likely be sufficient to reach the average second section

< 8 correct in the first section will likely result in reaching the easier second section
Which difficulty you reach is integral to your score results. Attaining a 160+ on either assessment will likely require reaching the harder second section, while reaching the average second section will usually result in a score between 150 and 160, and a score less than 150 is likely for anyone relegated to the easier second section regardless of performance in that section.
What Is A Good GRE Score?
If you're wondering, "What is a good GRE score?", the answer depends on your goals. Generally speaking, professional schools that unofficially combine the assessment scores for their admissions decisions will often consider a 300 or 310 to be a sufficient result. Many of the toughest schools will actually focus on a single aspect of the exam with very limited margin for error. In the past we had had engineering PhD candidates needing 167+ on the quantitative assessment with no concern for the other sections, and an Ivy League graduate level English candidate who actually needed a 6.0 on the analytical writing assessment. Because the GRE is used in so many applications from MBAs to PhDs to even JDs, you really will need to contact your target programs to determine what your good GRE score will be.
GRE Prep Options
There is a ton of information about how to study for standardized tests and specific options regarding GRE prep available on the internet. These options include: GRE prep online, in-person GRE group classes, GRE prep courses, and our recommended option, one-on-one GRE tutoring. As we've mentioned, GRE tutoring is the best way to personalize your GRE study plan to cater to your needs and goals as a student.
Popular online GRE prep courses often tout the hundreds of hours of GRE video content and thousands of practice GRE questions available. Sure, practice is extremely important as you try to improve your GRE score. Yet practicing more, but in the wrong ways, can sometimes reinforce suboptimal habits that become increasingly difficult to break. Your GRE prep process needs to follow the research-backed principles of deliberate practice. Perhaps the most important element of deliberate practice is getting real-time, customized expert feedback. Following deliberate practice principles doesn't necessarily require investing in GRE tutoring, but it is the most effective way to get that customized feedback
Who Are Our GRE Coaches?
Our GRE tutors have not only performed in the top 3% or better on all sections of the GRE, but they are also seasoned private GRE instructors. We try to hire only excellent communicators who have a real commitment to helping students understand how to improve their GRE score.
A typical MyGuru GRE tutor has:
Done very well on the GRE, generally scoring at or above the 98th percentile on an official GRE exam or unofficial proctored test
5+ years of experience as an in-person or online GRE tutor. We work with a small team that treats GRE tutoring as a profession, not a side job
Dozens of successful previous students who have improved their GRE score substantially and been admitted to a wide range of grad school programs
A unique ability to diagnose your situation and help you build a highly customized GRE study plan that is informed by your particular strengths and weaknesses
Either been trained by a major national GRE prep company...
Excellent communication skills and the ability to explain complicated GRE test taking concepts and strategies to others in an accessible way
A passion for helping students improve their GRE scores
Access to industry-leading online GRE tutoring tools. Our easy-to-use GRE tutoring platform features no sign-in videoconferencing, an innovative live whiteboard, and fully recorded sessions for students who invest in premium online tutoring.
Our GRE tutoring rates may not be the absolute lowest you'll find, but they offer the best value around when you consider the quality of the team, our customized GRE prep, and the unique tutoring tools we bring to our students. The best GRE tutors are unlikely to be the cheapest, although we believe that we do offer extremely affordable GRE tutoring, relatively speaking.
Grad School and Law School Program Standards
Many students want to know what a "good GRE score" is, but as we previously outlined that all depends on the type of grad school you are targeting. Most experts are adamant that a good GRE score depends on your target grad school. That said, you may still want the question answered. So, what are good GRE scores for grad schools? The GRE score range for top grad school programs will vary, but average GRE scores seem to range between 147-170 on Verbal and Quantitative, with averages in the 160s for the top ten programs in the U.S. That means that for grad school, including MBA programs, a combined GRE score in the 320s is usually going to be highly competitive.
But law school takes things up a notch from there when it comes to required GRE scores. Law schools, which used to only accept the LSAT, began accepting the GRE several years ago. In the past year, the top five law schools all had admitted applications scoring in the high 320s or low 330s.
Common GRE Test Taking Strategies
There are a variety of powerful test-taking strategies that one can use to score well on the GRE. A GRE tutor can help you focus on the most powerful strategies and prioritize your GRE prep efforts. Some powerful GRE test-taking strategies focus on your approach to GRE prep on a high level, examples of these types of GRE strategies would be:
Practice on a computer as much as possible
Build a customized study plan
Set a goal upfront
Take regular timed official practice tests
Other important GRE test-taking strategies apply to the actual process of taking the exam, and include ideas such as:
Use process of elimination
Exercise effective time management; don't use more than 3 minutes on the vast majority of questions
Use a scratch pad to work out GRE quant problems
Don't be afraid to plug in numbers
For problem solving questions, look at the possible answers before solving (this can often help you approach the question)
Don't make assumptions that aren't specifically stated in the questions
Of course, working with an online GRE tutor is a powerful path towards exploring these common GRE test-taking strategies and more.
GRE Results and Testimonials
Former MyGuru GRE students have been admitted to top programs including but not limited to: Yale School of Management, Harvard Business School, Purdue (PhD Engineering), and Northwestern University – Kellogg.
The below GRE testimonials are from students who have experienced the power of customized MyGuru GRE coaching:
"Amazing experience working with Stephen at MyGuru for the GRE. Prompt, professional, customized, willing to work around my schedule - exceeded my goal score! I did independent study using Manhattan Prep and received a 163 on Quant on my GRE exam. Scheduled time with Stephen the next day, then set up several sessions over 3 weeks, and ended up scoring a 168 on Quant on my final GRE. Appreciated that Stephen did not just recycle old content, especially since I had already studied for a while. He also was flexible and willing to fit me in around his and my schedules over a short time period. All for a very good per-hour price vs. competitors..."
-Kelsey H.
"I was signed up to take a Kaplan course for GMAT prep and was talking to a co-worker about it when they told me their story. They took one of the same Kaplan courses I was signed up to take and didn't get their desired GMAT score. In their second attempt, they signed up for private tutoring with John Easter, one of MyGuru's tutors, and their GMAT score improved by over 100 points. After hearing this story, I called to cancel my Kaplan class & signed up with MyGuru, with a special request to work with John.

During my studies, I decided that I wanted to take the GRE instead of the GMAT. I explained this to my tutor John and to Mark at MyGuru and the change was so simple. John is not only skilled in GMAT prep but GRE prep as well. So the only thing that would need to change were the materials. If you're looking for the best resources for test prep I highly recommend MyGuru. I have no complaints!."
-Kim M.
"I worked with Stefan M. who was nothing short of remarkable. Our initial conversation entailed us discussing my testing goals, and he then clearly laid out an action plan which was very reasonable. Upon commencing our weekly sessions, we utilized the online tutoring function of MyGuru, that, in my opinion, allowed me to get accustomed to online/virtual testing. In the end, my final GRE score was not what I wanted, but it was certainly not the fault of MyGuru. If it was any consolation, I was able to use that score and apply to my dream MBA program (I got in!). Would recommend this service to anyone beginning their GRE preparations.."
-Matt K.
Click to read more actual GRE testimonials.
GRE Tutor Rates
Unfortunately for a grad school applicant trying to understand available GRE tutoring options, tutoring rates for the GRE vary widely. Students can spend anywhere from $50 to $500 per hour. As with many products and services, the best GRE tutors need not come with the highest price per hour.
Our streamlined approach to GRE coaching helps us bring the best GRE tutors to students at affordable rates. We haven't invested heavily in content development (the Official Guide to the Revised GRE and associated official practice materials are very frequently all you need), we don't have physical locations, and we saw no need to build our own online GRE tutoring technology. We simply use the best virtual whiteboard we could find and combine it seamlessly with Zoom or Google Meet to create an intuitive and comfortable online GRE tutoring experience. Our GRE tutor rates are described below.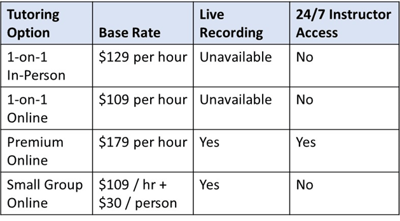 We recommend online GRE prep to encourage best practices for the computer-delivered GRE test. For students seeking an immersive, premium GRE prep experience, our premium online tutoring offers full session recording and 24/7 access to a private whiteboard where students can leave notes and interact with their GRE coach between lessons.
Discounts of greater than 15% off our base hourly rates are available for investing in packages of 10, 20, or 40 hours in advance. We also offer a free no-commitment introductory phone call or videoconference with your GRE tutor so you can discuss your situation, set clear objectives for an initial session, and begin to discuss a study plan.
Request a Free Diagnostic Discussion with an Expert GRE Tutor
Frequently Asked Questions (FAQs)
We recognize that private GRE tutoring is a significant investment in time and money. Below are some common questions many people have when considering working with a GRE tutor.
Who would benefit most from your private GRE tutoring?
From GRE math tutoring to help with GRE verbal, a private tutor can usually add a lot of value to your GRE pre process. But who benefits the most? And, how is least likely to need a GRE tutor?
Working with a private tutor generally benefits those GRE test takers scoring well below average, those targeting very high scores, or those looking to be as efficient as possible with their test prep efforts. The best GRE tutors help you be extremely efficient with your studying, enabling you to grasp difficult concepts quicker.
However, if you need an average score on the GRE and have a while before you take the exam, a standard test prep book or class combined with focused self-study might be sufficient. If you happen to be a highly disciplined person, that is even more true. In this case, you wouldn't benefit as much from the structure and motivation that a GRE tutor often provides. The typical course "teaches to the average" GRE student. If you are scoring below average or targeting a well above average score, a GRE tutor can start to make a lot of sense even at a higher cost.
The need for a GRE personal tutor is far lower when you are comfortable with GRE scoring that is closer to average, have enough time until test day, and have excellent time management skills and personal accountability.
Can you use a calculator on the GRE?
Yes, you can use a calculator on the GRE. But, it has to be the on-screen calculator that the test provides. You can't bring or use your own calculator on the GRE. Further, even though you can use a calculator, it doesn't always mean that you should. We often find that students treat the calculator as a crutch, and start typing numbers without thinking through the problem fully. Oftentimes, process of elimination or the use of mental math can be a faster and more effective route towards answering a GRE math question correctly. In fact, there is a page on the ETS.org website that helps students think through when to use a calculator on the GRE
3. How much does the GRE cost?
This is an easy one. It costs $205 to take the GRE as of 2022.
4. How long should GRE essays be?
GRE essays should be between 350-600 words long. However, ideally they should fall in the 500 to 600 range. The most important factors for obtaining a high analytical writing assessment score are that your argument is sound and your writing is clear—not prolixity. That said, both essays should include at least four substantive paragraphs. Quality is most important, but to reach a certain level of quality you'll obviously need strong reasoning and to support your points with examples—both of which require length.
5. Why does your tutoring emphasize official GRE resources?
We believe most GRE tutoring should be structured around the Official Guide to the Revised GRE and associated official prep materials, such as the many official online GRE exams that are available. These materials are direct from the test maker, ETS, and offer actual GRE content similar to what you'll see on test day. This is very important, because we often find students studying with materials that include topics you may not even see when you sit down to take the GRE. Another common issue is that explanations sometimes treat the practice problems as one might treat them in a math or English class. However, GRE problems are usually more about the application of problem-solving strategies and less about deep understanding of academic theory.
6.What's the minimum number of tutoring hours needed to significantly boost your GRE score?
If you are going to invest in online GRE tutoring, we recommend doing so for at least 5 hours of GRE coaching. Really, we think 10 hours should be treated as a minimum. Sure, it's possible to have a few important questions answered in one or two sessions. However, usually the GRE score improvement process is just that; a process. It requires a certain amount of time, repetition, and feedback. At MyGuru, we also offer additional options of 20 hours or 40 hours. That said, we start with a free diagnostic discussion and the ability to begin with just a single hour or 90-minute initial session. But once you decide to work with a GRE tutor, we suggest 10 hours as a starting point.
We understand GRE tutoring rates can still seem very expensive, even if you are getting a great value. But the decision to invest in GRE tutoring is not magic, and it's typically hard to see tangible results in less than 10 hours. The GRE is a challenging exam, and our GRE tutors provide a mixture of motivation, confidence building, guidance on how to study on your own, content expertise. These things just take a little time, and in the context of your overall grad school investment, your GRE tutoring is a relatively small investment that could have huge impact resulting in either admission to a better program or even scholarship or grant funding!
7. Which should I choose: A GRE prep course or GRE tutoring program? Help me decide.
We recommend thinking about the question of "GRE course vs. GRE tutoring" this way. Which of the below scenarios is closest to your situation?
I am looking for a GRE overview and common test-taking strategies. I have scored well on the ACT and SAT in the past. The GRE scoring I need for my target program is average (~300), I am self-motivated and I have more than enough time before test day to prepare.


I am unexpectedly scoring below average on GRE practice tests, and I am not sure why. I don't have unlimited time to study, but I feel like even with unlimited time, I would not make substantial progress.


I am scoring average or better, but I need a GRE score in the 95th percentile or better to get into the highly selective grad school programs to which I am applying. I have a busy schedule and need to be highly efficient as I design my GRE study plan.
Which of the following categories do you fall in?
To slot yourself into one of the above categories, you likely need to learn a bit about the GRE and take a diagnostic practice test to establish your baseline GRE score. You also need to have target grad school programs in mind and a timeline for when you'll be applying. If you are in category a), then a GRE prep course is probably best for you. If you are category b) or c), then GRE tutoring may make more sense. Tutoring is often the best fit for students who need to be efficient with their time and are scoring well below or above average. Courses work well for those targeting average GRE scores.
8. How is your tutoring delivered? Online or in-person?
We offer in-person GRE tutoring in some cities, but strongly encourage all of our potential students to strongly consider working with a GRE tutor online. The logistics of online GRE tutoring are far superior to coordinating in-person sessions. But it's not just about logistics. With a virtual approach, PDFs of the online whiteboard can be downloaded, and you'll have the option to record the session. To learn a bit more about our online GRE tutoring, watch the below video.
9. How and when can I get started with private GRE tutoring?
We can typically get you started with a GRE tutor within days. Working with a personal GRE coach is customized around your schedule. You don't have to wait for the next session to begin.
10. Where and when does tutoring take place?
We do encourage online GRE tutoring. But if you choose in-person, sessions typically occur in public places such as a library or a coffee shop. If you work with a MyGuru GRE tutor online, we can often accommodate sessions during the workday, but often students seek sessions in the morning before work, the evening after work or on the weekends. At the end of the day, our GRE coaching is highly flexible. We find times to meet when it works best for you
11. What will be covered, and how many hours of GRE tutoring should I do?
The experience of working with a GRE coach is a highly customized one. We'll help you develop a personalized GRE study plan that considers your unique strengths and weaknesses. If what you need is math tutoring for the GRE, we'll focus there. However, we do discourage completely avoiding certain sections of the exam during your prep, even when you are scoring well above average on those sections already. Your GRE tutor will work with you to understand your situation and recommend a package of 10, 20, or 40 hours. We can offer a refund of unused hours if you aren't seeing the appropriate amount of progress OR, more likely, you end up making more rapid progress than expected.
12. Can I request a specific tutor?
Yes, you can request a specific GRE tutor. That said, MyGuru's team of GMAT tutors is small, and each is highly qualified. You can switch tutors if you'd like to try someone new, but we find that this is rare.
How Online GRE Tutoring Works
We believe our approach to online GRE training provides a more intuitive and personalized experience than any other GRE prep option. After every online session each student has a minimum of two texts to review - The Official Guide (we recommend the eBook version to build good habits for test day when a paper version of the test won't be available) and a digital copy of that day's whiteboard filled with study notes and tailored GRE strategies.
Official MyGuru GRE Reviews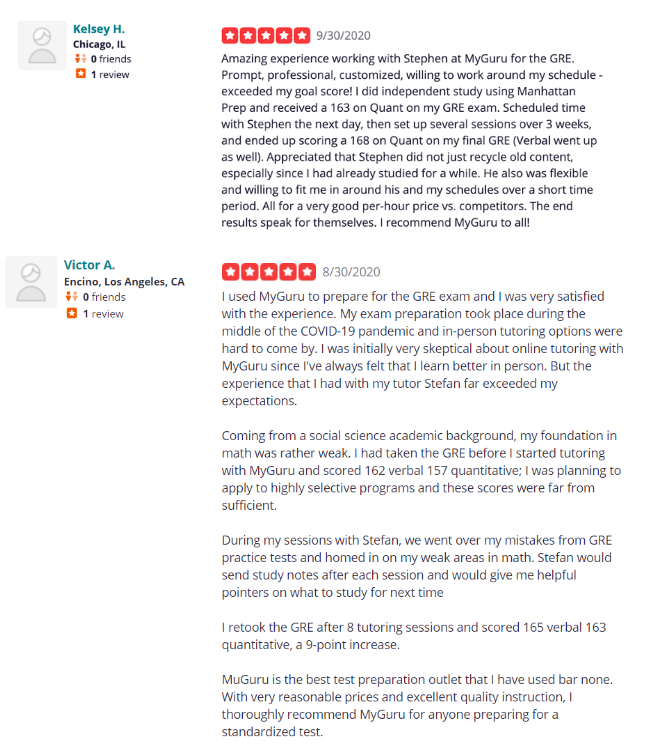 For more real reviews from students who have worked with our private GRE coaches click here.
Additional Resources to Support Your GRE Test Prep
Check out our GRE blog for the latest student testimonials, GRE concept reviews and explanations, and advice on graduate school admissions.
Example articles include: