Realize the Benefits of a Private GRE Tutor
Our approach to GRE tutoring leverages the Official Guide to the GRE Revised General Test. We believe that using official GRE materials is the best way to prepare for the GRE.
Before the first session, each student takes an official GRE practice test. We then conduct a diagnostic session to understand your strengths and weaknesses and work collaboratively with you to understand your ideal graduate schools, what your target GRE score thus needs to be, and what your timing and budget look like. From there, we help you develop a customized study plan to guide you towards an improved GRE score.
Improve Your Score Through Customized GRE Tutoring
When you work with a private tutor to create a customized GRE study plan, you maximize your chances of achieving your target score.
Relative to a typical GRE course, a 1-1 GRE tutor provides a superior method of instruction that is tailored to your unique strengths and weaknesses. In our view, most GRE prep classes provide little value beyond what is found in a self-study prep book. Many GRE instructors at large well-known test prep companies like Kaplan or Princeton Review "teach from the text," and with 20+ students in class, instruction can't be personalized.
The GRE study plan we create includes a customized curriculum. Our goal is to build upon each student's strengths and methodically address their weaknesses while building confidence. We cover GRE test taking strategies like time management and intelligent guessing, review of key quantitative and verbal concepts, and even stress management techniques.
To request more information please fill out the form below or continue scrolling down this page to learn more about a) our approach to online GRE tutoring and b) our experienced GRE tutors.
Request More Information about GRE Tutoring
Do you prefer to study for the GRE in-person or online?
We offer in-person tutoring in a variety of cities (including Chicago, New York, and Boston) as well as online.
We understand that some students prefer seeing a live tutor face-to-face. To both reduce the cost of private GRE instruction and increase convenience for our students, we don't have any physical locations, so you'd meet with your assigned tutor at a mutually convenient time and place like a local library, coffee shop, or if you are comfortable with it, in your home. These details are worked out directly with your tutor.
We do tend to recommend online GRE tutoring to most of our students. It is more convenient and can be more effective (more on our approach to online tutoring is below). We also offer premium online tutoring in which we record each session in full and students can make notes and leave questions on the whiteboard 24/7 for the instructor. The student then receives an "offline" response via a follow up note on the whiteboard within 24 hours.
How much does private GRE tutoring cost?
Pricing is slightly different for in-person vs. online tutoring. The base rate for in-person tutoring is $99, while for online it is $95. Premium online tutoring mentioned above is $195 per hour. In all cases, in-person or online, premium or not, we then offer 5, 10, or 15% discounts for investing in 5, 10, or 15 our packages. We do also have a refund policy for hours purchased but not used.
How does online GRE tutoring work?
We believe our approach to online instruction provides a more intuitive and certainly more personalized experience than anything else in the online GRE prep market. After each session you'll have two texts to review - The Official Guide (we recommend the eBook version to build good habits for test day when a paper version of the test won't be available) and a digital copy of that day's whiteboard filled with study notes and GRE strategies specifically tailored to you. We use official GRE practice tests from ETS to track progress and follow a GRE tutoring process that is tailored to every student.
Students only need a free Gmail or Skype account to begin a videoconferencing session where both tutor and student can react to verbal and non-verbal cues making each online tutoring lesson feel like it's being conducted in person.
All tactics and techniques are demonstrated by our expert tutors on a shared virtual whiteboard where students can follow along with the instructor and engage on the board
All private online GRE classes are recorded as digital documents, so students can review lessons to reinforce concepts and approaches.
Online tutoring requires nothing beyond a laptop, internet, and scratch paper (just like the GRE!), so computer-based tutoring builds good habits for test day such as writing down process of elimination outlines and taking good notes
In our view, online GRE tutoring isn't just comparable to face-to-face tutoring, it's often better.
Our Experienced GRE Tutors
We encourage you to compare the experience and academic background of our GRE tutors with anyone else in the GRE prep market. We have a growing team of trained experts, and much of our online GRE tutoring is delivered by a true test prep expert, MyGuru's Director of Online Tutoring, Stefan. He is an excellent example of our typical GRE tutor. His background includes:
BA, University of Southern California. MS, Northwestern University
13+ years of test-prep tutoring experience with large, nationally recognized test-prep firms (and now, MyGuru)
Consistently achieves GRE scores of 168+ on both sections of the exam on the official GRE, unofficial 3rd party exams, and ETS PowerPrep exams
Former GRE students have been admitted to top schools such as Yale and Northwestern
Expert at all sections of the GRE, including the most current version of the exam
Has his own proprietary study schedules, worksheets, and approach to delivering online GRE tutoring effectively
Stefan, or someone on his online test prep team, will assess your starting point and help you develop a customized study plan to help you reach your target score on the GRE as efficiently and effectively as possible. You can also explore additional online GRE tutors we have on our team.
Real GRE Reviews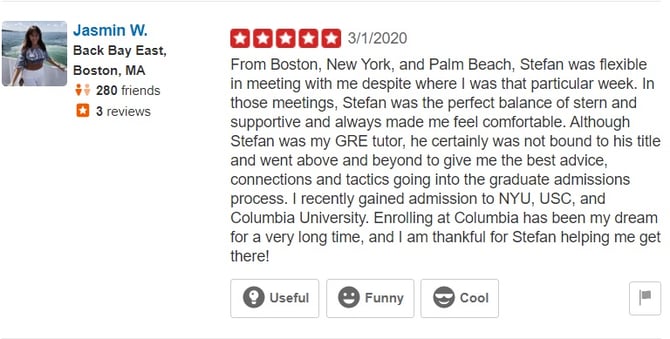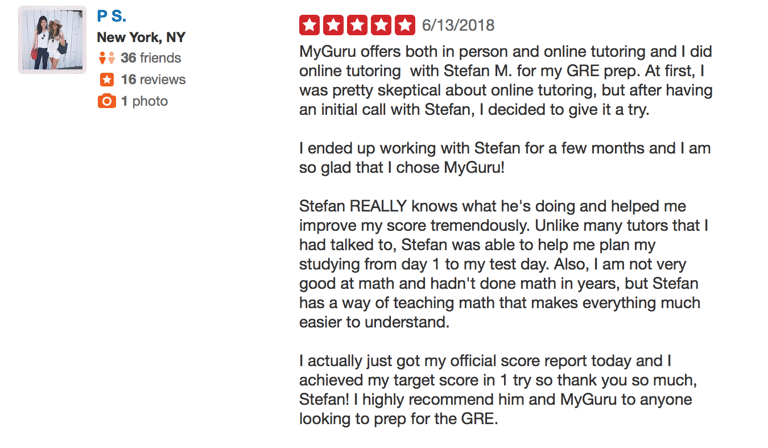 Additional Resources to Help You Prepare for the GRE
We offer a GRE essay review service to help you prepare for that section of the GRE. To read about how our GRE tutors help people develop strategies for optimizing their performance the GRE, click here. Check out our GRE blog for the latest student testimonials, GRE concept reviews and explanations, and advice on graduate school admissions.
Example articles include: