Digital SAT Tutor
The SAT has been a nearly universal feature of the college admissions landscape for decades, and throughout almost all of that time, students have taken the test via paper and pencil. Now, however, the College Board—the organization that designs and administers the SAT—is changing with the times and is replacing the paper-and-pencil test with the new Digital SAT. The Digital SAT will go into effect over the next two years, with international students taking the Digital SAT in 2023 and US students taking it in 2024. While the Digital SAT has some important things in common with the older version of the test, there are also meaningful differences.
Luckily, MyGuru's expert digital SAT tutors are qualified to help you maximize your Digital SAT score. Below, we'll tell you everything you need to know about MyGuru's Digital SAT tutoring, including what's on the Digital SAT, how the Digital SAT is different, how to prep for the Digital SAT, and where to take the Digital SAT.
Table of Contents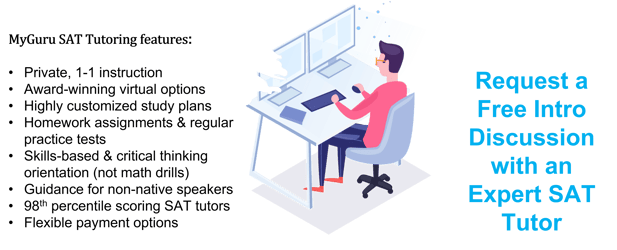 Overview of the Digital SAT
What's on the Digital SAT?
First, let's take a look at what's on the Digital SAT. As with the previous paper-and-pencil version of the SAT, the Digital SAT includes two sections: Reading and Writing, and Math. The Reading and Writing section contains 54 questions and lasts 64 minutes. The Math section contains 44 questions and lasts 70 minutes. Each of these sections is divided into two different modules of equal length. There is also 10-minute break between the two sections. The Reading and Writing section of the Digital SAT includes the following topics: Information and Ideas, Craft and Structure, Expression of Ideas, and Standard English Conventions. The Math section includes: Algebra, Advanced Math, Problem-Solving and Data Analysis, and Geometry and Trigonometry.
How is the Digital SAT Different?
Now let's look at how the Digital SAT is different from the previous versions of the SAT. While much of the Digital SAT will resemble the paper-and-pencil version, there are some important differences you should be aware of.
First, the Digital SAT will be taken entirely on a computer. Some testing centers and schools will allow students to bring their own computers to take the test on, while others will require students to use the testing centers' own computers.
Second, the Digital SAT will be shorter overall than the previous SAT. The Digital SAT lasts for 2 hours and 14 minutes, not including the 10-minute break, while the previous SAT lasted over 3 hours. However, the Digital SAT will allow you more time per question. On previous iterations of the SAT, completing all the questions on time has been one of the biggest challenges for most test-takers. It remains to be seen how and whether that will change with the new format. There are also changes regarding calculator usage. For some time, the SAT has allowed the use of calculators on one section of the Math portion, but not on the other. The Digital SAT will allow the use of a calculator throughout the entire Math section. The calculator will be available on-screen through the testing software, so you don't have to worry about bringing your own.
Finally, the Reading questions on the Digital SAT will be different. They will consist of shorter passages that cover a wider range of topics, with only one question per passage.
Where Can You Take the Digital SAT?
If you're wondering where you can take the Digital SAT, there will be two primary options. You can take the Digital SAT in-school (if your school offers it), or you can take the Digital SAT at a local testing center. Even though it's a computer-based test, you will not be able to take the Digital SAT from home.
Digital SAT Scoring
The Digital SAT scoring structure is one part of the SAT that isn't going to change much from the previous versions. Both the Reading and Writing section and the Math section will be scored from 200-800, adding up to a combined score between 400-1600.
One scoring change on the Digital SAT involves the time it takes to get your official score. On the current test, score reports take several weeks to arrive. On the Digital SAT, however, you and the schools you're applying to will be able to get your scoring report in a matter of days. This will enable you to make faster decisions regarding whether to take another test before your application deadlines.
Use in College Admissions
Many colleges and universities have begun instituting a test-optional admissions policy, meaning students can apply without taking a standardized test such as the SAT or ACT. These policies will be unaffected by the transition to the Digital SAT.
Even if taking the SAT isn't required by as many colleges and universities as in previous years, that doesn't necessarily mean you should skip the SAT. Earning good test scores can still offer you a significant leg up in your chances of gaining admission to college. Further, the most competitive schools still typically require students to take either the SAT or the ACT.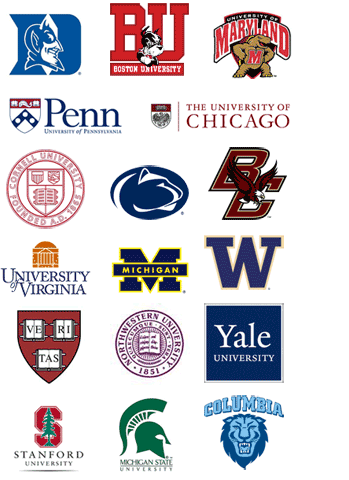 How to Prep for the Digital SAT
While the structure of the SAT may be changing, much of your SAT prep should remain the same. You'll still want to devote significant time to studying the material and concepts covered on the Digital SAT in order to ensure you achieve the best possible score.
With the transition to a computer-based test, it's more important than ever that your test prep involve taking official practice tests, in which you simulate testing conditions as closely as possible. Taking a computer-based test is likely to involve a bit more of a learning curve for most students, and you want to make sure you're as familiar as possible with the testing format, as well as the time management necessary to achieve your top score. The last thing you want on test day is to lose precious time because you're struggling to figure out the test format.
The best possible thing you can do to prep for the Digital SAT is to work with a qualified tutor. One-on-one tutoring remains the gold standard for SAT prep. This is because an expert tutor not only has in-depth knowledge of every section of the exam—they'll also know just how to convey that knowledge to a student who's trying to master the material. Further, your tutor should be able to help you design a customized study plan that's tailored to your unique goals, strengths, and weaknesses.
How is MyGuru SAT Tutoring Different?
Many other test prep companies offer extensive libraries of videos and SAT resources for you to use as you conduct your own SAT prep. However, without working with an expert tutor to help you make sense of these resources, you're unlikely to benefit very much. Most students require direct attention and guidance in order to help translate the material to the student's unique thinking style. This is where MyGuru's tutors excel, as they are all expert educators and communicators, with a passion for working to discover the best way for each student to learn the material.
Many other tutoring companies also try to hook you into investing as much time and money as possible, in order to increase their bottom line. At MyGuru, we recognize that efficiency is key to successfully navigating the college admissions process. Obtaining a good SAT score isn't the only requirement for getting into a good college. You also need to maintain excellent grades and extracurricular participation, write a stellar essay, obtain letters of recommendation, and more. Hence, our tutors work to streamline the test prep process as much as possible, allowing you to get the most value for your investment. This leaves you more resources for everything else you have to do.
Tutors often simply drill students over and over again in a few key academic concepts. But this approach fails to help students understand the material on a deeper level. Other tutors also often neglect to teach students how these concepts apply to SAT questions, specifically. MyGuru tutors help you understand and recognize the deeper patterns to SAT questions, so you can apply your learning more specifically to the test and earn a better score. MyGuru tutors are all experts in every aspect of the SAT, including not just the academic concepts, but also the specific strategies you can apply to improve your performance. They can also help you improve your study methods, tailoring your prep to your own needs and goals. Additionally, MyGuru SAT tutors are highly experienced in helping non-native English speakers improve their performance on the Reading and Writing section of the SAT.
Who Are Our Digital SAT Tutors?
At MyGuru, we hire only the most talented and qualified tutors, and we're confident we offer the best Digital SAT tutoring in the industry.
A typical MyGuru Digital SAT tutor has:
Earned a degree from one of the most competitive universities in the country.
At least 5 years of experience working primarily as a tutor. Our tutors regard tutoring as a profession and a calling.
Dozens of previous successful client relationships with students who have improved their SAT score by 100, 200, or even 300 points and gained admission to top schools.
The skill set necessary to diagnose a student's starting capacity and devise a customized study plan that speaks directly to that student's strengths, weaknesses, and goals.
Completed extensive training with a major test prep company and/or our Director of Online Instruction and most experienced tutor, Stefan Maisnier.
Expertise in every section of the SAT and an in-depth knowledge of every facet of the test.
Top-notch communication skills, with the ability to make academic concepts and test-taking strategies legible to every individual student.
A demonstrated passion for helping students achieve their academic dreams.
Access to and proficiency in industry-leading study tools. We've developed a highly useful and simplified tutoring platform that includes no-sign-in videoconferencing, an intuitive and advanced live digital whiteboard, and an additional option for investing in full recordings of your tutoring sessions.
Public Profile Ratings & Reviews
How much does SAT tutoring cost?
At MyGuru, we've made a concerted effort to minimize our overhead so we can offer students top-quality tutoring at unbeatable rates. Many other elite tutoring companies charge upwards of $300 or even $500 an hour for SAT tutoring. Much of this cost is inflated, with the rest going to support unnecessary overhead expenses like fancy office space. We've eliminated every unnecessary cost so we can bring you a world-class Digital SAT education at an affordable rate.
This table summarizes our base rates for Digital SAT tutoring: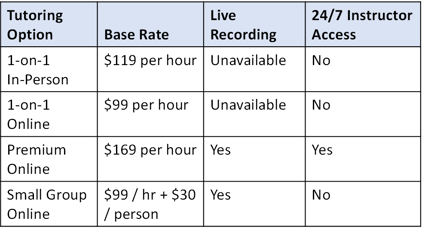 For students seeking a truly immersive learning experience, our premium online tutoring offers full session recording and 24/7 access to a private whiteboard where students can leave notes and interact with their SAT coach between lessons.
Discounts of greater than 15% off our base hourly rates are available for investing in packages of 10, 20, or 40 hours of instruction. We also offer a free no-commitment introductory phone call or videoconference with your likely tutor to share details on your situation and ask questions.
Request a Free Diagnostic Discussion with an Expert SAT Tutor
Frequently Asked Questions (FAQs)
Is Digital SAT tutoring really helpful?
While the quality and results of Digital SAT tutoring vary from tutor to tutor and from student to student, we are highly confident that our Digital SAT tutors will be able to help you succeed, regardless of your current abilities. MyGuru's SAT tutors are all expert tutors with years of educational experience and a deep knowledge of what's required to improve students' SAT performance. Further, our tutors regularly help students achieve powerful gains in their SAT scores, with increases of 100, 200, and in some cases over 300 points.
How do I know if one-on-one SAT tutoring is right for me?
Every student's situation is unique, with everyone having different learning styles, starting capacities, resources, and goals. With that said, one-on-one tutoring is widely acknowledged as the most powerful way to significantly improve your SAT score. The personalized attention and guidance of one-on-one tutoring is irreplaceable. If you're looking to boost your chances of achieving your educational goals and you have the resources to invest in one-on-one tutoring, no other option will help you achieve such effective results.
Should I take the SAT or the ACT?
This has been a dilemma many high school students have faced for some time. It used to be the case that the two tests had significant differences, including which schools preferred which tests. In recent years, however, the tests have become more similar, and now most colleges and universities will accept either test.
If you're still undecided between the two exams, you should first research your target schools and see whether they indicate a preference between the two. Next, you should consider which test will paint a more favorable picture of you as an applicant.
The ACT tends to be the better option for students who excel at math and science rather than literature, and who have excellent time management skills. The SAT is the better option for students who are stronger in literature and writing, and who benefit from having more time per question.
How many hours of tutoring will I need to invest in in order to significantly increase my SAT score?
This will vary from student to student, depending on their abilities and goals. With that said, we typically advise students to start with a block of 10 hours. This is an excellent way to ensure you make meaningful progress in your SAT prep. After investing in your initial 10-hour block, you'll be able to add additional 10-, 20-, and 40-hour blocks of tutoring depending on your goals and resources.
Why do MyGuru tutors work exclusively with official SAT materials?
Many other test prep companies try to make additional profits by selling you proprietary prep materials, such as SAT prep booklets, flashcards, practice tests, and access to digital libraries of videos and lessons. While some of these materials may be somewhat useful, by and large, they are simulations of the material you're likely to encounter on the SAT, rather than a real example of what has actually been included in the official test. We focus on using genuine SAT materials because these are the best and only authoritative source of the kind of testing material you're guaranteed to encounter on the official SAT.
Should I conduct my tutoring sessions online or in-person?
This is up to you. Some students benefit more from in-person sessions, and for those students, we do offer in-person lessons in select cities. However, we've found that the tools available for online tutoring make this the more effective option for most students. Further, online tutoring offers greater flexibility in terms of time and location, meaning it allows for greater accessibility for more students.
How long does it take to get started with Digital SAT tutoring?
Most of our clients begin working with a tutor within a few days of initially contacting us.
Where and when will my tutoring sessions take place?
This is up to you. We try to offer as much flexibility as possible. You'll be able to work with your tutor in order to pick a time and location that works with your schedule. Generally speaking, we are able to offer tutoring on weeknights and weekends, which isn't true for every SAT prep company.
Are group sessions better than one-on-one sessions?
Some students do benefit from working in a group setting, and this can be an effective way of lowering the cost per student. However, most students benefit from more personalized attention. Hence, one-on-one sessions tend to deliver more powerful results. At MyGuru, we offer both group sessions and one-on-one sessions, so you can pick the option that's best for you.
How long will I be able to access my online resources with MyGuru?
You will be able to access our self-paced Digital SAT prep course for an entire year. You'll also be able to download PDFs of the whiteboards from your online tutoring sessions, which you'll retain permanent access to. If you invest in premium online tutoring, you'll be able to access recordings of your tutoring sessions for an entire year as well.
How Online SAT Tutoring Works
Once you have signed up for our online SAT tutoring, you will gain access to all the MyGuru resources that come covered under your chosen plan, and you will be set up with a tutor to get you started with your lessons. You'll be invited to a Google Meet, Zoom, or Microsoft Teams session, and in that session, you'll use a unique whiteboard from our partner, Miro. To get a sense for how the session will look and feel, watch the below video.
Additional Resources to Prepare for the SAT
If you'd like to learn more about all things SAT, you should visit our SAT blog. Here, you'll find articles on a variety of SAT-related topics, such as "Should I Submit ACT or SAT Scores to Test-Optional Schools?" and "SAT vs ACT: Key Differences."