Private CAIA Tutoring
As you probably know, the Charter Alternative Investment Analyst (CAIA) designation is often earned by endowment and pension investment as well as private equity and hedge fund professionals. It is fast growing and highly valued in the investment community. To learn more about how our CAIA tutors can help you pass on the first try, fill out the form below.
Request More Info About CAIA Tutoring
In-Person & Online CAIA Tutoring Rates and Coaching Options
We recommend online CAIA tutoring because of its convenience (many CAIA students and tutors are also working full-time jobs) and, with the use of our online tools, effectiveness. We help students prepare for both CAIA levels.)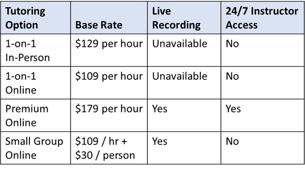 For students seeking a truly immersive learning experience, our premium online tutoring includes full session recording and a 24/7 live private whiteboard where students can leave notes and interact with their CAIA coach between lessons.
Discounts of greater than 15% off the above base rates are available when you invest in packages of hours in advance. We also offer a ~20 minute free introductory phone call (for in-person tutoring) or virtual meeting (for online CAIA training) with your likely tutor for you to share more details on your situation and ask questions before paying for an initial hour.
Online CAIA Tutoring Platform
Our approach to online CAIA prep involves audio and/or video chat using WebEx, Google Hangouts, Zoom, or Skype. We combine this platform with a preferred online whiteboard from Miro. Our approach allows for:
A shared whiteboard that functions as seamlessly as pen and paper
Screen sharing for PowerPoint or excel document review and usage
Capturing each session's notes as a PDF
Optional recording of the entire session for later review
What is the Nature of the Content Covered in the CAIA Exams?
The CAIA exams cover: professional standards and ethics, general instruction to alternative investments, hedge funds, real assets (like resources, commodities, and real estate), private equity, structured products, and risk/portfolio management.
For comparison, the CFA curriculum is broad based and covers most facets of financial analysis and investment management; but obviously the CAIA designation is more directed at the alternative investment world. This means it is more likely to cover more complex topics that may be difficult for some candidates to grapple with based on their academic or professional backgrounds. Much of what they are learning may be completely new material.
Why Work with a CAIA Tutor?
Most CAIA candidates are working professionals putting 50+ hours per week into their careers who often have spouses, kids, or other important demands on their time outside of work. The CAIA recommends a minimum of 200 hours of time invested in preparing for the exam(s).
Supplementing individual study time with 1-on-1 tutoring sessions with a CAIA charter holder who has passed the exam(s) can be a helpful exercise. A CAIA tutor can help you develop a customized study plan that makes your preparation as efficient as possible. In addition to the high-level benefits of top down guidance and planning as you map out your preparation over the course of several months, individual sessions can be very focused and precise in order to maximize efficiency within each CAIA tutoring session.
Our Approach to CAIA Tutoring
We start with a diagnostic session to assess your knowledge relative to the CAIA exam requirements. From there, we help you develop a customized plan, which tends to rely very heavily on the materials recommended by the CAIA.
You can expect your tutor to assign you homework, answer your questions, and of course review difficult concepts. They will make recommendations for when to take practice exams, and will be able to help ensure you are generally on track.
Example Expert CAIA Tutor
Mark M. is an example of one of our more accomplished CAIA tutors. He is a practicing attorney and a CFA and CAIA charterholder with years of experience tutoring for those two exams specifically.
Student Feedback
"I just wanted to share that I passed my CAIA level 2 exams and could never have done it without Ryan's help!

He is absolutely amazing and gave me the much needed confidence to stay on track while studying. Ryan was also super accommodating and ever so patient in explaining the parts where I don't understand.
It's really a life saver to have found your platform!" - Jocelyn O.
For more customized information specific to your city, use the links below to navigate to our location pages for refined pricing, example tutors, and additional contact information.