In-Person or Online ACT Tutoring
We believe that working collaboratively with a private ACT tutor is the most efficient way to improve your ACT score. One-size-fits all ACT prep classes and self-study online approaches often lack the customization that is required to substantially improve your ACT score.
How Private ACT Tutoring Works
Working with an ACT instructor from MyGuru is a highly customized experience that includes development of a study plan designed around your unique strengths, weaknesses, timing, and budget. Students are asked to purchase the Official ACT Prep Guide prior to their first session and complete a diagnostic practice ACT exam to identify strengths and weaknesses.
The first session involves a review of this diagnostic ACT exam, an overview of each section of the ACT, and development of a study plan. This is followed by a series of 1-2 hour sessions in which ACT test taking strategies are reviewed and practice problems are completed. Official ACT practice tests are completed (on the student's own time) and reviewed with your ACT coach to track progress. Homework is assigned after each session.
We offer a free ~20 minute phone call or a virtual meeting using our online ACT tutoring platform with your potential tutor before you are asked to invest in an actual tutoring session. Fill out the form below to get more information on how we can help.
Request More Information about ACT Prep
Do You Prefer an In-Person Or Online ACT Tutor?
Although during the COVID-19 epidemic we are doing almost no in-person tutoring, we generally offer in-person ACT tutoring in several cities (including Chicago, New York, and Boston), as well as online ACT prep. We understand some students prefer seeing a live tutor face-to-face. To both reduce the cost of private ACT instruction and increase convenience for our students, we don't have any physical locations, so you'd meet with your assigned tutor at a mutually convenient time and place like a local library, coffee shop, or if you are comfortable with it, in your home.
We do tend to recommend online ACT tutoring to most of our students. It is more convenient and can be more effective (more on our approach to online tutoring is below). We also offer premium online tutoring in which we record each session in full and students can make notes and leave questions on the whiteboard 24/7 for the instructor. The student then receives an "offline" response via a follow up note on the whiteboard within 24 hours.
How We Approach

ACT

Tutoring Online
Our approach to online instruction provides a more dynamic and intuitive experience than anything else in the online ACT prep market. See an example ACT/SAT tutoring session conducing online below.
Students only need a free Gmail or Skype account to begin instructive videoconferencing

All ACT strategies are demonstrated by our ACT online tutors on a shared virtual whiteboard

Online ACT prep sessions are recorded as digital documents, so students can review lessons to reinforce concepts and approaches.

.
Many of our students ultimately determine that online ACT instruction is preferable to in-person tutoring.
For students seeking an immersive ACT prep experience, premium online ACT tutoring includes full session recording and a 24/7 live private whiteboard where students can leave notes between lessons and receive a response from the instructor "off hours" in between live online ACT prep sessions. The whiteboard will notify the tutor, who will respond within one business day. Of course with all online ACT prep offerings, a .PDF document capturing the whiteboard notes is emailed after each session for continued reference - a unique study resource not available through in-person instruction.
ACT Tutoring Rates
Our base rate for working with a 1 on 1 ACT tutor online (not premium) is $95 (already a slight discount from our in-person ACT tutoring rate of $99), but we also offer 5, 10, or 15 hour packages which come with discounts of 5, 10, or 15%. That's a long term rate of $95 × 85% = $80.75 per hour for a 15-hour package at a total cost of $80.75 × 15 hours = $1,211.25.
We encourage you to look around for more affordable ACT prep. We are confident we offer the best ACT prep for the money.
Our Team of ACT Tutors
Much of our online ACT tutoring is delivered by a true ACT expert, Mike S. His background includes:
BA from Columbia University

97th percentile or better on every test he teaches including a perfect 36 score on the ACT
Five years of independent tutoring and classroom experience teaching the GRE, GMAT, SAT, ACT, SSAT, ISEE, other state-specific standardized tests
Believes great tutoring is always rooted in listening to a student's needs and concerns and working with that student as a team to solve those problems
He has helped committed students improve by 9+ points on their ACT and 400+ points on the SAT
Mike will assess your starting point and work with to develop a customized study plan to help prepare for the ACT as efficiently and effectively as possible. We also encourage you to view this partial list of other ACT tutors on our team.

Example ACT Tutoring Reviews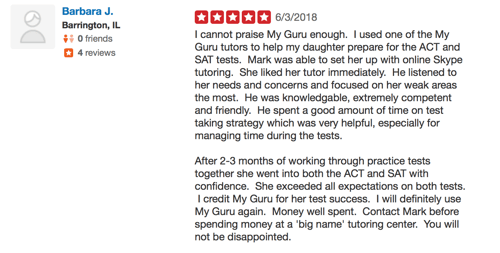 Additional reviews are available on Yelp and Google.
Additional Resources To Help You Prepare for the ACT
To read about how our ACT tutors help people develop skills and strategies for passing the ACT, click here. Check out our ACT blog for the latest student testimonials, ACT concept reviews and explanations, and advice on college admissions. Example articles include: