Online ACT Tutoring
If you're a high school student gearing up to apply to college, you've probably already started thinking about how to study for the ACT. The ACT is one of the two primary standardized tests (along with the SAT) considered by undergraduate institutions across the US and Canada as they make admissions decisions. The ACT can play a big role in whether you end up getting into your dream schools. For that reason, ACT prep is a major part of the college admissions process for many students. And there is a wide variety of free and paid ACT prep resources available to you.
The internet is full of free ACT prep resources, including blogs and written lessons from test prep companies and individual tutors, videos, practice tests, and study guides. But for most students, self-guided ACT prep is not the best approach. When you think about it, there's something innately illogical about it—a self-guided prep approach can limit you to the material you're able to understand on your own. This means you're unlikely to make significant progress on the areas of the test where you need the most help. This is why so many students turn to other paid resources as part of their ACT prep.
In addition to all the free ACT prep resources out there, there are also numerous test prep companies offering paid prep materials, group courses, and even proprietary ACT prep software. These can all be helpful to a certain extent, but the gold standard for ACT prep is customized, one-on-one tutoring from an expert ACT tutor. Working with an expert tutor is the best way to design a personalized ACT prep regimen that both solidifies your strengths and targets your key weaknesses. Further, expert ACT tutors have the knowledge and teaching skills to help you understand concepts that are beyond your ability to make sense of on your own.
This kind of customized personal ACT tutoring is exactly what we specialize in at MyGuru. Our expert tutors work closely with you to design an ACT prep approach that will work specifically for your needs. We're confident our tutors will be your best resource for maximizing your score.
Table of Contents
Request More Information about ACT Tutoring
Overview of the ACT
The ACT is divided into four sections: English, Math, Reading, and Science, with an optional Writing section. What's important to understand is that the ACT doesn't necessarily test how much knowledge you've accumulated in these areas. Rather, it tests your skills and your college readiness in a few dimensions, namely reading comprehension, writing conventions, and computational abilities. Notice we didn't mention science—that's because the ACT Science section doesn't really test your knowledge of science, per se. Rather, it tests your ability to comprehend dense technical information, your ability to work with hypotheses and evidence, and your ability to interpret graphs and other forms of data.
ACT Scoring
Each of the four main ACT subject areas is scored similarly. First, your total number of correct answers is added up and becomes your raw score for each section. These raw scores differ from section to section, as each subject area contains a different number of questions.
Next, your raw score is converted into a scaled score. The scaled score for each section always ranges from 1 to 36. The reason for the differentiation between raw and scaled scores is that the test uses scaling to make sure scores are consistent across multiple test dates, in case there is a difference in difficulty from one test to another. This ensures that two students receiving the same scores on different test dates are working with the same skill level, rather than one of them benefitting from a slightly easier test.
After your four scaled scores are calculated, they are averaged into a single composite score, which represents your total score for the entire exam. This composite score also ranges from 1 to 36.
Note: the optional Writing section consists of an essay that's evaluated by two ACT graders, each one scored from 1 to 6. These are added together for a total ACT Writing score that ranges from 2 to 12. Your ACT Writing score does not affect your total ACT composite score.
Should you take the ACT or the SAT?
Should I take the ACT or the SAT? This is a common question that many students have. Every college and university in the US accepts either or both of these tests as part of its admissions requirements. Nowadays, few colleges really prefer one vs. the other, either. If you score relatively well vs. your peers on one vs. the other, that's probably the test you should focus on. Both of these tests, designed to assess your grasp of expected high-school-level skills and your readiness for a college-level curriculum—are similar in many ways. But there are also important differences to consider before jumping into a study plan focused on one instead of the other.
if you struggle with time management on standardized tests and are, relatively speaking, better at math than English or Reading Comprehension, the SAT may be a better fit for you. This is because you get more time per question on the SAT and math questions drive close to 50% of your overall score on the SAT and only ~25% on the ACT.
To explore the question of "should I take the ACT or the SAT" more, we encourage you to read this blog article on the topic of ACT vs. SAT.
ACT and the college admissions process
Colleges will have the ability to see each of your subject area scores. While your composite score is generally the most important, certain specialized programs will pay attention to certain subject areas. For example, STEM programs will weigh your ACT Math and Science scores more highly than your Reading and English scores, though these will still be considered to some extent.
In terms of setting a target score, the ACT score you'll need will depend on your specific college ambitions. More competitive and selective schools will obviously require higher scores for successfully gaining admission. Generally speaking, you'll want to shoot for an above average score—or, even better, a score in the top 25%, or the 75th percentile and above—of admitted students' scores for a particular school. The 75th percentile for all ACT takers is 24, so you can consider this a benchmark for a "good" score, although it may not be as impressive for every school you apply to.
Most colleges don't require the optional ACT Writing section, but some do. Still, even for those colleges that require the ACT Writing section, your ACT Writing score is generally not considered as important as your ACT composite score or, therefore, your subject-specific ACT scores.
How to score well on the ACT: Foundational thoughts
While your ACT tutor will help you design an overall test prep approach that will be replete with subject-specific techniques and tips, there are still some general ACT strategies that benefit just about anyone to implement.
The first thing the ACT organization recommends is to take the most challenging high school courses you can in each of the test areas. Studying the skills involved in each of the subject areas over the course of an entire school year is the most effective initial way to deepen your abilities, and it will help raise the floor and the ceiling on your scoring potential, which effective test prep will help you maximize. If you enter your test prep regimen without having developed the necessary skills to succeed, you'll be at a disadvantage.
Beyond a high school curriculum, every student will benefit from developing familiarity with the structure and content of the test. Beyond just knowing the different subject areas covered in the ACT, you should take an official ACT practice test under timed conditions, both to build your understanding of the test and to get an accurate sense of your starting score. Your starting score will help you develop a target score and will identify the areas you need the most improvement in order to work toward your target score.
While drilling down on both the areas where you need the most improvement and the areas where you can solidify your pre-existing skills, you should continue taking regular timed practice tests—simulating testing conditions as closely as possible—in order to monitor your progress and continue refining your approach.
Practice working questions out of order, especially if you're someone who struggles with the time element of the test. The ACT rewards correct answers and doesn't punish wrong answers. This means your number one job is to answer as many questions correctly as possible. One of the worst things you can do is leave points on the board by giving too much time to questions that are beyond your ability, while failing to leave time to answer questions you have the ability to solve.
You should also practice the process of elimination. While you may not always be able to answer a question perfectly, you can often eliminate at least one or two wrong answers, which will increase the likelihood that your guesses will be correct.
And for the questions where you don't have time or don't have any idea how to approach them, pick a single letter to be your go-to guess across the entire test. If you pick B, then select B whenever you find a problem you know you can't answer. This will help you save time, and the consistency will ensure you get at least some percentage of your guesses right.
How is MyGuru ACT Tutoring Different?
As virtually every high school student must take the ACT (or the SAT) to enter college, there is an entire industry with a plethora of resources for ACT test prep. These include extensive libraries of proprietary practice questions and prep materials, including videos and text-based content. Other companies offer large group classes. These resources can be helpful in certain ways, but they pale in comparison to the results you can achieve by working one-on-one with an expert ACT tutor. One-on-one ACT tutoring with expert tutors like MyGuru's remains the gold standard for maximizing your score and getting the most out of your investment.
The first thing that makes MyGuru ACT Tutoring different is that we only employ the most talented and qualified ACT tutors in the industry. Our tutors have achieved top scores on the test themselves, have attended elite universities and graduate schools, and have gained several years of ACT tutoring experience.
Our tutors give you close, personalized attention to help you determine your goals and needs, designing a custom test prep regimen that will help you get to where you want to be. Further, working regularly with our tutors will keep you accountable to that test prep regimen. Our tutors will ensure you're applying your energy and attention in the most effective ways to maximize your score potential.
Our tutors know the ACT inside and out. Further, they've worked with a variety of students from different backgrounds and with different goals, experiences, and skill sets. MyGuru tutors are all gifted educators who personally tailor their instructional approaches to suit your unique capabilities and thinking style. They have an inside knowledge of the ways the ACT operates and they have the skills to customize that knowledge to your particular needs, ensuring that you build a deep understanding of the necessary concepts that works for you.
Further, our ACT English and Reading programs are designed to adapt to both native and non-native English speakers, meaning MyGuru tutors can help any student improve their scores, regardless of their native language or their starting aptitudes.
Altogether, our expert, customized approach to tutoring is not only maximally effective—it's also maximally efficient, helping you reach your scoring goals on the timetable that works for you. This means you'll save both time and money, which leaves you more resources for developing the rest of your application materials, like your admissions essays.
ACT Tutoring Rates
However, we generally recommend online ACT tutoring because it offers improved instructional functionality and convenience for both students and tutors.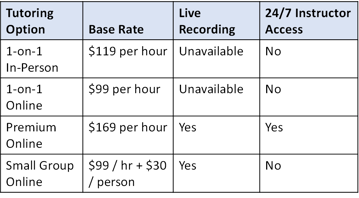 For students seeking a truly immersive learning experience, our premium online tutoring offers full session recording and 24/7 access to a private whiteboard where students can leave notes and interact with their ACT coach between lessons.
Discounts of greater than 15% off our base hourly rates are available for investing in packages of 10, 20, or 40 hours of instruction. We also offer a free no-commitment introductory phone call or videoconference with your likely tutor to share details on your situation and ask questions.
How Online ACT Tutoring Works
We believe our approach to online ACT training provides a more intuitive and personalized experience than any other ACT instruction option. After every MyGuru online session each student has a minimum of two resources to review - The Official ACT Prep Guide and a digital copy of that day's whiteboard filled with study notes and ACT strategies specifically tailored to each student. Furthermore, our tutors are familiar with a multitude of available ACT prep resources, so we can curate a specific set of supplemental content and practice tailored to each student's specific needs.cues
Students only need to click a link from their ACT coach to launch a video conference where both tutor and student can react to one another
All ACT test taking strategies are demonstrated exactly as they should be executed on test day by our expert tutors on the dynamic shared whiteboard
By using digital practice resources, our tutors can copy and paste practice content directly onto the whiteboard to annotate and provide tips just like they would on a textbook
In our view, online ACT tutoring isn't just comparable to face-to-face tutoring, it's better.
Professional ACT Tutor Team
MyGuru makes a point to only hire the most talented, experienced, and effective ACT tutors in the industry. MyGuru ACT tutors have all achieved top scores on the actual exam, gaining admission to some of the world's best universities and graduate programs. Further, they have all had extensive experience in ACT tutoring, working with a variety of students from different backgrounds to help them meet their scoring goals. All our tutors have a demonstrated track record of success over years of working with ACT students.
Above all, what distinguishes our tutors is their passion and commitment to teaching. Our tutors are expert communicators who find nothing more inspiring than working one-on-one with motivated students to help them build their understanding and achieve their ambitions for higher education.
You can expect a typical MyGuru ACT tutor to have the following:
A top personal ACT score, generally in the 98th percentile or above
Expertise in every section of the ACT, with well-rounded knowledge to help all students connect to the material
Excellent communications skills, with the ability to explain ACT material to any student in an accessible way
Five or more years of professional experience as a dedicated ACT tutor, working with a variety of clients from different backgrounds
An extensive track record of success, helping dozens or hundreds of previous students increase their score by 5 or even 10+ points
Superior teaching skills, with the ability to assess students' capacities, goals, and learning styles to design customized study plans
Training from major ACT prep companies and/or direct from our Director of Online Tutoring, Stefan Maisnier
A passion for empowering students to achieve their goals
Access to state-of-the-art online tutoring tools. Our intuitive ACT tutoring platform enables no-sign-in videoconferencing, a cutting-edge live whiteboard, and the option to fully record tutoring sessions for repeated playback.
For example, much of our online and Boston in-person ACT tutoring is delivered by Steve M. whose background includes:
B.A. in Political Science,

University of Rochester,

M.A. Archaeology,

Durham University, United Kingdom,

Ph.D. Archaeology,

University College London,

Postdoc in Archaeology at the Spanish National Research Council

98th percentile or better scores on the SAT & ACT

Tutored a variety of subjects for over 12 years, both independently and with firms including Kaplan, Summit Educational Group, and Chyten

Tutoring style emphasizes creative and critical thinking
Our tutors assess your starting point and help you develop a customized study plan to help you reach your target score on the GRE as efficiently and effectively as possible. Please feel free to explore additional profiles of other online ACT tutors.
Example ACT Tutoring Reviews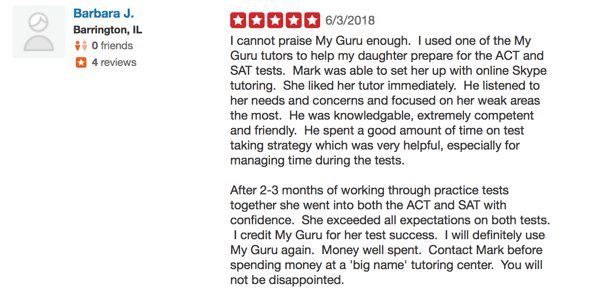 For more real ACT reviews click here.
.
Common ACT Strategies
Our highly effective ACT tutors will not only be able to help you learn the subject matter—they'll also be able to teach you ACT-specific testing strategies and they'll help you design a study plan that works with your current abilities, your educational goals, and the time and financial resources you're able to invest. Our tutors will help you:
Utilize online resources for consistent practice
Design a customized and constantly evolving study plan
Set goals in line with your abilities, ambitions, and needs
Take regular timed official practice tests that mimic official testing conditions as closely as possible
Along the way, you'll gain specific knowledge of all the different ACT subject areas while also developing ACT test-taking strategies, including:
Learning to effectively use the process of elimination
Exercising superior time management, tailored to each subject area and your specific abilities
Using the test booklet, calculator, and other resources with maximum efficacy
Working backwards to test the answer options when you don't immediately understand how to solve a specific problem
Answering questions in an order designed to maximize your score
Frequently Asked Questions (FAQ)
What kinds of ACT prep materials will we use?
We will focus on using official ACT material created and licensed by the ACT organization, including past tests, official practice tests, and other practice material. Other companies use third-party material for ACT prep, which often contains subtle differences and lacks the nuances of official ACT questions and passages. This means that the practice material is not giving you the best possible preparation for what you're going to see on the official ACT exam.
How many hours of tutoring do I need to boost my score?
After the initial free one-hour diagnostic session, we recommend most students begin with an investment of a 10-hour block of ACT lessons. Note that 10 hours represents the amount of time you'll be spending in session with a MyGuru tutor, but ideally you'll be committing extra time to practicing on your own in between sessions, to get the most out of your investment.
Of course, every student's needs differ based on their starting abilities, their ACT goals, and the time and financial resources they have to invest. For students with more significant tutoring needs, we offer additional 20- and 40-hour blocks. We also occasionally offer 5-hour blocks for students with a smaller window of time before an upcoming exam.
Are small group sessions better than one-on-one tutoring?
MyGuru offers both small group sessions and one-on-one tutoring, and there are pros and cons to each. Small group sessions are more affordable, and some students find it motivating to work alongside others. However, one-on-one tutoring offers more personal attention and customized study plans, so it's typically more effective.
Do you offer in-person tutoring?
Yes! MyGuru offers both online and in-person tutoring. We like the online option because of the flexibility it offers both students and tutors, while keeping our overhead low. Further, working online offers greater accessibility for students who don't live in the vicinity of any MyGuru tutors. But some students who live near MyGuru tutors prefer to meet in-person, so we offer that as well.
When and where do you offer lessons?
The timing and location of our lessons is negotiable between students and tutors. In-person lessons typically take place in a quiet coffee shop, a library, or the student's home. Online tutoring is something you can obviously conduct from anywhere, though you'll want to make sure you're working in an environment that's conducive to learning and concentration. In terms of scheduling, most of our lessons take place on weekday evenings or on weekends, but we can also arrange daytime lessons during the week depending on the student's needs and both the student's and the tutor's availability.
What online resources do I have access to, and for how long?
Our tutoring packages come with a self-guided ACT course that remains available for a full year. Online ACT tutoring utilizes shared online whiteboards which can be accessed in PDF form for a full year. For students who opt for the premium online tutoring option, full recordings of the lessons are also available for a year.
Which sections of the ACT do you tutor?
MyGuru's ACT tutors all offer expert tutoring in every section of the ACT, including the optional writing component. You and your tutor will work together to determine which of the ACT subject areas you need the most help with, but your instruction is likely to include all of them.
Can I send my tutor questions between sessions?
Definitely! We invite our students to share questions and updates on their progress between lessons. Our tutors offer extra responsiveness and availability for students who choose the premium online tutoring package. This gives students the option to leave questions and notes in the shared whiteboard spaces for the tutors to see and respond to between sessions.
Should I also prep for the SAT?
While colleges and universities used to have a stricter preference for one test above the other, increasingly, virtually all institutions accept either exam with student admissions materials. The two tests are similar, but they also have meaningful differences, and not every student will perform equally well on both exams. Therefore, the wisest approach is to prepare for the exam that offers a better reflection of your abilities. If you're unsure which exam is right for you, you can consult with your MyGuru tutor in advance of your test prep to help determine which exam will give you the best chances of success.
How will we measure my progress?
The best way to measure progress is to continue working with ACT prep material between sessions to gauge the growth of your understanding and your test-taking skill. Your MyGuru tutor will also help you design a schedule for taking regular timed practice tests, which will offer an assessment of how you're progressing on each section of the test and on the ACT as a whole.
Additional Resources to Prepare for the ACT
To read about how our ACT tutors help people develop skills and strategies for passing the ACT, click here. Check out our ACT blog for the latest student testimonials, ACT concept reviews and explanations, and advice on college admissions. Example articles include: