Pricing Information
MyGuru's prices for private, 1-1 tutoring range from $40 to $95 per hour, typically quoted as a base rate with discounts for investing in 5, 10, or 15 hours in advance. However, you are never "locked in," and can obtain a refund for unused hours at any time. The price range is large, as we work with students across multiple age ranges in diverse subjects with very different levels of complexity.
As a boutique tutoring company, MyGuru represents a unique option for students interested in private, 1-1 in home tutoring. Read below to learn more about how MyGuru fits in the tutoring landscape and pricing in more detail.
Also see our various location pages to see detailed pricing information on your area.
As a potential student, consider your options:
'Find it Yourself' Tutor Databases
Web-sites like Craig's List, UniversityTutor, Tutormatch, TutorNation, and Premier Tutor are fundamentally databases of tutors where anyone, regardless of quality level or experience, can post contact information and make themselves available to tutor. As a student, you need to review profiles carefully, reach out to several options to see who responds in a timely manner, check references, and coordinate scheduling and payment.
While this is typically the lowest cost way to obtain a private tutor (hourly rates are likely to range from $20 to $50 on sites like these), you must spend a lot of time finding the appropriate tutor, and if you are unhappy, getting your money back will be difficult. On the positive side, you can usually find a few people in your area and subject, as these sites generally list hundreds of available tutors in almost any subject imaginable.
Learning Centers and Tutoring Agencies
Learning centers (i.e., Huntington Learning Center) and tutoring agencies (i.e., VarsityTutors) pre-screen, recruit, train, and monitor their tutors on some level. You pay the learning center or agency, which schedules sessions and often has a physical location. Learning centers typically have a physical location, while tutoring agencies often do not. Learning centers and tutoring agencies typically price in the $40-$80 range per hour.
MyGuru
As a provider of 1-1, in home private tutoring, MyGuru falls into the "tutoring agency" category, but is somewhat unique for a few key reasons:
We are more selective with who we recruit – we maintain a small, prestigious team, as opposed to continually growing our list of tutors as long as they meet a minimum standard
We combine tutoring with additional education products and services that help our students succeed (i.e., online products, college/career exploration tools, admissions consulting, test prep books, etc.)
We offer a money back guarantee on the first hour
We are often more affordable – we charge $40-$80 per hour for academic tutoring and our max price for test prep tutoring is $95 per hour, as opposed to $150+, or higher, for test prep from the large, well known branded firms (and many other smaller firms)
'Branded' Tutoring and Test Prep Companies
The final category contains the likes of Kaplan, The Princeton Review, or Manhattan GMAT. With proprietary test preparation tools and processes, well equipped physical locations, and well known and trusted brands, these companies certainly know how to prepare students for standardized tests.
However, they also have significant downsides. First, in an attempt to expand as quickly as possible, they employ many tutors who, though they may do well on standardized tests, are not good tutors or teachers. Second, their one-size-fits-all group test prep sessions are more expensive than MyGuru's private tutoring (on an hourly basis), yet basically consist of reviewing the exact same concepts that are well articulated in any reasonable test prep book. These group test prep sessions tend to be a very ineffective option if you are in need of customized help. Finally, these companies simply charge a lot of money for private tutoring – upwards of $150 per hour in some cases (see below).
MyGuru's Pricing vs. Key Competitors ($ Per Hour)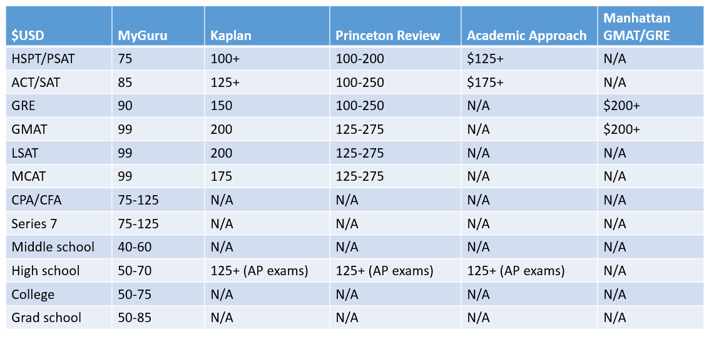 MyGuru's average test prep tutor has 5+ years of experience and has scored in the 97th percentile or better on the test for which they are tutoring.