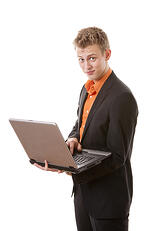 In part one of this two-part post, I referenced five ways to differentiate yourself in preparation for applying to college.
The first five tips were:
Do what you love
Distinguish yourself at school
Distinguish yourself in your community
Get a job or an internship
Do some independent research
In each case, the idea was to do something that makes you unique, and would suggest you'd be an intelligent, interesting, thoughtful addition to even the most selective college or university student body. Now, let's cover tips 6 – 10.
6. Read
This one seems simple, but wow, does no one do it and wow, is it powerful. Get a library card and READ. Keep a list of what you read. Teenagers don't read enough for pleasure (I know you have a lot of homework and sports, but even at 2 pages a day you can finish a book or two a year...) Reading opens your mind to new subjects, teaches you vocabulary, increases your imagination and attention span, and strengthens your writing. Colleges love to see kids who read because you are more well informed in choosing your major and you will have to read a lot in college, so everybody wins!
7. Go crazy taking in cultural activities in your city
This activity is often overlooked, but you can go to plays, concerts, dance performances, art shows, lectures, poetry readings and all sorts of similar events in your city. Even if you live in a very small town, during the fair there are always events like this that you can attend. Learning about cultures shows your intellectual curiosity, and colleges are educational institutions first and foremost, so they really love kids who think and appreciate diverse experiences. Whether it's a ballet, a wood carving lecture at the library, or a tractor pull at the fairground, get out there and experience life!
8. Pursue a really weird, obscure hobby
If you have any desire to learn to blow glass, country two-step, make duck calls, or recite poetry at slam fests, do it. Colleges (and employers) love people with hobbies because it makes you interesting and well rounded. When you pursue your hobby in Renaissance dance or civil war reenactment, a college will be able to see what kinds of things you can bring to campus to share with other students. And remember, you can learn any of these things from YouTube; you don't always need expensive lessons.
9. Investigate and really consider obscure majors
While browsing through a college's course catalog and online statistics, look at the number of students enrolled in each major. Learn about the smallest and most obscure majors on campus because most kids are probably applying for the same things and one of these lesser-known majors might actually really catch your eye!
10. Publish anything
No joke. If you can publish an article, a blog, a BOOK, a chapbook of poetry--do it. One year I even had a student who wanted to publish his own manifesto, and I did have a girl who wrote her own Latin textbook because she couldn't find one she liked... The point is, if you can actually manage to write or direct and publish something, then by all means do so. Colleges love movers and shakers, in good ways, so if you are one such kid, then let it be known by your output. Publishing is basically awesome.
There are many ways that you can stand out from the pack, and all of them involve you following your own heart and pursuing your passions. Best of luck to you as you do. Yay, college!
Susanna Cerasuolo, M.Ed is a college counselor based in Seattle, WA. She has been working with high school students for 20 years, first as an English teacher and then as a guidance counselor. As a first generation college graduate, Susanna believes that education is the best way to break the poverty cycle and she is passionate about increasing access to Higher Ed. Susanna founded www.CollegeMapper.com, a free website that gives each high school student a step-by-step plan to find and apply to college.