We provide both CFA (Chartered Financial Analyst) tutoring and CAIA (Chartered Alternative Investment Analysis) tutoring. In most cases, students come to us having already decided which exam is for them and why they want to earn one designation or the other. On the other hand, many of our CFA tutors also hold the CAIA.
What exactly is the CFA, and what is the CAIA?
The CFA is a broad-based exam that demonstrates expertise in a very wide range of financial areas, including equity and bond investments, corporate finance, accounting, and economics. The CAIA focuses on measuring expertise in the world of "alternative investments" meaning investments that aren't really equities or bonds (e.g., investments in private companies, real-estate, intellectual property, etc.). Most folks in finance could benefit from the CFA, but only professionals focused on alternative investments would really benefit from obtaining the CAIA.
So, while one might argue the exams are quite different because they cover different content, have different future applications and lead to different career paths, many individuals do hold both designations (including several of our CFA tutors). There must be a reason for that.
So, in this article, we'll review some key similarities and differences between these exams to help the reader determine if they might benefit from obtaining one or both designations.
We'll start with the similarities, and then review the differences.
In what ways are the CAIA exam and the CFA exam alike?
There are four clear similarities between the two exams.
They are both highly respected designations for analytically minded finance professionals that are not "easy" to obtain. Whereas, for example, having an MBA isn't necessarily impressive by itself (where you earned the MBA matters a lot), simply having earned either the CAIA or the CFA (let alone both) signals both motivation to succeed and deep expertise in the world of analytical finance. The pass rate for the CAIA-level one is 63% (in 2017) and it is 59% for level 2.

The pass rates for the CFA are even lower (43% for level 1, 47% for level 2, and 54% for level 3).


Each requires a substantial amount of time and money to obtain. The CFA has three levels, and each requires ~300 hours of studying per level for a total of 900 hours. The total cost for the exams is $3,300. The CAIA has two levels, and the CAIA association suggests that it takes 200 hours of study per level, or 400 hours, to pass the exams. The CAIA costs $2,900 in standard registration fees.


Earning the charter from each respective organization (the CAIA Association or the CFA Institute) requires more than just passing the exams. While there are no prerequisites for taking the CAIA exams, earning the charter requires having a bachelor's degree and at least one year of work experience (the Association also accepts applicants with no degree but 4 years of demonstrated work experience). The CFA Institute is more selective when it comes to who can earn the charter. You must have a bachelor's degree to sit for the level 1 exam (or be in the final year of one or have work experience and college experience equal to four years).

Once level 3 is passed, four years of relevant work experience are required to earn the CFA charter.


Both exams are almost impossible to pass without substantial relevant academic or professional experience. Raw intelligence plus some limited exposure to the relevant topics would not come close to being enough to pass these exams due to the depth and breadth of topics covered. Even someone with a PhD in Physics from Harvard, but limited relevant academic or professional experience, would probably have to take multiple classes in finance, accounting, investing, and economics before being able to digest the study notes and preparation materials to be able to pass these exams.
Now, let's explore some key differences between the CAIA and CFA exams.
How are the CAIA exam and the CFA exam different?
There are three clear differences between the two exams.
They lead to related but clearly different future career paths. The CFA is a broad designation that can be applied to many fields in finance including: banking, equity research, portfolio management, financial advising, credit analysis, fixed income research, insurance, hedge funds, private equity, venture capital, trading, wealth management, and more. The CAIA, on the other hand, is for professionals working in the world of alternative investments, which means investments that aren't quite equities or bonds. Careers for those with the CAIA designation are much more focused on: private equity/venture capital and hedge funds, with additional applications in areas like pension funds, family, other private or public foundations, etc.


They cover different topics, with one being "broad" and the other "narrow." The CFA covers a broad range of financial topics in line with its broad range of future applications. It covers general economics, financial reporting and analysis, corporate finance, equity investments, fixed income, portfolio management, and quantitative analysis. Only about 8% of the CFA exam covers "alternative investments," which is the main focus of the CAIA exam. Under this banner, of "alternative investment" the CAIA covers due-diligence techniques specific to hedge funds and private equity, asset allocation models that consider lack of liquidity, real estate pricing, and private equity for asset allocation and risk management. Intellectual property, insurance-linked securities, and equity-linked structured products are other topics covered by the CAIA.


One functions well as career "insurance" while the other makes sense only if you have clear career goals. As discussed previously, both exams require substantial investments in time and money to complete. They are both generally difficult designations to obtain and prestigious to hold. However, while it's hard to "go wrong" studying for the CFA, because it's widely respected, one shouldn't sit for the CAIA exams unless one is clearly devoted to a career in alternative investments. The designation is interesting, but not relevant, outside of that world.
Summary and Takeaways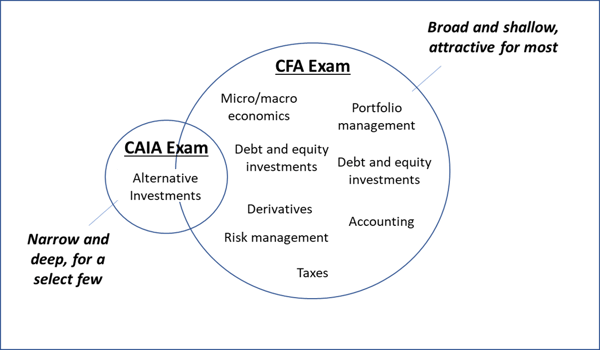 The CFA exam and the CAIA exam are both offered by reputable financial associations and lead to well respected designations in the financial industry. The CFA covers a broad range of financial topics, while the CAIA is focused on alternative investments. The CFA charter can function as an insurance policy, boosting the resume of almost anyone pursuing a career in finance, while the CAIA is relevant if you are clearly committed to a career in alternative investments. In either situation, you could probably also benefit from advanced financial modeling training and, in particular, excel modeling practice, to advance your career as well.
However, before you run off and pursue the CFA, keep in mind that it's not easy to pass all three exams. MyGuru works with many CFA students who just become overwhelmed with the amount of studying they must do to pass these exams. They seek a CFA tutor more for help navigating the process of preparing for the exam and less for specific review of difficult concepts. 900 hours of total study time is a lot. It's 6 hours of studying every single week for three full years. The investment in study time required to pass is what makes it so well respected and legitimate as a designation. It's probably far easier to obtain a part-time or online MBA than it is to obtain a CFA charter (for example).
This article pulled heavily from information on the official CFA and CAIA Association web-sites as well as this article on the CFA vs. CAIA from Investopedia.