Why MyGuru - Boston?
It's easy to find tutors. It's hard to find reliable, highly qualified tutors at the right price and with the best customer service. That's where MyGuru steps in.


It's easy to find tutors. It's not so easy to find genuinely helpful, reliable, highly qualified tutors in Boston at the right price and with an organization behind them which ensures the best possible customer service. That's where MyGuru steps in.
In adddition to 1-on-1 tutoring, we offer small group classes for most academic subjects and preparation for standardized tests such as the SAT, ACT, GRE, GMAT, and LSAT. We also provide academic counseling and guidance for applicants to college and graduate school.
We look forward to hearing from and working with you.
Our Tutors
We have dozens of tutors ready to help you and they are all among the best tutors out there. Our typical tutor has:
An undergraduate degree with high marks from a prestigious university and a Masters or Doctorate as well (e.g., a GRE tutor has a PhD from Stanford, a GMAT tutor has a MBA from Northwestern-Kellogg, etc.)
3-10 years of tutoring experience
Scored in the 95th percentile or above on the tests they are teaching
Dane L. is one of our most prominent and requested tutors in the Boston area. Below is a short overview of his background:
B.S., American Chemical Society-sponsored honors major in Chemistry, Tufts University, 2011.


Scored in the 99th and 94th percentiles on the SAT and GRE respectively.

Over ten years of independent tutoring experience.

Professional GRE tutor with a private company & c

hemistry group tutor for Tufts Academic Resource Center.

His tutoring style is centered around instilling the ability to learn by making material genuinely interesting to explore for the student.

Click here to see more information on MyGuru Chemistry tutoring and tutors like Dane.
We keep our network of tutors in any given city small - we only want to work with the best available private tutors. You can also browse our Tutor Team to catch a glimpse of other individuals ready to work with you or your student.
Student Feedback: Just a Few Examples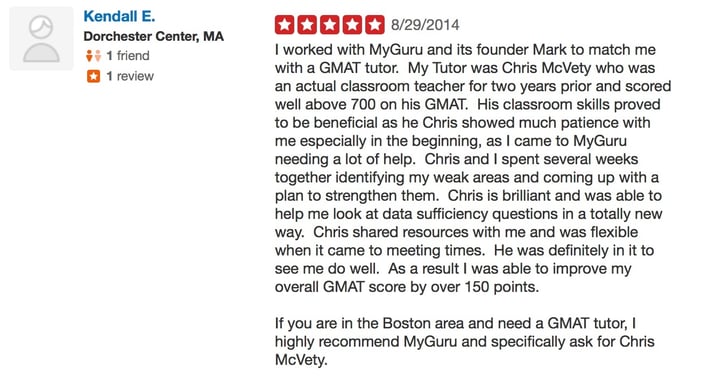 Services Offered
We offer 1-on-1 and small group tutoring for:
All major test prep and professional tests, including GMAT, LSAT, GRE, MCAT, CFA, CPA, ACT/SAT and many more
All major academic subjects for college and high school students, and many specialist subjects, such as Calculus, Physics, Chemistry, foreign languages, Statistics, Psychology, English and many more
Check out our "Test Prep" and "Academic Tutoring" tabs above for more information, or call or email us at your convenience.
Also see our Boston SAT Tutoring page for specific information relating to SAT tutors in the Boston area.
Location
MyGuru tutors always meet you at a mutually agreed upon location, such as a cafe, your home or a library.
Why? We do this to save overhead costs, which saves you both time and money.
Boston is a large city with many outlying suburbs. We have tutors willing to meet both in center city and outlying areas such as Allston/Brighton or Newton.
Our office location in Boston is:
MyGuru - Boston
35 Revere Street Boston, MA 02114
Again, these are administrative offices only. Almost all tutoring takes place in public locations, students' homes, or online.
Pricing
We pride ourselves on offering the best value in the business. We charge between $55 and $125 per hour, depending on the subject and tutor. The exact price is determined by area and the level of tutoring required. Boston is a large city, therefore prices are slightly higher than in the suburbs or smaller towns.

To compare, the cost for 1-on-1 tutoring with the same level of high quality tutors with two of our competitors:
- at Kaplan --> $150 to $200 per hour
- at Manhattan --> $200+ per hour
Why pay more? We charge you for the tutor's time, not for a bunch of overhead costs. Check out our overall Pricing Page for more information.