Why MyGuru - Boston?
It's easy to find tutors in Boston. It's not as easy to find genuinely helpful, reliable, highly qualified tutors.
In addition to 1-on-1 tutoring in most academic subjects, we provide customized preparation for standardized tests such as the SAT, ACT, GRE, GMAT, and LSAT. We also provide academic counseling and guidance for applicants to college and graduate school. We look forward to working with you.
Available Tutoring Services in Boston
We offer 1-on-1 and small group tutoring for:
All major test prep and professional tests, including GMAT, LSAT, GRE, MCAT, CFA, CPA, ACT, SAT and many more
All major academic subjects for college and high school students, and many specialist subjects, such as Calculus, Physics, Chemistry, foreign languages, Statistics, Psychology, English and many more
Check out our "Test Prep" and "Academic Tutoring" tabs above for more information, or call or email us at your convenience.
Our Tutors
We have a small, professional, experienced team of tutors in Boston ready to work with you. Our typical tutor has:
An undergraduate and/or graduate degree (master's, MBA, PhD, etc.) from a highly selective university (i.e., we were founded by graduate students at Northwestern University)
3+ years of tutoring experience
95th percentile or better scores on any standardized tests (ACT, SAT, LSAT, GRE, GMAT, etc.) they are teaching
Many of our tutors have professional certifications such as: CPA, CFA, CAIA, etc.
One of our founders or Managing Tutors has personally interviewed each tutor. We conduct background checks and track student feedback carefully. We keep our network of tutors in any given city small - we only want to work with the best available private tutors. You can also browse our Tutor Team to catch a glimpse of other individuals ready to work with you or your student.
Contact us by emailing info@myguruedge.com or request more information below.
Request More Information
Pricing
We charge between $55 and $125 per hour, depending on the subject and tutor. Our objective is to provide a customized, high quality tutoring experience that can still be described as affordable. The exact price is determined by area and the level of tutoring required. Check out our overall Pricing Page for more information on pricing across specific subjects and types of tests.
Student Feedback: A Few Examples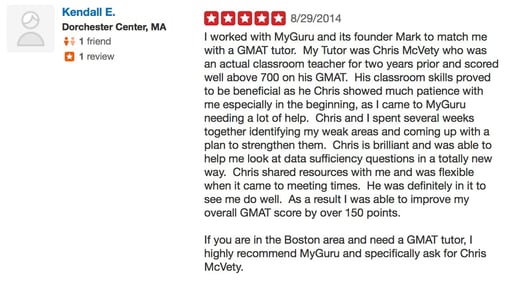 For more feedback on our tutoring services in Boston, visit our Boston Yelp page.
Location
MyGuru tutors always meet you at a mutually agreed upon location, such as a cafe, your home or a library.
Why? We do this to save overhead costs, which saves you both time and money. Boston is a large city with many outlying suburbs. We have tutors willing to meet both in center city and outlying areas such as Brighton or Newton.
Our office location in Boston is:
MyGuru - Boston
35 Revere Street Boston, MA 02114
T
hese are administrative offices only. Almost all tutoring takes place in public locations, students' homes, or online.