Why MyGuru - Chicago?
It's easy to find tutors. It's hard to find reliable, highly qualified tutors at the right price and with the best customer service. That's where MyGuru steps in.
We were founded in Chicago on Northwestern University's campus in 2009, and our deepest pool of tutoring talent still resides here.
We've worked with high school students in Barrington, Evanston, Oak Park, many other suburbs, and of course throughout the city of Chicago. We've worked with public high schools and private high schools like St. Ignatius in Chicago.
Our college students have attended Northwestern University, DePaul, Loyola, UIC, the University of Chicago, Oakton Community College, and more.
MyGuru serves the entire Chicagoland area, so don't hesitate to contact us if you live downtown, in the far North suburbs, Southwest suburbs, or somewhere in between.
Contact us by emailing info@myguruedge.com or by calling 312.278.0321.
We look forward to hearing from and working with you.
Our Team
We have dozens of tutors ready to help you and they are all among the best tutors out there. Our typical tutor has:
An undergraduate degree with high marks from a prestigious university and a Masters or Doctorate as well (e.g., a GRE tutor has a PhD from Stanford, a GMAT tutor has a MBA from Northwestern-Kellogg, etc.)
3-10+ years of tutoring experience
Scored in the 95th percentile or above on the tests they are teaching
Here are short bios for two of our most experienced Chicago area tutors:
Robert Blau
BS in Physics, Northwestern University
MS in Physics, Princeton University
Past experience developing proprietary standardized test tutoring materials with test prep companies
Has expertise in multiple areas: Physics, Chemistry, Biology, Economics, Accounting, Finance, ACT, MCAT, GRE, GMAT, LSAT
Click here for more information regarding our Physics tutoring options
PhD from the University of Michigan (Political Science)
Scored in the 95-99th percentile on the ACT, SAT, and GRE
5+ years of tutoring experience
We keep our network of tutors in any given city small - we only want to work with the best available private tutors. For an idea of the type of tutors we work with, browse our Tutor Team.
Student Feedback: Just a Few Examples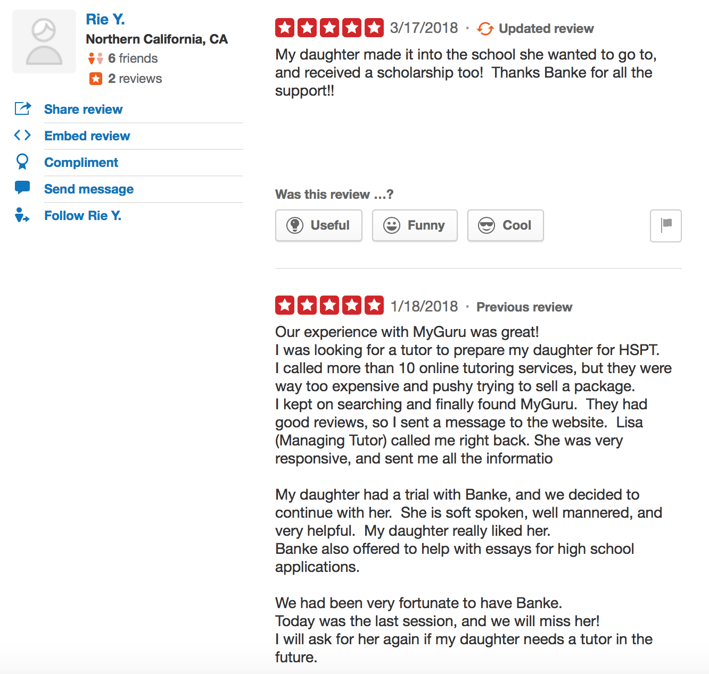 To read more reviews, visit MyGuru's Chicago Yelp Page or our testimonials page.

What We Tutor
We offer 1-on-1 and small group tutoring for:
All major test prep and professional tests, including GMAT, LSAT, GRE, MCAT, CFA, CPA, ACT/SAT and many more
All major academic subjects for college and high school students, and many specialist subjects, such as Calculus, Physics, Chemistry, foreign languages, Statistics, Psychology, English and many more
If you are looking for TOEFL or Real Estate License Exam tutoring, try out partner firm Elite Home Tutoring
Check out our "Test Prep" and "Academic Tutoring" tabs above for more information, or call or email us at your convenience.
Location
MyGuru tutors always meet you at a mutually agreed upon location, such as a cafe, your home or a library. Our tutors can easily make it to most areas of inner city Chicago and the outlying suburbs. We will work with your schedule and location preferences, making it most convenient for you when we can.
We meet at these various local places to save overhead costs, which saves you both time and money. Our physical Chicago address is:
MyGuru - Chicago
600 N. Kingsbury St.
Chicago, IL 60654
Again, these are administrative offices only. Almost all tutoring takes place in public locations, students' homes, or online.
Pricing
We pride ourselves on offering the best value in the business. We charge between $45 and $125 per hour, depending on the subject and tutor.
Prices will be higher in the center of Chicago versus the outer suburbs, but you can always expect to pay less than the large corporations for the same or better quality of tutors.

To compare, the cost for 1-on-1 tutoring with the same level of high quality tutors with two of our competitors:
- at Kaplan --> $150 to $200 per hour
- at Manhattan --> $200+ per hour
Why pay more? We charge you for the tutor's time, not for a bunch of overhead costs. Check out our pricing tab for more information. Check out our overall Pricing Page for more information.