Online Business Admissions Test Prep Tutoring
Affordable and Convenient Online BAT Tutoring
The Business Admissions Test is a new, but quickly growing in popularity, addition to the graduate business school admissions landscape. Focused on programs and applicants outside the U.S., the BAT was created to help schools determine the best candidates for their programs. MBA and EMBA admissions committees use both portions (or either portion) of the test to assess and predict potential candidates' future success in their specific graduate schools.
Most programs that accept the BAT don't have a minimum score, but higher scores increase the chances of both admission and getting a scholarship. As with many standardized tests, we believe that 1-1 Business Admissions Test coaching, and the customized study planning it implies, is the best way to boost your score.
BAT Tutor Information Request
BAT Tutoring Rates and Coaching Options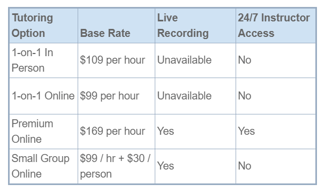 For students seeking a truly immersive learning experience, our premium online tutoring offers full session recording and 24/7 access to a private whiteboard where students can leave notes and interact with their BAT coach between lessons.
Discounts of greater than 15% off our base hourly rates are available for investing in packages of 10, 20, or 40 hours of instruction. We also offer a free no-commitment introductory phone call or videoconference with your likely tutor to share details on your situation and ask questions.
About the Business Admissions Test
The BAT has two modules: Academic Aptitude and Leadership Evaluation. All schools that accept the BAT require the Academic Aptitude module, but not all require the Leadership Evaluation module.
There are four sections to the Academic Aptitude module, which evaluates an individual's problem solving, data management, and logical thinking skills. The four sections are: Communication Analysis (CA), Critical Thinking (CT), Data Interpretation (DI), and Data Analysis (DA). Each of these four sections has 15 multiple choice questions and lasts for 30 minutes.
The CA section asks you to read a passage and then asks you questions to measure your comprehension of its arguments, assumptions, and other key components. The CT section uses multiple choice questions to measure you practical reasoning and logic skills. Knowledge of formal logic or any other subject is not required.
The DI section is unique. It has two types of questions. The first type is called Tables and Graphs. Here, you are given numerical information in table or graph form and asked questions that require you to analyze and make inferences about the data. The next type is called Information Completeness. This is a unique, again most numerical section, that asks you to determine whether you can answer questions given the data provided. This question type is very much like the Data Sufficiency section found on the GMAT. Finally, you'll face the DA , or Data Analysis, section. These questions are like math problem solving tasks you may remember from high school or college. Your task is to read the question and determine the best answer, which will often require you to reframe information using algebra.
The second module is entitled Leadership Evaluation. Only one section and 30 minutes in duration, this is a much smaller portion of the exam. It serves to assess the student's business knowledge and maturity through a realistic scenario to judge whether the candidate has had exposure to multiple business situations that involve managerial decision-making.
Business schools can choose to test students via the Academic Aptitude module only, or both.
Our Approach to Online Business Admissions Test Tutoring
Online Business Admissions Test tutoring from MyGuru leverages materials and practice problems from the Business Test Methods platform. We begin with a diagnostic initial session to identify key strengths and weaknesses, an overview of each section of the Business Admissions Test (Academic Aptitude and Leadership Evaluation), and the development of a detailed study plan and a customized lesson plan designed to build upon your strengths and address your weaknesses. Throughout the course of tutoring, we teach effective and proven test-taking strategies while review key content material in order to help boost your score. Periodic official practice tests are incorporated in the customized lesson plans to help track progress of content retention and to hone key Business Admissions Test test-taking strategies.
As perhaps the only U.S. based company offering BAT coaching, almost all of our BAT tutoring is conducted online. In our view, online tutoring is just as good as face-to-face tutoring and might be better. To read more about our perspective on online tutoring click here.
Customized BAT Tutoring from an Expert Tutor
Stefan is one of our most experienced test prep tutors and our primary BAT tutor. He is very knowledgeable about the business school admissions process, having worked with students for many years to prepare for the GMAT and Executive Assessment exams, and more recently, the Business Admissions Test. His background include:
B.A. Communication - University of Southern California,

M.S. Journalism - Northwestern University




Princeton Review administered test scores: GRE - 168, GMAT - 770,

LSAT

- 175 consistently over the past decade (95th - 99th percentile)




15+ years tutoring starting with The Princeton Review in 2004 and MyGuru in 2016




Expert at all sections of standardized exams, including the most current version of the BAT exam




Has his own proprietary schedules, worksheets, and online approach to delivering customized test prep solutions



Our online tutors will assess your starting point and help you develop a customized study plan to help you reach your target score on the BAT as efficiently and effectively as possible.