Private Online Miller Analogies Test (MAT) Tutoring
Online Tutoring is Affordable, Convenient, and as Effective as In-Person Tutoring
MAT prep from MyGuru, both in-person and online, leverages the textbooks from McGraw-Hill or Barron's to guide instruction. However, we recommend eBook versions to build good habits for test day when a paper version of the test mot likely won't be available, since the exam is now administered in most cases on a computer. We begin with a diagnostic session to help create a manageable study plan, develop a customized curriculum that builds upon each student's strengths and weaknesses, and outline a calendar of drills that incorporates official practice tests to track progress.
In-Person & Online MAT Tutoring Rates and Coaching Options
We offer in-person MAT tutoring in a growing number of cities because we do recognize that some students simply prefer to meet a tutor in-person. However, we recommend online MAT tutoring because it encourages best practices for the computer delivered MAT, while offering more convenience and functionality.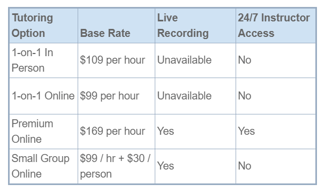 For students seeking a truly immersive learning experience, our premium online tutoring includes full session recording and a 24/7 live private whiteboard where students can leave notes and interact with their MAT coach between lessons.
Discounts of greater than 15% off the above base rates are available when you invest in packages of hours in advance. We also offer a ~20 minute free introductory phone call (for in-person tutoring) or virtual meeting (for online MAT training) with your likely tutor for you to share more details on your situation and ask questions before paying for a initial hour. Please fill out the form below for more details on pricing and package options.
About the MAT
The Miller Analogies Test is a 60-minute test designed to examine an individual's capability to solve problems stated as analogies in order to buttress their qualifications for admission into graduate school. A MAT score is intended to reflect candidates' analytical thinking skills in various academic subjects. There are currently over 500 Controlled Testing Centers (CTCs) that administer the MAT and each determines its own testing schedule. In some cases an MAT score is an acceptable alternative to submitting a GRE score.
How Studying Online for the MAT Works
We believe that our approach to online instruction provides a more instructive and intuitive experience than anything else in the online test prep market regardless of price. After each session our students get two texts to review - their preferred MAT textbook and a digital copy of that day's whiteboard filled with notes and tips specifically tailored for them to refer to forever.
Students only need a free Gmail or Skype account to begin instructive videoconferencing where both tutor and student can react to verbal and non-verbal cues making each lesson feel like it's being conducted in person.

All tactics and techniques are demonstrated by our expert tutors on a shared virtual whiteboard where students follow along with the instructor as a guest using nothing more than a laptop and an internet connection...

...but students can also sign up for their own personal whiteboard, so they can use a pen tablet to work on problems live with their instructor and access all past sessions to review any problem they've covered at any time.

Most importantly, whether you choose your own or shared whiteboard, all MAT sessions are recorded as digital documents, so students can review lessons to reinforce concepts and approaches.

Online tutoring requires nothing beyond a laptop, internet, and scratch paper (just like the MAT!), so computer-based tutoring builds good habits for test day such as writing down process of elimination outlines and taking good notes for reading comprehension rather than simply annotating the text on a physical MAT textbook. ...

...and using a laptop with eBook materials eliminates the need to carry pounds of heavy books every time you want to study, which allows you to review content or even have a session anywhere you bring your laptop bag.
For these reasons and more, MyGuru online MAT tutoring isn't just comparable to face-to-face tutoring, it's often better. To read more about our perspective on online tutoring click here.
Customized MAT Tutoring from an Expert
All MAT tutoring is delivered by an expert tutor with experience providing instruction for the Miller Analogies Test, Stefan:
B.A. Communications - University of Southern California
M.S. Journalism - Northwestern University
Official Test Scores: ACT - 36 (perfect score), SAT - 99th percentile
Princeton Review and other 3rd party administered test scores: GRE - 168+ Quant & Verbal, GMAT - 770, LSAT - 175 consistently over the past decade (95th -99th percentile),

MAT - 99th percentile
15+ years tutoring starting with The Princeton Review in 2004, then added one previous smaller company, and then more recently independent clients
Expert at all sections of standardized exams
Has his own proprietary schedules, worksheets, and online approach to delivering customized test prep solutions
Previous experience as a journalist with ESPN
Private whiteboard allowing:


Student whiteboard editing

24/7 whiteboard access to leave notes and questions for instructor

Unlimited space to keep all session notes without ever erasing

Full session screen-capture recording and video hosting:

Hosted for duration of instruction and 30 days after

Serialized by lesson
Student Feedback
"Stefan is amazing at understanding my specific needs as a student with dyslexia. He takes the time to figure out the way I have interpreted a question and what exactly made that question difficult for me. Having worked with many tutors in my life, it was greatly appreciated that Stefan immediately knew how to accommodate me without having to spend a lot of time explaining my learning disabilities.
From the moment I submitted an initial information request about MAT tutoring, the MyGuru team has been extremely prompt and helpful with their responses. I was immediately assigned a tutor and was able to begin weekly video chat sessions. Additionally, the whiteboard component has been a very effective tool in this process." - Diana K.
Additional Resources To Help You Prepare for the MAT
Check out our grad school admissions blog for the latest student testimonials, concept reviews, problem explanations, and advice on admissions. Example articles include: