Private Miller Analogies Test (MAT) Tutoring
Taking the Miller Analogies Test (MAT) can be stressful on students continuing on to graduate school. Private, 1-1 MAT tutoring provides both the knowledge and confidence one needs to succeed on this graduate school admissions test. Tutors work with students to develop a customized study plan that covers key facts and concepts as well as test taking strategies, helping them build on their strengths and address their weaknesses.
About the MAT
The Miller Analogies Test is a 60 minute test designed to examine an individual's capability to solve problems stated as analogies in order to determine admission into graduate school. A MAT score is intended to reflect candidates' analytical thinking skills in various academic subjects. There are currently over 500 Controlled Testing Centers (CTCs) that administer the MAT; each determines its own testing schedule.
Our Approach to 1-1 MAT Tutoring
An MAT Test Prep package from MyGuru is a customized experience that leverages the Barron's MAT Exam Study Guide and 5 to 15 (more or less can also be done) hours of one-on-one instruction from a recognized expert (delivered in your home or a local library). Students are asked to purchase a prep book prior to their first session & complete a diagnostic practice test to identify strengths & weaknesses. The first session involves a review of this diagnostic test, an overview of each section of the test, and development of a study plan. This is followed by a series of one or two hour sessions in which strategies for each section of the test are reviewed & practice problems are completed.
Our typical package provides a total of 15 hours of customized, 1-on-1 test prep, including the review of practice tests the student completes on their own time between sessions to measure and track progress. Of course, we also offer hourly MAT tutoring – just fill out the form below or email us at info@myguruedge.com to discuss your situation.
Customized, 1-on-1 Expert Instruction
All MAT tutoring is delivered by an expert tutor with experience providing tutoring for the Miller Analogies Test. Here is the background of one of our most experienced tutors, Stefan:
B.A. Communications - University of Southern California
M.S. Journalism - Northwestern University
Official Test Scores: ACT - 36 (perfect score), SAT - 99th percentile
Princeton Review and other 3rd party administered test scores: GRE - 168+ Quant & Verbal, GMAT - 770, LSAT - 175 consistently over the past decade (95th -99th percentile), MAT - 99th percentile
15+ years tutoring starting with The Princeton Review in 2004, then added one previous smaller company, and then more recently independent clients
Expert at all sections of standardized exams
Has his own proprietary schedules, worksheets, and online approach to delivering customized test prep solutions
Previous experience as a journalist with ESPN
We offer both in-person MAT tutoring and online MAT tutoring.
Student Feedback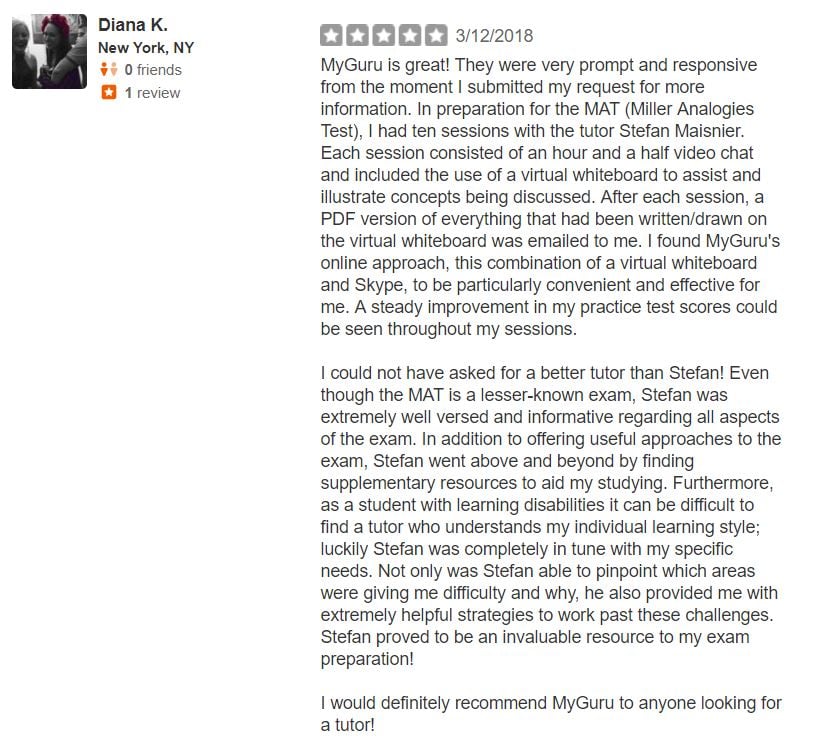 Pricing
Our base rate for private MAT tutoring is $99, but we also offer 5, 10, or 15 hour packages which come with discounts of 5, 10, or 15%. That's a long term rate of $99 × 85% = $84.15 per hour. After the first session, if you then choose to continue with a 15 hour package, that's a total cost of $84.15 × 15 hours = $1,262.25.
We encourage you to check around for a better value. Typical hourly rates for 1-1 MAT Test prep from an instructor like ours can run well above $150 per hour at comparable companies.
For more customized information specific to your city, use the links below to navigate to our location pages for refined pricing, example tutors, and additional contact information.