Essential Skills Assessment Tutoring
Personalized coaching for the Online Essential Skills Assessment
The Essential Skills Assessment is an exam created by GMAC to assess preparedness for a graduate management education program. The GMAC makes it clear that the Essential Skills Assessment is not a GMAT or Executive Assessment Exam replacement. Before taking this test, you should confirm that the school you are submitting an application to requires or recommends it. Our Essential Skills Assessment tutors can help you prepare for this important exam.
We are currently offering a 33% discount on all initial tutoring hours for the Essential Skills assessment exam.
Essential Skills Instruction Options and Tutoring Rates
We offer in-person tutoring in a growing number of cities. However, we recommend online tutoring because it offers more convenience and functionality for students and tutors alike.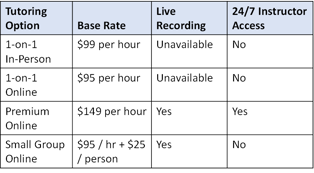 For students seeking an immersive learning experience, premium online tutoring includes entire session recording and a 24 hours a day, seven days a week live private whiteboard where students can post questions for your Essential Skills exam tutor to respond to in between tutoring sessions. With all online tutoring offerings, a .PDF of the whiteboard notes is emailed after each session for reference.
Discounts of greater than 15% off the above base rates are available when you invest in packages of hours in advance. We also offer a ~20 minute free introductory phone call (for in-person tutoring) or virtual meeting (for online tutoring) with your likely tutor for you to share more details on your situation and ask questions before paying for an initial hour. Please fill out the form below for more details on pricing and package options.
Get More Information on Essential Skills Assessment Tutoring
Customized Online Essential Skills Assessment Prep
An online Essential Skills Assessment tutor from MyGuru would help you build a customized study plan, complete with assigned practice problems, practice tests at regular intervals, and obviously customized review of key concepts and test-taking strategies.
About the Essential Skills Assessment
The exam is made up of two sections: Verbal Reasoning (i.e., reading comprehension and critical reasoning) and Quantitative Reasoning (i.e., basic computation, ratios & proportions, basic algebra, and applied problem solving). Each part is timed, with the quantitative portion being slightly longer (VR is 20 minutes for 10 questions, QR is 30 minutes for 20 questions), adding up to a 50 minute exam. The total score is the sum of the two sections, and ranges from 0 to 15.
The assessment is delivered through Proctor U in a secure, online environment. This test cannot be taken in a public space and you will need to follow strict guidelines laid out in advance by GMAC and Proctor U to maintain the test's integrity.
How Studying Online for the Essential Skills Assessment Works
We believe that our approach to online instruction provides a more intuitive experience than anything else in the online test prep market regardless of price. After each session, which you have the option to record in full for later review, our students receive that day's whiteboard filled with notes and tips specifically tailored for them to refer to forever. The example video below reflects a GMAT tutoring session, but the Essential Skills exam consists of similar types of questions.
Students only need a free Gmail or Skype account to begin live videoconferencing where both tutor and student can react to verbal and non-verbal cues

All tactics and techniques are demonstrated by our expert tutors on a shared virtual whiteboard

Students can also sign up for their own personal whiteboard, so they can use a pen tablet to work on problems live with their instructor and access all past sessions.

Most importantly, whether you choose your own or shared whiteboard, all Essential Skills tutoring sessions are recorded as digital documents, so students can review previous lessons
Online tutoring requires nothing beyond a laptop, internet, and scratch paper (just like the exam itself), so computer-based tutoring builds good habits for test day (such as writing down process of elimination outlines and taking good notes for reading comprehension.)

Essential Skills Assessment Tutors
We have a growing team of trained online GMAT, EA, and Essential Skills Assessment instructors. MyGuru's Director of Online Tutoring, Stefan interviews and trains each of our online test prep tutors. Stefan has a BS from the University of Southern California and an MA from Northwestern University. He spend more than a decade at a major national test prep brand and is a professional test prep tutor. He has scored at the 95th percentile or better on the ACT, SAT, GRE, GMAT, and LSAT.
One of Stefan's most experienced Essential Skills exam tutors is an individual named Steve, whose background includes:
B.A. in Political Science, University of Rochester, New York
M.A. in Archaeology, Durham University, United Kingdom
Ph.D in Archaeology, University College London
97th percentile test prep scores or better
Tutors for the SAT, GRE, GMAT, EA Exam, and Essential Skills Assessment
Extensive experience in private/semi-private tutoring and classroom instruction for 10+ years, both freelance and for large, nationally known firms
Has taught, tutored, and mentored extensively during his post-graduate education in Europe.
Steve will assess your starting point and help you develop a customized study plan to prepare for the exam as efficiently and effectively as possible.
Essential Skills Assessment Exam Tutoring Reviews (in progress)


Additional Resources To Help You Prepare for the Essential Skills Assessment and/or GMAT
Click here to read more real reviews from students applying to business school who have invested in private tutoring.
Check out our GMAT blog for the latest student testimonials, concept reviews and explanations, and advice on MBA or EMBA admissions. Example articles include: