In-Person and Online Essential Skills Assessment Tutoring
While the Essential Skills Assessment is an exam created by GMAC to assess preparedness for a graduate management education program, it is not a GMAT or Executive Assessment Exam replacement and our instructors always teach this exam using specific content separate from those more prominent exams. Before taking this assessment, applicants should confirm that target schools will accept it.
Essential Skills Tutoring Rates and Coaching Options
Our in-person MAT tutoring in a growing number of cities. However, we recommend online tutoring to encourage best practices for the computer-delivered (and likely at-home administered) official Essential Skills Assessment, while simultaneously offering more convenience and functionality.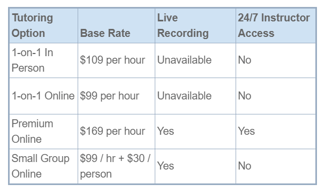 For students seeking a truly immersive learning experience, our premium online tutoring offers full session recording and 24/7 access to a private whiteboard where students can leave notes and interact with their GRE coach between lessons.
Discounts of greater than 15% off our base hourly rates are available for investing in packages of 10, 20, or 40 hours of instruction. We also offer a free no-commitment introductory phone call or videoconference with your likely tutor to share details on your situation and ask questions.
Get More Information on Essential Skills Assessment Tutoring
About the Essential Skills Assessment
The exam is made up of two sections: Verbal Reasoning (i.e., reading comprehension and critical reasoning) and Quantitative Reasoning (i.e., basic computation, ratios & proportions, basic algebra, and applied problem solving). Each part is timed, with the quantitative portion being slightly longer (VR is 20 minutes for 10 questions, QR is 30 minutes for 20 questions), adding up to a 50 minute exam. The total score is the sum of the two sections, and ranges from 0 to 15.
The assessment is delivered through Proctor U in a secure, online environment. This test cannot be taken in a public space and you will need to follow strict guidelines laid out in advance by GMAC and Proctor U to maintain the test's integrity.
How Online Essential Skills Assessment Tutoring Works
We believe that our approach to online Essential Skills Assessment tutoring provides a more intuitive and personalized experience than any other Essential Skills instruction option. After every MyGuru online session each student has a minimum of two texts to review - our specifically cultivated Essential Skills word problems practice materials and a digital copy of that day's whiteboard filled with study notes and strategies specifically tailored to you.
Students only need to click a link from their Essential Skills coach to launch a video conference where both tutor and student can react to verbal and non-verbal cues
All Essential Skills test taking strategies are demonstrated exactly, using text box notetaking, as they should be executed on test day by our expert tutors on the dynamic shared whiteboard
Online Essential Skills Assessment tutoring requires nothing beyond a laptop and internet (just like the exam), so computer-based tutoring builds necessary habits for test day
In our view, online Essential Skills Assessment tutoring isn't just comparable to face-to-face tutoring, it's better.
Essential Skills Assessment Tutors
We believe we have the best Essential Skills Assessment tutors around. Much of our online Essential Skills Assessment tutoring is delivered by a true test prep expert, MyGuru's Director of Online Tutoring, Stefan M. Like most of our instructors, he is a professional test prep tutor and constantly looking for ways to provide the most effective, customized tutoring experience possible.
His background includes:
BA,

University of Southern California,

MS,

Northwestern University
15+ years of test-prep tutoring experience with large, nationally recognized test-prep firms (and now, MyGuru)
Expert at all sections of the Essential Skills Exam
Has his own proprietary study schedules, worksheets, and approach to delivering online GRE tutoring effectively
Has delivered instructional webinars at ESMT-Berlin a prominent international business school which accepts the Essential Skills Assessment
Engaging style of instruction honed working in live television production at ESPN
Our tutors assess your starting point and help you develop a customized study plan to help you reach your target score on the Essential Skills Assessment as efficiently and effectively as possible.
Real Essential Skills Assessment Reviews


Additional Resources To Help You Prepare for the Essential Skills Assessment and/or GMAT
Check out our GMAT blog for the latest student testimonials, concept reviews and explanations, and advice on MBA or EMBA admissions. Example articles include: