Johnathan Thomas, Managing Tutor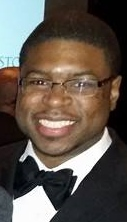 Johnathan A. Thomas holds a B.A. in Math and Economics, with a Small Business Certificate from the Indiana University Kelley School of Business. While at Indiana University, John taught Math and Economics in the campus' Academic Support Center (ASC) and taught introductory classes through both the Math and Economics departments. John also spent two years as a Resident Assistant (RA) while at Indiana.
During his summer and winter breaks from Indiana, John worked a 3 year internship at US Bank through the INROADS program. This internship was converted into a full time job after graduation in the the Commercial Banking group at US Bank's Headquarters in Minneapolis, Minnesota. His primary responsibilities were underwriting and approval of the bank's Corporate Credit Portfolio as well as Risk Management. Aside from his primary duties, John lead the Twin Cities based INROADS interns and lead and the Template Innovation Team within Corporate Payment Systems (CPS).
John is married to Crystal, a fellow educator, who works in the Special Education Department of Evanston Township High School. John enjoys performing improv comedy with SPG Improv, travelling the U.S. with his wife and discovering new music.