Online PSAT Tutoring
Most high school students looking ahead to college are already aware of the SAT and the ACT—the two most popular exams required for college admissions—but fewer are aware of the PSAT, despite the fact that most high schools require their students to take it. But even though the PSAT isn't as widely known as the SAT and the ACT, it's still an important step on the road to college, and achieving a top score can pay significant dividends as you try to get into your dream school. Further, the PSAT is an important test in qualifying for some of the biggest scholarship programs in the country.
Therefore, it would serve you well to prepare for the PSAT just as many students prepare for the SAT and ACT. But where to begin? The internet offers a wide variety of both free and paid PSAT prep resources. Free resources include blogs, written lessons, videos, and study guides from both individual tutors and test prep companies. These are available to assist you in a self-guided PSAT prep plan. However, self-guided test prep is far from the most efficient or effective way to study for such an important exam. This might make sense if you just give it a little consideration—if you're teaching yourself, then how are you going to correct your own misunderstandings, notice your own blind spots, and build your understanding of material that's beyond your reach?
There are also numerous paid PSAT prep materials, including group courses and third-party PSAT prep software. These can be a bit more helpful than self-guided study. But if you're really serious about supercharging your PSAT prep to put yourself in the best position to apply to your dream schools, you'll want to consider one-on-one instruction from an expert PSAT tutor. Personalized tutoring enables you to design a study-plan that's customized to your unique needs, including your academic background and your higher education goals. Working with an expert PSAT tutor means having direct access to someone with expertise in both the PSAT's subject matter and the teaching & communications skills necessary to help you deepen your understanding of the exam.
This kind of personalized PSAT tutoring is our bread and butter at MyGuru. We hire the world's best PSAT tutors to work one-on-one with students, helping them build the approach that works for them and their needs. Our PSAT tutors have everything it takes to maximize your scoring potential and empower you through the college admissions process.
Table of Contents
Overview of the PSAT
Now let's take a look at what you expect from the PSAT exam. The PSAT stands for the Preliminary SAT, and it's made and administered by the College Board, the organization that also makes and administers the SAT. The PSAT enables high school students to assess their readiness for the SAT, for college, and for college-level instruction such as AP courses. The PSAT serves as a practice SAT, meaning if you've already begun prepping for the SAT, then you'll notice extensive similarities in the test's structure and content compared to the SAT.
But just because the PSAT serves as a practice SAT doesn't mean it doesn't have consequences of its own, nor that you shouldn't devote whatever resources you can to doing your best on the exam. The PSAT is also known as the NMSQT, or the National Merit Scholarship Qualifying Test. The scores you earn on the PSAT/NMSQT are automatically delivered to several scholarship and higher education organizations, including most notably the National Merit Scholarship Corporation, the National Hispanic Recognition Program, the National Scholarship Service, and the Telluride Seminar Scholarships. Further, the College Board—the organization that administers the PSAT—partners with organizations like the Asian & Pacific Islander American Scholarship Fund, the Cobell Scholarship (awarded by Indigenous Education, Inc.), and The Jackie Robinson Foundation. Each of these organizations awards different kinds of scholarships to aspiring college students, and they make their scholarship decisions largely based on your PSAT score. This means that the PSAT can help you both to gain admission to college and to fund your tuition.
The most widely known scholarship that uses the PSAT is the National Merit Scholarship, a highly prestigious honor awarded to 10,000 students annually. The top 50,000 PSAT takers qualify based on their PSAT scores each year, with 16,000 qualifying as semifinalists. There are three kinds of National Merit Scholarships: the standard National Merit Scholarship, which comes with an award of $2,500; corporate-sponsored merit scholarships, and college-sponsored merit scholarships.
Unlike the SAT and ACT, which students can take multiple times throughout the year, students are only permitted to take the PSAT once per year. Almost every 11th grader takes the PSAT in October. Some 10th graders also take the PSAT between February and April. Most students take the PSAT in coordination with their high school, which arranges for each 11th (and sometimes 10th) grader to take the exam.
PSAT Scoring
If you're unfamiliar with PSAT scoring, it's worth taking a closer look, as it differs from other standardized tests in certain ways. At 2 hours and 45 minutes, the PSAT is a bit shorter than the SAT. The four sections are Reading, Writing, Math (with calculator), and Math (without calculator). The Reading and Writing sections each make up 1/2 of your total Verbal Score, while the two Math sections make up your Math Score. Unlike the SAT, the score ranges for Verbal and Math on the PSAT are 160-760, with a total composite score of 320-1520.
Each of the four answer choices for every problem is equally likely. Further, there are no penalties for wrong answers or guessing on the PSAT. Rather, each correct answer contributes one point to your raw score, which is converted to your scaled score and your percentile rank, each of which are "equated" with other typical US students. This means that no student is punished for taking a particularly difficult version of the PSAT, as your abilities are compared with other students to achieve a scaled score that accounts for test differences.
In addition to your main scores, the PSAT also offers 2 cross-test scores (ranging from 8-38) in Analysis in History/Social Studies and Analysis in Science, which are derived from the passages used in the Evidence-Based Reasoning section. This section, which makes up 1/2 your Verbal score, includes passages and questions requiring you to analyze hypotheses, interpret various forms of data, and conduct other forms of evaluation and interpretation regarding the information presented in or implied by the passage. The EBR section takes 60 minutes and includes 47 questions.
The Writing and Language section, which consists of 44 questions over 35 minutes, makes up the other half of your Verbal score. This section asks you to identify and resolve errors in grammar and word choice to improve sample sentences and passages. This tests your knowledge of standard English conventions.
The Math section involves 47 questions, spread across a 25 minute section that forbids the use of a calculator, and a 45 minute section that allows the use of a calculator. The questions in this section involve algebra, data analysis and problem solving, and other advanced math concepts.
PSAT's impact on college admissions
The PSAT affects your college admissions chances in multiple ways. The first is by qualifying you for the National Merit Scholarship and other awards that can convey your exemplary performance to admissions committees. Further, by assessing your readiness for the SAT, the PSAT helps you determine which subject areas you need the most practice and help in, in order to maximize your SAT score and your demonstration of college readiness for admissions committees. Finally, the PSAT assesses your readiness for college-level material, including AP courses, and can help you design your curriculum going forward to gain college credit and to maximize both your educational attainment and the effectiveness of your candidacy for admission to top schools.
Request More Info on PSAT Tutoring
PSAT test-taking strategies
Our PSAT tutors will not only help you master the material on the PSAT, they'll also help you design a PSAT prep regimen utilizing the most effective tools and strategies to maximize your scoring potential. MyGuru's PSAT tutors will assist you in:
Using cutting-edge online resources for effective regular practice
Designing a personally tailored study plan
Executing and updating your study plan as you go
Setting goals in line with your current skillset and your dreams for the future
Taking regular timed official practice tests that closely replicate actual testing conditions
Learning the specific PSAT subject matter alongside PSAT-specific test-taking strategies, like effective use of the process of elimination and PSAT time management
Using your calculator, test booklet, and other resources to maximum advantage
Working backwards to engineer solutions and educated guesses when you don't immediately understand a problem
While there's no one-size-fits-all approach for achieving a top score, there are many helpful PSAT strategies your tutor will work with you to master as you prepare for the exam. These go beyond mastering the material—which is also important—and include ways of managing the exam itself. We'll offer a brief overview of some of these strategies here, though you'll need to practice them extensively in coordination with your tutor in order to get the most out of them.
-Practice Effective PSAT Time Management
This is crucial. The PSAT isn't merely testing your knowledge of academic material—rather, it's testing your ability to apply certain concepts under rigidly timed conditions. Some students struggle with the timed element more than others, but for virtually all students, learning to perform under the timing conditions will be an integral part of PSAT prep.
Beyond simply working fast, you must learn to work smart, taking an approach that's informed both by your knowledge of the test and your knowledge of your own capacities. Remember, the only way to increase your score is to increase the number of questions you answer correctly, and there is no penalty for guessing incorrectly. Therefore it's crucial both that you answer every question, and in particular that you prioritize the questions you can answer. If you waste time by trying to work out questions that you can't answer within an adequate pace, then you're going to leave points on the board by failing to give enough time to questions that are within your ability to solve efficiently.
You are only able to answer problems in one section at a time on the PSAT, but there is no restriction that forces you to answer the questions in order. So an effective strategy would be to first work through all the questions you find you can easily answer, then doubling back to answer questions you can answer with a bit more effort. Finally, pick a single letter to serve as your guess for any questions you aren't able to work out.
-Learn to Use the Answer Choices
It would be great if you could quickly answer every PSAT question on its own terms, then find the matching answer among the choices, but it often doesn't work like that. For questions where you don't have the time or the knowledge to answer the question, you can still often find the right solution—or eliminate one or more incorrect solutions—by working backward from the answer choices. For math and writing questions especially, you can plug the different answer choices into the question to see which work or don't. And with algebraic expressions involving variables, you can pick a number to substitute in for the variable as you test the answer choices.
How is MyGuru PSAT Tutoring Different?
Strategies like those mentioned above are the kinds of things you can expect to cover with an effective PSAT tutor, in addition to the standard subject matter. But not all PSAT tutors are created equal. So what makes MyGuru's PSAT tutoring different from all the rest?
For starters, MyGuru only hires the best PSAT tutors in the industry. This mans our tutors are not only qualified experts in the academic material covered by the exam, but they're also experts in the exam structure itself, as well as in the educational & communicational skills necessary to extend that expertise to students.
From the beginning, starting with our free one-hour diagnostic session, our tutors work with you to set up a customized study plan that works for you, according to your needs, resources, goals, and abilities. From there, our tutors will continue to give you close personal attention as you execute your study regimen. MyGuru tutors will be able to help you deepen your understanding of the material, while also giving you highly useful exam tips and techniques so you'll know how to work the PSAT on test day. And our tutors are there to hold your hand every step of the way, helping you determine when to slow down or speed up in specific testing areas, and helping you continue updating your prep regimen until you're ready to conquer the PSAT.
Our tutors have years of experience working with dozens or hundreds of students from different backgrounds and with different studying needs. They can tailor their teaching technique to suit your learning style. Further, our test prep programs have been designed to adapt to both native and non-native English speakers, meaning MyGuru tutors can help you improve your score regardless of your native language or your beginning capabilities.
And finally, our tutors prioritize not only effectiveness but efficiency, helping you supercharge your test prep so you can get the most from your investment of time and money. This will leave you more resources to devote to the SAT and/or ACT down the road, as well as the rest of your admissions materials, like your application essays.
MyGuru PSAT Tutoring Team
MyGuru's mission is to only hire the most talented and experienced PSAT tutors the industry has to offer. Our PSAT tutors have uniformly achieved top scores on the actual exam, en route to studying at some of the world's most competitive universities and graduate programs. Further, they've taught the PSAT to many students over many years, helping students with different thinking styles and backgrounds improve their scores and fulfill their college admission goals. Above all, our tutors are highly motivated by the prospect of helping students work toward their dreams of higher education.
A typical MyGuru PSAT tutor has the following:
A demonstrated mastery of the exam, having scored in the 98th percentile or above
Expertise in the structure and subject matter of every section of the PSAT
Superior communications skills, with the ability to tailor their instruction of PSAT material to students of any background
Five or more years of experience as a professional tutor, working with a variety of clients
A history of success, helping dozens or hundreds of PSAT students increase their scores significantly, often by 100, 200, or sometimes 300+ points
Personal training in PSAT prep from major test prep companies and/or from MyGuru's Director of Online Tutoring, Stefan Maisnier
A deep passion for helping students achieve their test prep and college goals
Expertise in a wide array of state-of-the-art online tutoring tools. For example, our PSAT platform includes no-sign-in videoconferencing, an intuitive live whiteboard, and the option to save lessons as a PDF or even as a full recording for repeated study later
PSAT tutoring rates
With the plethora of free PSAT prep resources available, you're probably wondering what MyGuru's tutoring rates are, and why these are worth paying for. In short, personalized one-on-one tutoring is the gold standard for test prep, giving students the best shot of meeting their goals and getting the most out of their investment of time and money.
MyGuru's rates are offered at a significant discount from industry standards due to our streamlined operations, which include minimal overhead. While other leading companies charge $200 or even sometimes $500 per hour, MyGuru offers custom instruction from top-tier tutors at a fraction of those costs.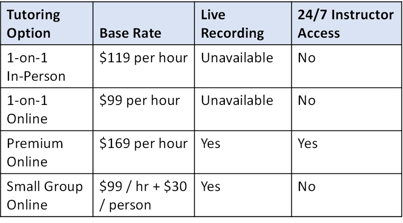 MyGuru's premium online tutoring package offers a fully immersive learning experience, with the option to access full recordings of all sessions, and to access private whiteboards 24/7 for reviewing lessons and leaving notes & questions for the tutor to check between sessions.
For students who invest in packages of 10, 20, or 40 hours of instruction, MyGuru offers significant discounts of 15% or more. We also offer a free introductory phone call and one-hour diagnostic session, in which tutors can get to know students' individual needs and design a path forward together.
MyGuru Reviews
"My daughter's score has gone up 100 points. We were very happy with Paul Michael and wouldn't hesitate to recommend him!"
I cannot praise My Guru enough. I used one of the My Guru tutors to help my daughter prepare for the ACT and SAT tests. Mark was able to set her up with online Skype tutoring. She liked her tutor immediately. He listened to her needs and concerns and focused on her weak areas the most. He was knowledgable, extremely competent and friendly. He spent a good amount of time on test taking strategy which was very helpful, especially for managing time during the tests.
After 2-3 months of working through practice tests together she went into both the ACT and SAT with confidence. She exceeded all expectations on both tests. I credit My Guru for her test success. I will definitely use My Guru again. Money well spent. Contact Mark before spending money at a 'big name' tutoring center. You will not be disappointed.
-Barbara J., Barrington, IL
I am the Director of Academic Assistance at a small college in Chicago. A student was having problems with our math course and no tutor could seem to help her. A friend suggested I contact MyGuru and they found an amazing tutor, Lindsey, for my student. The student is now passing her course and will receive her degree.
Most important for the student and me was the accommodation to the situation - MyGuru worked to find a tutor over a holiday weekend and tutoring began immediately. The communication between the student, the tutor, the student's family, and me has been unbelievable. Everyone was kept in the loop. Scheduling is flexible and costs are quite reasonable. I would recommend MyGuru to all students and parents.
-Adie R., Highland Park, IL
Click here to read more reviews from students who have invested in private PSAT tutoring.
Frequently Asked Questions
What kinds of study materials does MyGuru use?
MyGuru relies exclusively on official material from the College Board in the form of practice tests and past PSAT exams. This ensures that students work with the exact kinds of questions that they'll encounter on the exam. Other companies use third-party material which often contains differences from actual PSAT material.
How many hours of tutoring should I invest in to maximize my results?
The amount of hours every student invests is different and based on a variety of factors, including the student's starting abilities, their scoring goals, and the amount of time and money they have to invest in PSAT tutoring. We recommend students start with a 10-hour package, with the option to invest more time going forward. We do also offer 5-hour blocks for students who have a relatively short period of time before their exam.
Should I study in small-group sessions or in one-on-one lessons?
While some students find working in small groups to be effective, this typically is not quite as effective as one-on-one lessons. Working one-on-one enables a tutor to select material and cater their teaching methods to your specific needs, as opposed to designing a one-size-fits-all approach for the group.
What online resources will I have access to?
All of our tutoring packages come with a self-guided PSAT course, which students retain access to for a full year. Our online tutoring packages all use shared online whiteboards, which can be accessed afterward in the form of PDFs for a full year. If you opt for the premium online tutoring option, you can also access full recordings of your lessons for a full year.
Will prepping for the PSAT help me prep for the SAT?
Yes, but only to an extent. The PSAT does give you a good preview of what taking the SAT will be like in terms of both testing conditions and subject matter. However, the subject matter and structure of the SAT do differ from the PSAT in certain meaningful ways. Students should expect to gain a boost in their SAT prep from their PSAT prep, but that doesn't mean your SAT prep should stop with the PSAT.
How does PSAT prep boost my chances of getting into college?
The PSAT helps you make decisions about what to pursue in your remaining years of high school education as you gear up to apply for college. Many high schools use PSAT scores to gauge decisions regarding AP enrollment. Further, the PSAT tells you what areas you need improvement in as you continue preparing for college and the SAT.
Further, while colleges and universities don't consider PSAT scores in the same way they consider SAT and ACT scores, the scholarships the PSAT can qualify you for can also help you fund your college tuition and can make you a more compelling applicant.
How much experience do MyGuru tutors have?
MyGuru tutors typically have at least five years of professional tutoring experience at the time of hiring.
How can I make sure I'm making improvements along the way?
Your MyGuru tutor will be working directly alongside you to monitor your progress. Further, your tutor will help you construct a regimen of regular practice tests so you can gauge your progress and adapt the rest of your prep regimen to maximize your success on the PSAT.
Does it matter where I live?
No! The majority of MyGuru tutoring sessions take place online, which enables us to harvest the best tutors available and offer them to all students, regardless of location.
How long does it take to get started?
Almost no time at all. Most MyGuru tutoring sessions begin within a few days of students first contacting the company. We will work quickly to get you set-up with a free diagnostic consultation to help design a path forward, and then you can hit the ground running as soon as your schedule permits after that.
Additional PSAT Resources
For additional resources as you gear up for your PSAT prep and the college admissions process, be sure to check out MyGuru's College Admissions blog.
Recent posts include:
Should I Submit ACT or SAT Scores to Test-Optional Schools?
How Does Hiring an ACT or SAT Tutor Improve Test Scores?